1. Working For Tips, Gasol Is Money In Game 7
By J.A. Adande
ESPN.com
LOS ANGELES -- True, it shouldn't take such dire circumstances to produce these types of games from Pau Gasol. Then again, it shouldn't take such an outstanding performance to remind everyone of his value.
It's nights like Saturday's Game 7 that force the issue and serve notice that the two most recent championships in the Lakers' storied history came when Gasol played the way he did Saturday, with his Laker legacy on the line.
Gasol or nothing.
By Saturday there was no need for Gasol to manufacture a sense of urgency, as Kobe Bryant had suggested he do after failing to answer the bell in a closeout game two days earlier. Another no-show like that three-point, three-rebound mess in Game 6 and the Lakers' season would be over, and quite possibly Gasol's time in Lakerland, as well. It wouldn't matter if Metta World Peace was back in the lineup if Gasol didn't return to form.
Western Conference Playoffs


Get all the news and commentary on the Lakers-Nuggets matchup on ESPN.com's matchup page.
• Predictions: Simulator | SportsNation
• More: TrueHoop | Schedule | Bracket
• Lakers Report | ESPN Los Angeles
Gasol knew the stakes.
"If we would have lost tonight, probably some changes would have to be made," Gasol said.
And who would be more tradable than the one remaining guy the Lakers already tried to ship out in the voided Chris Paul deal?
He tried to shut out all the noise, from criticism in the media to well-wishes from friends, and focus on what he had to do.
"Regardless of the score, at the end of the game, I just wanted to feel that I left everything that I had out there," Gasol said.
His coach, Mike Brown, made one basic request.
"I just told him to bring it," Brown said. "I told him to bring it front of the team, told him to bring it when we were by ourselves in one-on-one situations. I told him we needed him to get involved."
There's no point in starting two 7-footers if they're going to play as small as Gasol and Bynum did in Game 6. Sure, Denver had double-teamed Bynum and blocked Gasol's passing lanes and in the process changed the complexion of a series the Lakers had all but wrapped up. But the Lakers were complicit in allowing them to do it.
Gasol and Bynum swung the advantage back to the Lakers, dictated the game on their terms once again, moved on to Oklahoma City. The basic premises that defined this series at the outset were upheld.
"Power won over pace," Nuggets coach George Karl said after finally abandoning his quixotic quest and yield to the NBA's status quo. "Size won over speed."
"That's who we are," Brown said, after the Lakers recovered from their mid-series identity crisis. That's who we want to continue to be throughout the playoffs."
For now, Gasol is the guy who made the play of the night. If you're still wondering, the proper count on that crazy, Game 7-defining sequence in which he kept tipping and tipping missed shots until he finally got the ball to through the hoop is six.
Not six rebounds -- although the five tips plus one grabbed rebound and legit shot in the middle of all of it gets you to that number.
Six seconds. That's how long that sequence lasted. That's how long Gasol needed to double the amount of rebounds he had in 29 minutes on the court in the Lakers' humiliating loss in Game 6. Six seconds to produce two points, a basket that gave the Lakers a four-point lead after the Nuggets had wiped away their 16-point advantage.
"I kept jumping and jumping until I was finally able to put it in," Gasol said.
It was really that simple. A matter of assertion, with a little adjustment here and there.
Before the game Gasol was working on post moves with Lakers assistant coach Darvin Ham. Gasol slipped inside Ham and tossed up a layup that rolled harmlessly off the rim. Ham demonstrated to Gasol that he needed to gather himself and go up stronger. Gasol tried it again, digging deeper and propelling himself to the hoop with greater force. This time he scored. Ham gave a nod of satisfaction.
That Gasol has to be told, reminded and prodded for such things after 11 seasons of All-Star Games and NBA Finals appearances is the frustrating part of his game. That he can produce nights like this is the reward.
Two things got the Lakers back on the winning side, back in the second round of the playoffs for the fifth consecutive season since Gasol arrived (an active streak matched only by the Celtics in their current Big Three + Rajon Rondo configuration).
The Lakers' outside shots started dropping, finally making the Nuggets pay for vacating the jump-shooters. Metta World Peace returned from his suspension and knocked down four 3-pointers -- one more than Matt Barnes had made in 25 attempts during the series. But this story was about the re-emergence of the Lakers' big men.
And the Lakers' big men just tried harder. Bynum had 18 rebounds, 16 points and six blocked shots.
On one sequence, Bryant missed a free throw, Bynum slipped inside his man for the rebound, then Gasol tapped in Bynum's miss. Two shots off a missed free throw.
On another, Gasol hustled down to contest a transition layup by Denver's Ty Lawson, the fastest man on the court. Lawson scored, but at least Gasol was there to make it harder, after not even being in the picture when Kenneth Faried and even Timofey Mozgov scored in transition in Game 6.
Denver actually had more rebounds than the Lakers. The Lakers had almost as many turnovers and were virtually tied in assists with one of the league's best sharing teams.
"We were faithful to the things we knew were working," Gasol said. "We were moving the ball well, Kobe did a great job of giving the ball up."
Pau is far too polite to add: "I wish he would do that more often." You just have to do your own interpretation.
If you watch him on the court, you can see what he values. He's most likely to raise his fist to shoulder level and give a firm pump for a solid basketball play than for any accomplishment of his teammate. He's happy when a teammate gets a basket because Pau found him in right place. Or when the defense rotates to the proper position to create a steal or draw a charge. That's what he loves.
Saturday night, he took a moment to celebrate himself, after that most basic of plays: a made free throw. He turned to head down court, balled his fist and wound up for a big uppercut.
This was his moment.


ESPN senior writer J.A. Adande
• On Twitter @jadande | On ESPN.com | On TrueHoop | On e-mail
• Follow ESPN's NBA coverage on Twitter | On Facebook | On Google+
Dimes past: 23 | 24 | 25 | 26 | 28 | 29 | 30 | May 1 | 2 | 3 | 4 | 5 | 6 | 7 | 8 | 9 | 10 | 11
2. Around The Association
MVP: Pau Gasol. After a terrible showing in Game 6, Pau showed up and dropped a 23-point, 17-rebound, six-assist, four-block performance. He dominated the first half and showed up with huge offensive boards in the fourth to help put Denver away.
LVP: Danilo Gallinari. The Artest formerly known as Ron returned to the court and completely shut down Gallo. The Nuggets' forward had just 3 points on 1-for-9 shooting in 25 minutes.
X factor: Steve Blake. He was the Lakers' second-leading scorer in the game with 19 points on 7-for-11 shooting off the bench. He made five of his six 3-point attempts and had huge answers for the Lakers throughout the game.
-- Zach Harper, Daily Dime Live
MVP: A week short of his 36th birthday, Kevin Garnett controlled a first quarter in which his teammates shot just 2-for-14 and a fourth quarter the Celtics entered down by four. On an array of long-range jumpers and some shots at the rim, Garnett put up a season-high 29 points, just one game after putting up his previous season high of 28. Add 11 rebounds, three blocks and his trademark intensity, and the Celtics take a 1-0 lead on his back.
Defining Moment: With 3.4 seconds left and the Celtics inbounding up one, the Sixers looked poised to foul in the hopes of getting the ball back. But the Celtics ran Rajon Rondo out from under the basket to the backcourt like a rocket and he ran past Evan Turner's outstretched arms to seal the victory.
X factor: Free throws. The Sixers shot 14-for-20 from the free throw line, which isn't bad. The Celtics shot 18-for-19, which will win you playoff games. Bet the Sixers miss those six points now.
3. Saturday's Best
Gasol
Pau Gasol, Lakers:
Coming off a horrific Game 6, Gasol turned it around with 23 points, 16 rebounds, six assists and four blocks in the Game 7 win over the Nuggets. Thanks in large part to Pau, the Lakers now have a West semifinals date with OKC.
4. Saturday's Worst
Gallinari
Danilo Gallinari, Nuggets: Gallo wasn't exactly on fire in the first six games of the series, but the return of Metta World Peace helped ensure no impromptu infernos would occur. Gallinari finished with three points on 1-for-9 shooting in the Game 7 loss to Los Angeles.
6. Tweet Of The Night
Looking at a drained Kobe, Pau and Bynum walking toward this end of the court...can't imagine them refueling in time for Game 1 in OKC

— J.A. Adande (@jadande)
8. The Other L.A. Blake Show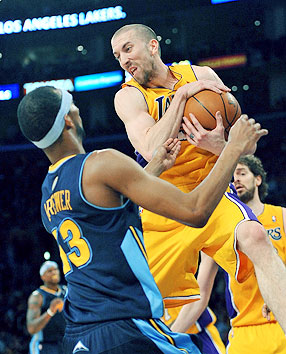 Jayne Kamin-Oncea-US PRESSWIRE
Lakers point guard Steve Blake was a force in Game 7, sinking 5 of 6 3-pointers en route to a playoff career-high 19 points.
9.

The Usual Triple-Double
By Elias Sports Bureau

Rajon Rondo scored 13 points in a 17-assist, 12-rebound performance in the Celtics' 92–91 win over the 76ers. It was the eighth postseason triple-double of Rondo's career, matching Oscar Robertson's playoff total. Rondo has recorded more triple-doubles over the past four postseasons than all other NBA players combined (7).