1. With CP3, Griffin hurting, Griz Force Game 7
By Kevin Arnovitz
ESPN.com
LOS ANGELES -- Nobody ever really questioned whether Chris Paul and Blake Griffin would play. Not with that clean MRI on Griffin's sprained left knee and not with Paul's pathological drive and stubbornness. Griffin would gladly dunk on a litter of kittens and Paul would cross over on his auntie if given the opportunity -- strained right hip flexor or not -- so they certainly weren't going to miss a chance to shut the door on the Grizzlies.
But performance is a variable thing. A drop-off from healthy to hobbled, even for a couple of guys as willful as Paul and Griffin, is significant. Paul thrives on his ability to squeeze through the narrowest seams, while Griffin's explosiveness is the essential ingredient of his game. Without those qualities, the Clippers are vulnerable -- even average, you could argue.
Paul and Griffin clearly weren't themselves Friday night in Game 6. Though the Clippers were in prime position to steal the game, holding an eight-point lead in the fourth quarter, they fell to Memphis 90-88. The series is now knotted up at three, with Game 7 in Memphis on Sunday afternoon on ABC (1 p.m. ET).
All season long and on a few occasions in this series, Paul has been able to conjure the magic he has routinely brought to closing time all season and in this series -- but not Friday night. It wasn't for a lack of effort, but Paul simply couldn't conquer that bum hip flexor, despite spending time in a hyperbaric chamber, undergoing massage treatment and applying plenty of ice Thursday and Friday. And Griffin, though somewhat more mobile than Paul, lacked the force he normally exhibits.
"Chris is a competitor, and Blake; they want to be out there," Clippers coach Vinny Del Negro said. "[Paul] didn't have quite the burst he usually has to go by guys. He had to give the ball up a little bit, just to save himself a little bit. He couldn't be quite as aggressive as I think he would want to, especially in the open court."
Like a race car with a faulty clutch, Paul lacked the acceleration he uses to breeze past defenders, the change of speeds he employs to disarm them.
With the Clippers trying to stave off a Memphis rally during the fourth quarter, Paul coughed up the ball on consecutive possessions. A layup that would have trimmed the Grizzlies' lead to three with 2:37 remaining never reached the rim. He missed the front end of a pair of free throws inside of a minute that could have brought the Clippers to within three points. The successful second free throw was the only point of the fourth quarter for the Clippers' closer.
In classic Paul fashion, he refused to attribute the home loss to his injury. He wouldn't enumerate the ways in which the hip flexor limited his play. So far as Paul was concerned, the game was lost for basketball reasons.
"I was OK," he said. "It's tough, but nobody is 100 percent at this point in the season. I tried to suck it up, and so did Blake."
Paul finished with 11 points on 4-for-9 shooting from the field, seven assists, five rebounds and three turnovers. After the game, he was self-critical, claiming much of the responsibility for the loss.
"We had an opportunity to really put them away, and I think that's something that will play back in my head a lot." Paul said. "I think one of the keys was my two turnovers. I got to do better."
Griffin acknowledged that his knee tempered his game, grounding him at times. While Paul's lack of zip was apparent, he didn't hold his midsection as he did in the fourth quarter of Game 5. In contrast, Griffin limped back to the bench after long stints on the floor.
"We were both trying to feel it out -- I know I was." Griffin said. "I tried not to pick and choose [my spots], but sometimes there's a move I think I could normally make but not in that instance. So I tried to get other people going, tried to move the ball and try to get on the move to help a little bit."
It was an efficient, if muted, outing for Griffin. He scored 17 points on 6-for-11 shooting from the field, was a proficient 5-for-6 from the line and tallied seven assists to go along with six rebounds.
With Paul limited, backup Eric Bledsoe filled in admirably. A change-of-pace point guard with quick hands and crazy springs provided his usual defensive boost on the ball, but also contributed offensively, scoring 14 points and dishing out six assists.
But ultimately, the Clippers couldn't overcome a couple of timely jumpers from Mike Conley, a huge tip-in from Zach Randolph off one of Paul's aforementioned turnovers and a trademark Grizzlies high-low connection between Marc Gasol and Randolph.
Both Gasol and Randolph brushed off any inference that the Clippers' recent maladies were a factor in the Grizzlies' big road win.
"Everybody has something," Gasol said. "Everybody has knee problems, ankle problems, groin problems, shoulder problems."
Randolph followed up, far more dismissive than his more polished teammate. After citing the Clippers as the biggest floppers in the league in an interview earlier in the day, Randolph twisted the knife on the podium.
"I didn't know [Paul] was hurt," Randolph said. "He's hurting? Everybody is hurting. I just came off a torn ligament. Everybody is not 100 percent. You got to put that in the back of your mind and come out and play."
Neither Paul nor Griffin deny this, but unless the Clippers' charter plane has special healing powers, they figure to be hobbled again, this time in a hostile arena for a decisive game.
"I know [Griffin] over there, he's a warrior," Paul said of his teammate who was seated next to him on the dais. "He'll play through it and I'm going to do the same. … Sunday we'll have to go out there, scratch, claw, whatever it is, because if you hold back, you'll lose. You've got the whole summer to get healthy. I'm not ready to start my summer, and I know he's not either."
The Clippers have never had much margin for error this season. That margin was too wide Friday night -- but on Sunday, it will be zero.


NBA Writer Kevin Arnovitz
• On Twitter @kevinarnovitz | On ESPN.com
• Follow ESPN's NBA coverage on Twitter | On Facebook | On Google+
Dimes past: 23 | 24 | 25 | 26 | 28 | 29 | 30 | May 1 | 2 | 3 | 4 | 5 | 6 | 7 | 8 | 9 | 10
2. Around The Association
MVP: Marc Gasol, much like in the previous game, was unstoppable early but faded as the Grizzlies struggled to get the ball to him down the stretch. He still finished with 23 points on 16 shots. He also had nine rebounds and three assists.
X factor: The Grizzlies opened the first quarter by getting the ball inside to Gasol and Zach Randolph while forcing tough shots from the Clippers, taking a 25-16 lead. They didn't maintain that pace, but the good early start was enough to get the win.
LVP: Randy Foye. A costly late turnover, several forced shots and a generally unproductive evening give you your LVP for the night. Foye finished with nine points on 13 shots in 25 minutes of playing time for the Clippers.
3. Friday's Best
Gasol
Marc Gasol, Grizzlies:
Only eight teams have ever won a seven-game series after trailing 3-1, but the Grizzlies are in position to become No. 9 thanks to Gasol's game-high 23 points. Zach Randolph also deserves a mention after posting 18 points and 16 rebounds.
4. Friday's Worst

Clippers' closeout ability: Sure, their two superstars, Blake Griffin and Chris Paul, were banged up, but the Clippers were home in a game they badly needed to win and failed to hold an eight-point lead in the fourth quarter.
6. Tweet Of The Night
every time Marc Gasol makes a good play I picture Kobe texting Pau: "See? SEE?"

— J.A. Adande (@jadande)
8. Are Clippers In Trouble?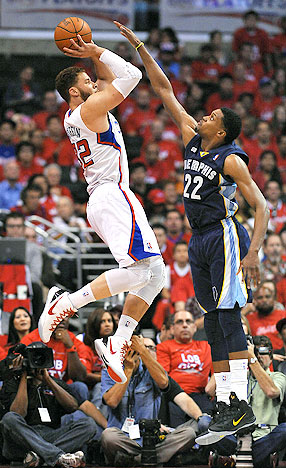 Stephen Dunn/Getty Images
Yes, Blake Griffin was able to play in Game 6, but it still wasn't enough to prevent the Clippers from losing at home.
By Elias Sports Bureau

Zach Randolph scored 18 points and hauled in 16 rebounds as the Grizzlies forced a Game 7 with a 90-88 win over the Clippers. Randolph is averaging 20.8 points and 11.6 rebounds in eight career games in which his team faced playoff elimination. Only four other active players are averaging at least 20 points and 10 rebounds in potential elimination games (minimum two such games played): Caron Butler (21.9 points per game/10.0 rebounds per game), Tim Duncan (22.4/11.9), Dwight Howard (20.3/14.3) and Dirk Nowitzki (28.9/11.4).