Hey, did you hear that the Fantasy Underground podcast has gone to two shows per week? Field Yates and I will be watching as much film as ever, and discussing potential waiver pickups on Tuesdays, with a larger look at the league-on-film coming Thursdays. We are the Underground: We resist the tyranny of the box score to look beyond mere statistics, and tell you what players actually look like. Join us! In the meantime, enjoy Week 1. Here are seven storylines:

Three in depth
1. Why Colin Kaepernick > Russell Wilson (at least at the moment). I like Russell Wilson. I really like him. He reminds me of Fran Tarkenton, who led his teams to three Super Bowls and is a Hall of Famer. I admit I was wrong to believe Wilson had a limited NFL future because of his size. And I rank Wilson as a top-10 fantasy QB for 2013. But some Seattle Seahawks fans don't care. They hear me gushing about Colin Kaepernick, and they conclude that I must hate Wilson. What is my problem??? Don't I see that Seattle's weapons are better??? Why do I hate Russell Wilson so much???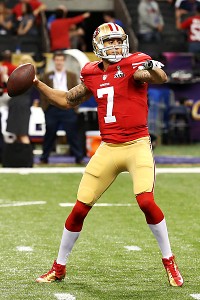 Matthew Emmons/USA TODAY SportsColin Kaepernick has all the tools to be a very special player.
The fact is, I like one of these players, and I love the other. I know that doesn't make for sexy debate fodder where everyone is supposed to hate everyone they don't love, but I can't help it. Wilson is a dynamic, charismatic player, and can be of extra use because he's a sneaky runner who'll make a play with his legs when things break down. But he also fits the mold of the player who shouldn't run too much if he wants his NFL career to last. He's just not big enough. If we're concerned about Michael Vick getting hurt every year, we certainly should be concerned with Wilson, who's shorter, lighter and not as fast. Meanwhile Kaepernick is 6-foot-5 (six inches taller) and 233 pounds (29 pounds heavier). He's not Cam Newton. But he's not a rag doll by comparison. Newton, Kaepernick and EJ Manuel fit the mold of players who seem likely to retain rushing as part of their games for as long as they're in the NFL. Wilson, Vick and Robert Griffin III will always be bigger injury risks if they run it a ton.
And all of this is to say nothing of Kaepernick's arm strength (Wilson's is big; Kaepernick's is bigger) and downfield accuracy (17-of-30 on throws that traveled 20-plus yards in the air last year). I'm going light on stats here, because these guys were first-year starters in '12, so the sample sizes are small. A Wilson denigrator could contend that he averaged only 24.5 attempts per start (Kaepernick averaged 28.1) and was 24th in attempts that traveled 10 or more yards in the air. A Kaepernick denigrator could argue he threw for more than two TDs exactly once last season, plus stunk up the joint in a head-to-head Week 16 matchup against Seattle. Neither man had a single 300-yard passing game to his credit until last year's playoffs. I know both offenses are heavy on the run. I know the San Francisco 49ers have an issue with wide receiver depth. But I watch Wilson play and I see a winner. I watch Kaepernick play and I see a freak.
2. Is even a healthy Darren McFadden doomed? The knock on DMC has never been raw talent. In fact, I continue to believe that those who jumped on the Oakland Raiders' "scheme change" last year were overemphasizing zone blocking as the cause of McFadden's modest numbers. My opinion is that McFadden has been and continues to be saddled with one of the NFL's poorest offensive lines. Center Stefen Wisniewski is adequate. But the Raiders' only above-average blocker last year was left tackle Jared Veldheer, and he's out for at least half of the season with a partially torn triceps. Left guard Tony Bergstrom is out for the year with a foot injury. Right guard Mike Brisiel graded out as Pro Football Focus' No. 70 guard (out of 79). Right tackle Khalif Barnes was No. 60 among 75 tackles. If McFadden is constantly getting met in the backfield, the blocking scheme doesn't matter.
I've seen a school of thought advanced that Terrelle Pryor in Oakland's starting lineup will help McFadden, much the way (goes the theory) that Robert Griffin III helped Alfred Morris by frightening defenses at the edges, and keeping them from piling into the line. I'm skeptical. First off, Pryor will have to show NFL defenses that he's a viable thrower. Nobody questions his arm strength, but his accuracy and decision-making looked just awful in Week 2 of the preseason. He was better in small doses as the backup in Week 3, then was terrible again in Week 4. (Could someone tell him to stop jumping when he throws passes?) Pryor's elusiveness will be of some use when his blocking inevitably breaks down, but I find it hard to imagine opposing linebackers and defensive backs will be particularly far downfield when the QB scrambles. In other words, I don't see him having anything like a Bobby Three Sticks kind of season.
And so McFadden will once again be running uphill. Last year, he averaged 1.3 yards per carry before contact; that was 17th among the 22 RBs who had at least half their team's attempts. For a player who's supposed to be fast (back in the day he ran a 4.33 40), that's miserable. I don't think we can automatically stick a fork in DMC; he's a talented guy and we can't rule out the possibility that things click for the Raiders. But I'll tell you this: If he can't get anything done against an Indianapolis Colts run defense that looks like some combination of young/old/bust-laden (having allowed a terrible 5.1 yards per carry in '12), it's going to be a long season for McFadden.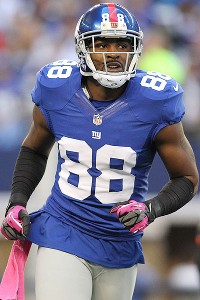 Tim Heitman/USA TODAY SportsHakeem Nicks' health will be a question mark all season, and it apparently starts in Week 1.
3. If not now, when? Here's a list of talented players whose preseason fantasy ranks suffered because they've been injury-prone: Danny Amendola, Hakeem Nicks, DeMarco Murray, Miles Austin, Owen Daniels. If these guys were iron men who didn't regularly vex their fantasy owners by appearing on injury reports, they'd no doubt have been ranked higher coming into '13. It's true that Amendola and Nicks already have raised red flags going into the season -- Nicks didn't do much during training camp while taking care of his knees, and Amendola has reportedly been dealing with a groin strain -- but neither is in danger of missing Week 1. My point is that these guys are probably as healthy as they're ever going to be this year. So why wouldn't you rank them as a best-case scenario for Week 1?
I put Nicks at No. 14 on my WR list in our weekly rankings, but the next-highest ranker had him No. 23. I'm surprised by this. I guess you could make the argument that Nicks has been so health-challenged in the past, you need to see him at full strength before you're willing to believe in him. But if that's the case, how did he rank a consensus No. 18 in our group ranks this summer? The matchup against a Dallas Cowboys defense whose personnel seems questionably equipped to play Monte Kiffin's 4-3 doesn't scare me. Eli Manning regularly carves up Dallas. Now, no receiver is ever a lock to produce a big game. We know this. But if you're ever going to use Nicks, whom you likely drafted to be your No. 2 fantasy wideout, wouldn't it be now?
The same probably holds true for the other names I mentioned, and to be honest, I probably wasn't generous enough in my ranks of Murray and Austin. Austin, especially, looks under-seeded as my No. 35 wideout. His hamstrings are healthy for the moment, and Dez Bryant will get every scrap of extra attention the New York Giants defense can muster. The more I think about it, the more I don't mind him as a sneaky flex this week. It'll probably end in heartbreak (hamstring-break?), but a Week 1 line of five grabs for 85 yards and a TD is very much in play.
Four in brief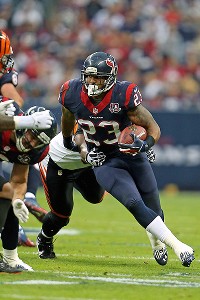 AP Photo/Tom DiPaceArian Foster is one of the biggest fantasy enigmas heading into Week 1.
4. None of us knows anything about Arian Foster's workload. The freak-out over the Houston Texans backfield emphasizes my continuing point about the fantasy football echo chamber. One Houston reporter says something about Foster's back, it gets repeated by a thousand websites and Twitter posts, and suddenly Foster is on his last legs, and should probably be drafted after Michael Turner. Gary Kubiak says Foster won't get 30 carries in Week 1, and suddenly he's in a strict timeshare with Ben Tate. I absolutely acknowledge that starting Foster Week 1 is riskier than usual. That's why I ranked him No. 14 among running backs. But I'm not sitting him for Ahmad Bradshaw, folks! I strongly doubt anyone who drafted Foster top-five overall has tons of better options. It's all a part of not overthinking Week 1. Could starting Foster against the San Diego Chargers on Monday night blow up in your face? Yes. But would you feel worse if that happens, or if he goes for two TDs (which he has done in 14 of 51 career games!) while riding your fantasy bench?
5. Whither the Green Bay Packers' obsession with San Francisco? I think Eddie Lacy will be the Fantasy Rookie of the Year. But I don't think it starts in Week 1. My guess is that Lacy will be well-ensconced within my top 15 RBs most weeks, but Week 1, he's not in my top 20. The 49ers run defense looks as nasty as ever. By my metrics, this unit was the toughest for opposing RBs to score fantasy points against in '12. Given where you drafted Lacy, you might have a difficult time benching him, but your expectations should be kept in check. (Hope for a bunny TD.) However, the Packers passing game is another matter. It's not as though I think the Niners represent a plus-plus matchup for Aaron Rodgers, but they had a relatively neutral effect on opposing fantasy QBs last year. Last year's nickel corner, Chris Culliver, is out with a torn ACL, meaning declining Nnamdi Asomugha will be on the field an awful lot. Carlos Rogers showed some cracks last year, too. Rookie Eric Reid is the starting free safety, and is certainly someone A-Rod may try to confuse. The playoff game between these teams stood at 24-24 in the third quarter last year, and while Rodgers hadn't set the world on fire (one of Green Bay's TDs was an early interception return), he looked fine. Suffice it to say that if you're going to beat the Niners, you're probably doing it via the air. And I don't see a reason to single out James Jones as a bad fantasy play among Rodgers' pass-catchers; Randall Cobb's average rank is 13th among WRs, Jordy Nelson's is 24th, but for some reason Jones' is 32nd. Isn't Nelson the one coming off knee surgery? Didn't Jones catch 14 scores last year, and seven the season before? I view all three of these guys as usable, and Jones as a solid No. 3 WR.
6. I want no part of Rashard Mendenhall. If you own Mendy, you already didn't pay any attention to my advice this summer. If you're thinking of starting him this week, well, good luck to you. If the Raiders' O-line is bad, the Arizona Cardinals' might be worse. They lost first-round pick left guard Jonathan Cooper to a broken leg, and somehow Levi Brown is still their left tackle. I have no faith that the slow-twitch Mendenhall is going to find the room he typically needs to get going. To Mendy's credit, he's a physical player who'll make a defense earn tackles against him, which helps explain why he was such a nice red zone weapon for the Pittsburgh Steelers. Certainly, Carson Palmer has a chance to reinvigorate Arizona's pass offense, and if things break right, maybe Mendenhall gets some nice short-TD chances. But in Week 1, against a solid St. Louis Rams front seven, my guess is that running room will be scarce. I'm taking reports that Stepfan Taylor is going to be some kind of TD vulture with a big ol' grain of salt. But that doesn't make me want to start Mendy. He's not even a flex for me, at least not yet.
7. Could the Colts break ESPN's Eliminator Game before it even begins? As I mentioned in my discussion about Darren McFadden, under normal circumstances I do not exactly revere the Colts D. I'm ESPN's most influential voice in preseason fantasy ranks, and I put the Colts at No. 29 to begin the year. Yet all four of us Week 1 defense rankers put Indy in our top 13 D/STs, and three of us put them in our top nine. This obviously has everything to do with the Raiders. But what if we're wrong? Oh, good heavens, if the Raiders rise up and throttle the Colts, there will be a whole mess of sad, sad Eliminator players: As of this writing, Indy has a whopping 42 percent of entries bet on them. This is potentially not a very good defense! Do we really want to bet the farm on them? (For the record, I did pick Indy for my Eliminator entry.) Similarly, I'm streaming this not-great Indy D in a couple of fantasy leagues. But as I always contend, we know very little about fantasy defenses before the season begins. Crazy stuff can happen. Remember when the Philadelphia Eagles had a consensus top-five D/ST before last year, and finished 29th? Remember when the Denver Broncos were the 23rd-ranked D/ST heading into last year, and finished No. 2? I think streaming Indy makes great sense. But oy.