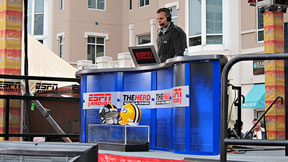 ESPNRadio.comWho does Colin like this week?
Colin Cowherd's back and picking winners this year.
Tune in every Friday at 11:30 a.m. ET as Colin picks the best bets of the week in college football and the NFL.
Listen and watch The Herd weekdays from 10 a.m. - 1 p.m. ET on ESPN Radio, ESPNRadio.com and ESPNU. Email the show at theherd@espnradio.com. For more, visit The Herd homepage.
Colin's picks in bold.
Jan. 18
Colin's "Blazing Five" picks. Listen

| Colin's Picks | Result |
| --- | --- |
| Ravens at Patriots (-8) | Loss |
| 49ers (-4) at Falcons | Push |
Jan. 11
Colin's "Blazing Five" picks.
| Colin's Picks | Result |
| --- | --- |
| Ravens at Broncos (-9.5) | Loss |
| Packers at 49ers (-3) | Win |
| Seahawks at Falcons (-2.5) | Loss |
| Texans (+9.5) at Patriots | Loss |
Jan. 4
Colin's "Blazing Five" picks. Listen

| Colin's Picks | Result |
| --- | --- |
| Bengals (+4.5) at Texans | Loss |
| Vikings at Packers (-8) | Win |
| Colts (+7) at Ravens | Loss |
| Seahawks at Redskins (+3) | Loss |
Dec. 21
Colin's "Blazing Five" picks. Listen

| Colin's Picks | Result |
| --- | --- |
| Giants (-2.5) at Ravens | Loss |
| Redskins (-6.5) at Eagles | Win |
| Browns (+13) at Broncos | Loss |
| 49ers at Seahawks (+1) | Win |
| Saints at Cowboys (-2.5) | Loss |
Dec. 14
Colin's "Blazing Five" picks. Listen

| Colin's Picks | Result |
| --- | --- |
| Panthers (+3) at Chargers | Win |
| Buccaneers (+3.5) at Saints | Loss |
| 49ers (+5.5) at Patriots | Win |
| Steelers (-2) at Cowboys | Loss |
| Colts at Texans (-8) | Win |
Dec. 7
Colin's "Blazing Five" picks. Listen

| Colin's Picks | Result |
| --- | --- |
| Cowboys (+3) at Bengals | Win |
| Titans (+5.5) at Colts | Win |
| Falcons at Panthers (+3.5) | Win |
| Chiefs at Browns (-6.5) | Win |
| Ravens (+2.5) at Redskins | Loss |
Nov. 30
Colin's "Blazing Five" picks. Listen

| Colin's Picks | Result |
| --- | --- |
| Bengals (-1.5) at Chargers | Win |
| Seahawks (+3.5) at Bears | Win |
| 49ers (-7) at Rams | Loss |
| Vikings (+8) at Packers | Loss |
| Giants at Redskins (+2.5) | Win |
Nov. 16
Colin's "Blazing Five" picks. Listen

| Colin's Picks | Result |
| --- | --- |
| Buccaneers (-1.5) at Panthers | Win |
| Saints (-4.5) at Raiders | Win |
| Browns (+8) at Cowboys | Win |
| Packers at Lions (+3.5) | Loss |
| Ravens at Steelers (+3.5) | Win |
Nov. 9
Colin's "Blazing Five" picks. Listen

| Colin's Picks | Result |
| --- | --- |
| Lions (-2) at Vikings | Loss |
| Falcons at Saints (+2.5) | Win |
| Cowboys (-2) at Eagles | Win |
| Jets (+6) at Seahawks | Loss |
| Texans (+1.5) at Bears | Win |
Nov. 2
Colin's "Blazing Five" picks. Listen

| Colin's Picks | Result |
| --- | --- |
| Dolphins at Colts (+2.5) | Win |
| Buccaneers (+1.5) at Raiders | Win |
| Vikings at Seahawks (-4) | Win |
| Steelers (+3.5) at Giants | Win |
| Cowboys (+4) at Falcons | Loss |
Oct. 26
Colin's "Blazing Five" picks. Listen

| Colin's Picks | Result |
| --- | --- |
| Falcons (+3) at Eagles | Win |
| Giants (-2) at Cowboys | Win |
| Chargers at Browns (+3) | Win |
| Seahawks (+2.5) at Lions | Loss |
| Dolphins (+2.5) at Jets | Win |
Oct. 19
Colin's "Blazing Five" picks. Listen

| Colin's Picks | Result |
| --- | --- |
| Cardinals (+6.5) at Vikings | Loss |
| Titans (+3.5) at Bills | Win |
| Cowboys (-2.5) at Panthers | Win |
| Redskins (+6) at Giants | Win |
| Steelers (-1.5) at Bengals | Win |
Oct. 12
Colin's "Blazing Five" picks. Listen

| Colin's Picks | Result |
| --- | --- |
| Raiders at Falcons (-9) | Loss |
| Lions (+3.5) at Eagles | Win |
| Bills (+4.5) at Cardinals | Win |
| Colts at Jets (-3) | Win |
| Cowboys (+3.5) at Ravens | Win |
Oct. 5
Colin's "Blazing Five" picks. Listen

| Colin's Picks | Result |
| --- | --- |
| Packers (-7) at Colts | Loss |
| Seahawks (+3) at Panthers | Win |
| Chargers at Saints (-3.5) | Win |
| Eagles at Steelers (-3.5) | Loss |
| Broncos at Patriots (-6.5) | Win |
Sep. 28
Colin's "Blazing Five" picks. Listen

| Colin's Picks | Result |
| --- | --- |
| Redskins (+2.5) at Buccaneers | Win |
| Saints at Packers (-7.5) | Loss |
| Patriots (-4) at Bills | Win |
| Raiders (+7) at Broncos | Loss |
| 49ers (-4) at Jets | Win |
Sep. 21
Colin's "Blazing Five" picks. Listen

| Colin's Picks | Result |
| --- | --- |
| Buccaneers at Cowboys (-7.5) | Loss |
| Eagles at Cardinals (+3.5) | Win |
| Bengals (+3) at Redskins | Win |
| 49ers at Vikings (+7) | Win |
| Jets (-2.5) at Dolphins | Win |
Sep. 14
Colin's "Blazing Five" picks. Listen

| Colin's Picks | Result |
| --- | --- |
| California at Ohio State (-16.5) | Loss |
| Redskins at Rams (+3.5) | Win |
| Cowboys at Seahawks (+3.5) | Win |
| Vikings at Colts (+1.5) | Win |
| Jets at Steelers (-5) | Win |
Sep. 7
Colin's "Blazing Five" picks. Listen

| Colin's Picks | Result |
| --- | --- |
| Eagles (-8) at Browns | Loss |
| Redskins at Saints (-7) | Loss |
| 49ers (+5) at Packers | Win |
| Steelers (+1.5) at Broncos | Loss |
| Bills at Jets (-3) | Win |
Record: 53-31-1