Angel Di Maria dampens praise after virtuoso display for Argentina
Dermot Corrigan
September 4, 2014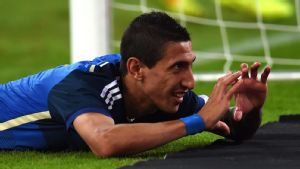 Angel Di Maria modestly played down his own performance despite almost single-handedly driving Argentina to a 4-2 victory away to world champions Germany on Wednesday evening.

- Low: Di Maria wouldn't have changed World Cup

- Di Maria gains 'revenge' over 'four-star failures'

Manchester United's new record 75 million-euro signing destroyed the German defence, laying on goals for Sergio Aguero, Erik Lamela and Fede Fernandez, before scoring the fourth himself with a superb solo effort.

The former Real Madrid winger told Ole afterwards in Dusseldorf that the real positive had been a good team performance in the first game under new Albiceleste coach Gerardo Martino.

"My game?," Di Maria said. "No, it was about the work of everyone. The most important thing was not to win, but to make a good impression in the first game of a new cycle. And I believe we did that well. We wanted to press up front and take them on as the coach asked us. I am leaving happy as I played a good game."

Di Maria missed the World Cup final meeting between the two nations in July through injury, having earlier been one of Argentina's best players in the tournament.

Asked whether the decider in Rio de Janeiro might have gone differently had he been fit, he said he preferred to dwell on how the team had left a positive image of themselves during the tournament in Brazil.

"It never came into my head what would have happened," he said. "These are things that happen in football... sometimes it goes for you and other times no. That game went for them. That is it.

"We must think that we left Argentina in a very high place, and we must keep ourselves up there. There is just one step left for us, and hopefully we can make that."

Pressed by Argentine reporters on whether he was still upset with Real Madrid president Florentino Perez for pushing out the door at the Bernabeu, "El Fideo" -- "The Noodle," as he is affectionately nicknamed -- said he had already mentally left that stage of his career behind him.

"That is done now," Di Maria said. "Now I am at a very big club, very happy with everything. I am going to work to begin adapting to English football, to my teammates, and what the coach wants."