Benatia, Godin in frame for Bayern
Stephan Uersfeld
August 19, 2014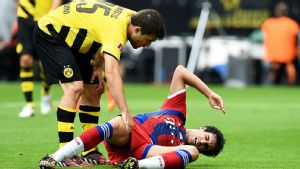 Roma's Medhi Benatia and Atletico Madrid's Diego Godin have emerged as favourites to replace the injured Javi Martinez at Bayern Munich, according to reports in Germany and Spain.

- Gotze is 'Germany's most valuable brand'

- Beckenbauer predicts Reus Dortmund exit

- Schweinsteiger faces new injury lay-off

Pep Guardiola confirmed on Saturday that Bayern are looking to sign a new centre-back in the wake of Martinez tearing his anterior cruciate ligament in Bayern's 2-0 defeat against Borussia Dortmund in the German Super Cup.

Martinez could be out for up to seven months and Guardiola said: "We'll never get through a whole season only with Jerome. We need a new player. We only have 15 days left [until the transfer window closes]. It will not be easy to find someone."

The Spain international had played a prominent role in Guardiola's plans to install a three-man defence this season and was to be played in a "sweeper" role for Bayern.

His injury limits Bayern's defensive options to just three players; Dante, Jerome Boateng and Holger Badstuber, who himself only recently returned to action after a nightmare 624 days of injury-related absence.



According to Sport1, a middle man of Benatia's agent was in Munich on Monday for initial talks about a potential transfer of Roma's Morocco international, who would reportedly cost Bayern at least 30 million euros.

The online outlet of the German sports network also reported that Manchester United and Chelsea are still in the race for 27-year-old Benatia, who will not take part in Roma's test against Fenerbahce on Tuesday.

However, Spanish newspaper AS reports that Bayern's technical director Michael Reschke currently is in Spain to discuss a potential transfer of Atletico captain Godin.

Bayer Leverkusen's Gonzalo Castro, a German with Spanish roots, has also been linked with Bayern Munich. On Monday, Leverkusen CEO Michael Schade told Rheinische Post: "Usually, I don't give comment on rumours. But in the case of Gonzalo Castro I say that -- as of now --Bayern Munich have not contacted us."

Should Bayern's hunt, however, be unsuccessful, Pep Guardiola insists he has no fears about entering the new season with the current squad.

"Should something be possible, it would be nice. If it's not possible, we'll just continue with the players we have. No problem," Guardiola was quoted as saying by Bild.