Whether it was "revenge" or not for their previous World Cup match, Mexico was able to travel to the Netherlands and defeat the home side 3-2 on Wednesday. El Tri fans will surely feel excited with the win and it may even make up for the "no era penal" controversy from the summer in Brazil that has become an emotional scar for many.
Carlos Vela made his return to the team and was easily the player of the game after scoring twice for Mexico. It's a perfect start to his new career with El Tri and it will be intriguing to see whether he can keep up the momentum for the national team.
Mexico will now head to Belarus for their second of two friendlies during the month of November. Coach Miguel "Piojo" Herrera seems to be making all of the right decisions so far with El Tri, and it showed in the win over the Dutch.
Player Ratings (1-10; 10=best. Players introduced after 70 minutes get no rating)Guillermo Ochoa (GK), 7
: Malaga goalkeeper Guillermo Ochoa had plenty of pressure going into the game. He has had no playing time this season with his club and needed a good performance to prove to his management that he is a world-class keeper. Although his confidence looked a little shaken by the pressure, the 29-year-old had a decent match despite the two goals scored on him. A late save in the game was his best moment in the match and helped Mexico hold onto the win.
Paul Aguilar (DF), 6
: Paul Aguilar struggled defensively and wasn't able to close down many of the crosses that the Netherlands was creating. He continued to have trouble in the second half and couldn't keep up with the pace of the opposition. However, the Club America wing back was able to help on the attack sporadically in the match.
Miguel Angel Herrera (DF), 6:
Plenty of good and bad. Miguel Angel Herrera did well throughout the game to block close shots in the box, but was also vulnerable one-on-one. Granted, the attack had players like Arjen Robben and Wesley Sneijder, but Herrera still struggled to overpower his opponents, especially through crosses.
Diego Reyes (DF), 6.5
: Porto defender Diego Reyes drifted forward in the game and played more like a defensive midfielder than a centre back. His intervention in the middle of the pitch helped Mexico control the ball and counter quickly going forward. However, as the game progressed he became slightly ineffective with his tackles.
Oswaldo Alanis (DF), 6.5:
I would have given Oswaldo Alanis a better grade, were it not for his poor clearance that led to the Netherlands' second goal of the game. Alanis showed no inhibitions with his interceptions and clearances and appears to be one of El Tri's best centre back options from Liga MX. That being said, he still had that poor clearance, and like Miguel Herrera, he struggled one-on-one with the Dutch attack.
Adrian Aldrete (DF), 6
: Adrian Aldrete was a great asset going forward but didn't have much of a presence defensively. The Santos defender couldn't contain much of the Dutch attack and was ineffective in his interventions.
Jose Juan Vazquez (MF), 5.5
: A very quiet game for Jose Juan Vazquez. In the past, Vazquez has been an energetic and aggressive player in the middle, but had little influence in Wednesday's match. Mexico could have had more control in the middle were it not for him.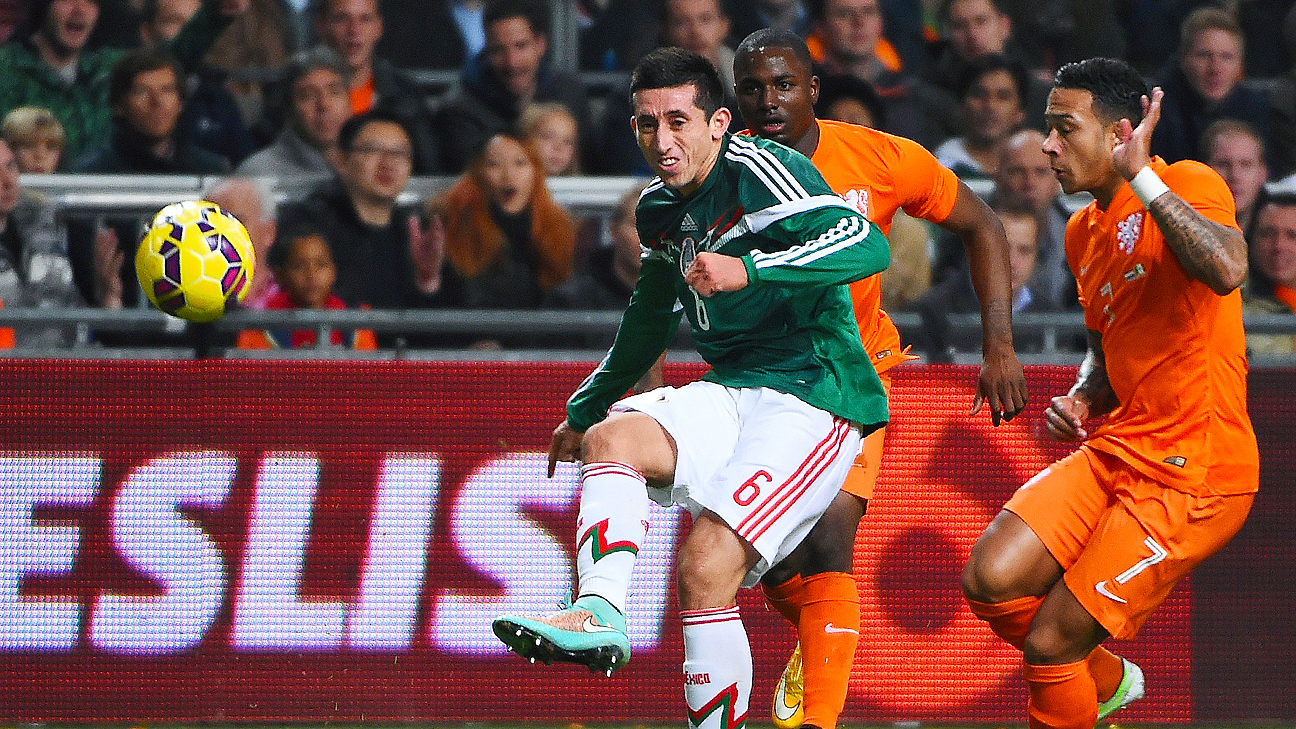 Hector Herrera (MF), 6.5
: Good assist from Hector Herrera for Mexico's first goal, but the player is capable of much more. Herrera mistimed too many of his passes and wasn't the spark for Mexico that he had been in previous games. The Porto midfielder now has plenty of competition in the middle and needs to be playing better games.
Andres Guardado (MF), 7
: Andres Guardado had a solid game on the pitch and assisted Javier Hernandez's goal in the second half. Guardado is undoubtedly one of Mexico's most experienced players and proved it on the pitch with his control of and distribution of the ball. The PSV Eindhoven midfielder at times lacked possession, but it seldom happened over the course of the match.
Carlos Vela (FW), 9
: What more could you ask from Carlos Vela? In his first game back, he scores two top-quality goals and helps secure a massive victory over the Netherlands. Vela is Mexico's best player at the moment and many El Tri fans will now embrace him with open arms after that fantastic performance.
Javier Hernandez (FW), 8
: It wasn't the best match for Javier Hernandez, but he did exactly what was expected of him: Score a goal. Hernandez struggled in the first half but completely compensated by scoring Mexico's third goal of the match.
SubstitutesJesus Manuel Corona (MF), 7.5:
In his first minute with the national team, Jesus Manuel Corona provided the beautiful assist for Carlos Vela's second goal of the match. Corona had an immediate impact on the field and brought a youthful energy with him. The 21-year-old will be an exciting asset in the future for El Tri.
Raul Jimenez (FW), NR:
Raul Jimenez could do little with his chances on the field because he was given 13 minutes to play after replacing Hernandez. The Atletico Madrid striker made some nice runs that could have possibly led to a goal if he had been given more time.
Giovani dos Santos (FW), NR
: It would be unfair to be critical of Giovani dos Santos with his amount of time on the pitch after coming on for Vela in the 77th minute. He made a few good passes but wasn't able to do much else.
Jonathan dos Santos (MF), NR
: Relieved Hector Herrera in the 82nd minute.
Miguel Ponce (DF), NR:
The California-born Ponce was an 88th minute replacement for Guardado.
Hugo Rodriguez (DF), NR
: Replaced Vazquez in the 88th minute.