The question heading into the season was whether defenses could use the offseason to catch up to offenses.
The answer is no. The first Sunday of the NFL season featured 13 games in which 657 points were scored. Four teams scored 40 or more points. The reason is the quarterbacks. Eight quarterbacks threw for more than 300 yards and that includes rookies Robert Griffin III and Andrew Luck. The Falcons' Matt Ryan had one of the most impressive days with 299 yards.
Let's face it. The question of whether rookie quarterbacks can succeed early in their careers has been answered. They can if they're in the right situation. RG3 upset the New Orleans Saints. Luck wasn't good enough to overcome the defensive problems of the Colts, but he was competitive against the Chicago Bears. Cam Newton, Joe Flacco and Ryan have all shown that some rookies don't have to sit.
1. The other rookie quarterbacks: Starting Luck and Griffin III in the opener was easy. They are two of the best young quarterbacks to enter this league in a long time. The other decisions involving rookie QBs are debatable.
Things were so bad for Browns quarterback Brandon Weeden, he got lost in pregame warm-ups. Weeden was throwing passes to get loose along the sidelines when he was engulfed by a massive American flag. He had to crawl to get out from the flag. Things went downhill from there in a 17-16 loss to the Philadelphia Eagles. Working with one of the youngest groups of skill position players in football, Weeden completed 12 of 35 passes for 118 yards and a 5.1 passer rating. It was the worst performance by a rookie opening starter in more than a decade. He threw four interceptions.
Ryan Tannehill may have been one of the stars of HBO's "Hard Knocks," but he was a victim of several hard knocks in a 30-10 loss to the Houston Texans. He completed 20 of 36 passes for 219 yards, but three interceptions and three sacks buried him and the Dolphins' offense. It still makes you wonder why Dolphins coach Joe Philbin didn't start veteran Matt Moore until he sorted out what he had at wide receiver. Only nine of Tannehill's 20 completions went to wide receivers. Tannehill continues to have trouble with passes being deflected at the line of scrimmage.
Meanwhile, Russell Wilson almost pulled out a victory in Arizona. In a 20-16 loss to the Cardinals, Wilson had the Seahawks inside the Cardinals' 10-yard line late. He proved he can move the ball, but going against the Cardinals' blitz packages, the Seahawks might have been better off starting the more experienced Matt Flynn. Still, despite completing only 18 of 34 passes for 153 yards, Wilson showed gutty leadership and fourth-quarter-drive ability.
2. Grading the officiating:
To be honest, the replacement officials didn't do poorly in Week 1, exceeding my low expectations. Sure, there were some problems spotting the football, but these officials managed the game decently. The Arizona-Seattle crew almost cost the Cardinals a game by not charging a timeout to the Seahawks when
Doug Baldwin
was injured in the Cardinals' end zone. Because the officials didn't do that, the Seahawks had a few extra attempts.
Referee Bruce Hermansen acknowledged the mistake, according to a pool report.
"It was my error," he said. "We gave them [Seattle] the additional timeout because of the incomplete pass stopping the clock before the injury occurred. When in effect, the clock has no bearing on the play at all, whether it's stopped or running, we should not have given them the additional timeout."
Elsewhere, there were complaints. Said Bills defensive end Mario Williams: "Pass blocking doesn't consist of illegal hands to the face just about every play, which, when somebody tells you that, and you're 5 yards away from it, and you walk away like you don't see him telling you you're getting punched in the face every time, then that dictates somebody like myself having to take care of that on my own."
Williams didn't get a sack in Buffalo's 48-28 loss to the Jets. There have been 45 holding calls so far in Week 1 and 25 defensive pass interference penalties, equalling the total number of defensive pass interference penalties called during Week 1 in 2010 and 2011 combined.
Fox Sports officiating analyst Mike Pereira tweeted this review of the Packers-49ers game: "Here's what I think of officiating in the Green Bay game: Not too strong at this point." That prompted NFL spokesman Greg Aiello to fire back, "Kind of like when you were out there." Pereira took the tweet in good spirits.
I give the replacement officials a "C" for Sunday. Still, the league needs to get the regular officials back.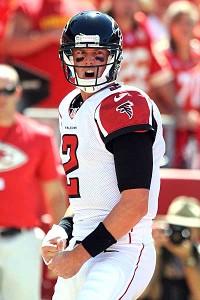 John Rieger/US Presswire Matt Ryan, benefiting from loosened reins, torched the undermanned Chiefs.
3. Ryan express: If anyone had any doubts about Matt Ryan having a breakout season, Sunday's 40-24 victory over the Kansas City Chiefs is a testament to his development. In some ways, the past play calling held him back. Ryan has similar skills to Peyton Manning and Tom Brady in being able to control a game at the line of scrimmage. Now, under offensive coordinator Dirk Koetter, the handcuffs are off. Ryan is allowed to unleash his skills. Ryan, who completed 75 percent of his passes during the preseason, completed 23 of 31 passes for 299 yards and three touchdowns. The Falcons scored on their first eight possessions.
"This might have been the best game he played," Falcons coach Mike Smith said of Ryan.
The pregame lineup was an omen for the Chiefs. They were without their best cornerback (Brandon Flowers), their best pass-rusher (Tamba Hali) and their starting nose tackle (Anthony Toribio). They didn't have any hope.
After holding back strategy in the preseason, the Falcons unveiled the way Ryan can destroy defenses this season. To help Julio Jones avoid extra coverage, the Falcons often bunched their receivers next to each other to force defenses to play more zone. Without Flowers, the Chiefs had no chance because they often had to line up journeyman Jacques Reeves against Jones. Jones had four catches for 58 yards in the first half, forcing the Chiefs to double-cover him. Once that happened, tight end Tony Gonzalez had single coverage, as did Roddy White.
Under Koetter, the Falcons aren't as tied to the run. They called 32 pass plays to 23 runs Sunday. Once the Chiefs adjusted to Jones, the game was over.
4. The value of preseason: The Eagles shut down Michael Vick during the preseason for fear of injury. Vick worked the practices, but it wasn't the same. He wasn't Brandon Weeden bad in the Eagles' comeback victory over the Browns, but he was bad. He threw four interceptions and made rookie mistakes.
"I think he was rusty," Eagles coach Andy Reid said. "He kept competing."
Vick was so bad Reid was asked if he thought of benching Vick. Reid said no, he wanted Vick to keep working through it.
The Eagles had 12 penalties, including six holding calls. The offense made too many mistakes. Vick said he was relieved to get the game-winning touchdown drive.
"I just fought through it," Vick said. "That's all I could do. We just kept fighting."
5. Changing NFC North: The NFC North used to be known as the Black-and-Blue division, a physical division that stressed hard-hitting defense and power running. It's a different division now. In four home games, NFC North teams gave up an average of 24.25 points a game. The Green Bay Packers, trying to break in six rookies on defense, were manhandled by a more physical San Francisco 49ers team 30-22.
Meanwhile, the Detroit Lions didn't look great in barely beating the St. Louis Rams 27-23. The Chicago Bears put up the fifth-best yardage output in the Lovie Smith era (428 yards), but the defense didn't look totally strong in a 41-21 win over the Indianapolis Colts. Luck put up 309 yards on the Bears. Brian Urlacher looked a little rusty coming off his knee injury. Cornerback Charles Tillman was injured.
The Minnesota Vikings gutted out a 26-23 win over the Jacksonville Jaguars in the most physical game within the division. Yet all of the NFC North teams were at home. The interesting twist is that the Packers are in last place after their home loss to the 49ers. Give the Lions credit -- they didn't panic. Quarterback Matthew Stafford survived three interceptions and a few others that were close to get two touchdown drives in the final eight minutes.
"The good news is those last two times we had the ball, I don't know if anybody's ever played better," Lions coach Jim Schwartz said. "That one drive we went down, we didn't have a second down on the whole drive; it was bang, bang, bang, bang touchdown. A guy that threw three interceptions, maybe at the end you're sitting there going, 'Hey let's get into field goal range; let's try to take it to overtime.' That was never even in our thought. The whole time we were talking about, 'We've got plenty of time, let's go down and score a touchdown and win this game.' We can't do that without a quarterback like Matt."
SHORT TAKES
The improvements in medical science were evident with the amazing returns of Adrian Peterson, Jamaal Charles and others from knee reconstructions. Charles showed some explosiveness with a 46-yard run in a 16-carry, 87-yard game in the Kansas City Chiefs' 40-24 loss to the Atlanta Falcons. Peterson didn't show much explosiveness but was solid against the Jacksonville Jaguars. Peterson had 17 carries for 84 yards and two touchdowns in the Vikings' 26-23 overtime victory over the Jaguars. … With Rashad Jennings suffering an early knee injury that kept him out of the game, Maurice Jones-Drew ended up getting more than third-down duty in his return after a 38-day holdout. He had 19 carries for 77 yards, but maintained the trend of a holdout running back averaging 4.1 yards a game or less. … As much as everyone talks about the five rookie starting quarterbacks, four rookies ended up getting backup jobs. Kirk Cousins beat out Rex Grossman for the Redskins' backup job and Brock Osweiler was handed the Broncos' backup job when John Elway cut Caleb Hanie on Saturday. Nick Foles of the Eagles and undrafted Austin Davis of the Rams won backup jobs. With the Broncos and Rams keeping only two quarterbacks, you have to wonder if both teams will look at Mike Kafka, Brian Hoyer, Sage Rosenfels, Billy Volek, Kellen Clemens and some of the other available backups. Fourteen teams kept only two quarterbacks on their rosters, and seven don't have quarterbacks on their practice squad. … With games coming up against Denver (Peyton Manning) and San Diego (Philip Rivers), the Falcons have to worry about a calf injury to cornerback Brent Grimes. Falcons coach Mike Smith offered no update. … The potential loss of Bills halfback Fred Jackson to a knee injury for even a short time could be devastating. With Ryan Fitzpatrick still throwing interceptions -- he threw three Sunday -- the Bills need all the offensive help they can get. Plus, wide receivers David Nelson and Steve Johnson are banged up. … Despite the changes to the Rams' receiving corps, coach Jeff Fisher has to be pleased with the start of Sam Bradford. He completed 17 of 25 passes for 198 yards and had a 105.1 passer rating in a 27-23 loss to the Detroit Lions. … Now that Matt Schaub signed his four-year, $62 million contract extension, the Texans have locked up two key players -- Schaub and left tackle Duane Brown. They will have to wait until the offseason to extend linebacker Connor Barwin.