Down the stretch and headed for an upset
By Rece Davis | ESPN.com
In 1919, a thoroughbred named Upset entered the Sanford Stakes a 100-1 underdog and stunned undefeated Man o' War. It was the only race Man o' War ever lost and spawned the popular sports term "upset." Actually, that last part is not true, although it has become popular explanation of the term's origin.
One truth was underscored by that race, though. No one in sports is invincible.
The four undefeated teams from the BCS automatic-qualifying conferences face unranked opponents this weekend. They'll all be heavily favored to remain unbeaten. While acknowledging that upsets can happen and, by definition, you don't see them coming, clashes featuring potential future spoilers to the final perfect four will be be far more revealing this weekend.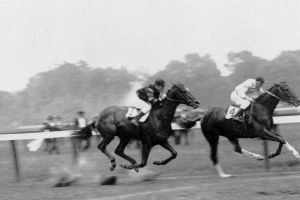 AP PhotoUpset, a 100-1 long shot, held off undefeated Man o' War to win the Sanford Stakes in 1919.
No. 5 Baylor has a tough schedule down the stretch that includes both No. 12 Oklahoma State and No. 24 Texas. Which one of those is the bigger threat to the Bears' perfection could be evident after the Cowboys and Longhorns meet in Austin this weekend.
Oklahoma State hasn't gotten nearly the attention it deserves, primarily because of a bad loss at West Virginia. Mike Gundy's team also is winning differently, though. Rather than being guided by a prolific offense, the Cowboys have been resourceful. They have five non-offensive touchdowns, and the defense creates negative plays, ranking 16th in the nation in tackles for loss. All of that has offset an offense that's been inconsistent, certainly when judged by the Cowboys' recent standards.
Like Oklahoma State, Texas' trip to Morgantown brought out the skeptics. The Horns escaped in overtime but allowed 40 points to a struggling Mountaineers team playing with a backup quarterback. The Longhorns lost leading rusher Johnathan Gray and DT Chris Whaley to season-ending injuries. Don't forget Texas already had lost LB Jordan Hicks for the season and QB David Ash hasn't played in more than a month.
The Horns have been battered, ridiculed and seen their coach given up for fired. Through it all, though, they are still perfect in conference play. Do the Horns have enough left in the emotional tank? Or will Oklahoma State emerge as the biggest threat to Baylor's perfect season?
No. 3 Ohio State needs a marquee game. It's not that a trademark win gives the Buckeyes a realistic hope of dislodging Alabama or Florida State from the top two spots in the BCS standings without a loss from one of the top two. They need to make sure they don't get passed by teams ranked below them. So the Buckeyes will be rooting for No. 16 Michigan State to beat Nebraska.
The Spartans aren't exactly a juggernaut. Well, they are half a juggernaut. Michigan State's defense is the best in the country. There's a bevy of stats to back it up. There are playmakers at every level. Shilique Calhoun has gotten attention for scoring three defensive touchdowns. Denicos Allen tackles everything that moves. One NFL scout recently told a Michigan State staffer that cornerback Darqueze Dennard is the best cover guy he has written up since Deion Sanders.
With all due respect, I differ with that assessment and find it rife with hyperbole. It does show, however, that Michigan State isn't just padding stats against inferior offenses. The Spartans have ballers at every level of the defense.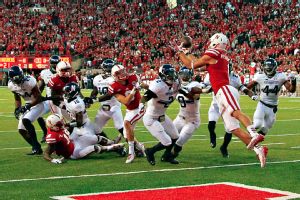 AP Photo/Nati HarnikCan Nebraska pull off a third straight miracle against Michigan State?
Sparty can't just waltz into Lincoln and stroll out with a victory. In fact, Michigan State has never strolled out of anywhere with a win over the Huskers, sporting a 0-7 mark in the series. History isn't as daunting as Michigan State's defense, though. Even with the Huskers' new lease on life after the answered Hail Mary against Northwestern and a road win at Michigan, it's hard to see them holding up against the ferocious Spartans defense.
A Michigan State win clinches at least a tie for the Legends Division crown and all but assures them of a trip to the Big Ten title game.
While spending time with David Cutcliffe this summer, he told me that he'd be disappointed if all Duke could do was become bowl eligible. Coach Cut has his wish. Duke has clinched its first non-losing season since 1994 and is going bowling. If the Blue Devils can beat No. 23 Miami, they've got a shot to win the ACC Coastal Division. The staggering Canes let a previously punchless Virginia Tech offense go wild on them. Miami had a smorgasbord of gaffes in all three phases of the game.
Duke has won five in a row on the strength of a defense that allowed just 18 points per game during the run, but history is against the Blue Devils.
Since Miami joined the ACC, Duke is 0-8 against it. But don't fall for history.
Miami is still in the rebuilding stage. It has trailed by double-figures in every ACC game it has played and had to rally in the fourth quarter in two of its three conference wins.
The Coastal Division is convoluted and far from decided. But the winner stays firmly in contention to earn a shot against second-ranked Florida State in the ACC championship.
The Deep South's Oldest Rivalry is renewed in Auburn as the seventh-ranked Tigers welcome the 25th-ranked Georgia Bulldogs.
Auburn controls its destiny in the SEC West and actually is more than just a potential road block for top-ranked Alabama. Should the Tigers run the table, it's hard to imagine they wouldn't be the highest-ranked one-loss team in the BCS.
Auburn rushes for an SEC-leading 320 yards per game, and quarterback Nick Marshall looks more lethal running Gus Malzahn's offense each week. Last week, he gashed Tennessee for 214 yards rushing. That's the best rushing performance in the SEC this season.
Though Auburn has lost six of seven to the Dawgs, Marshall has experience winning in this series. He was a defensive back for the Bulldogs when Georgia beat Auburn in 2011. When he went to junior college the next season, he returned to quarterback and resurfaced at Auburn, where he has fueled the Tigers' resurgence.
This should be another high-scoring SEC game. Georgia has Todd Gurley back from injury. That relieves a ton of pressure on quarterback Aaron Murray and the passing attack. Georgia has lost the turnover battle in four straight games. The Bulldogs can't overcome that against Auburn. The Dawgs still have hope in the SEC East, but they have to beat their old rival.
This game won't have any bearing on whether Auburn can knock off Alabama in the Iron Bowl in a couple of weeks, but how it fares against Georgia will tell us whether Auburn is a contender or merely a spoiler.
The Pac-12 no longer has an undefeated team, but it has a front-runner. Stanford grabbed that mantle by bludgeoning Oregon. If the Cardinal want to hang on to that spot, they should be on high alert to avoid the letdown game against USC. Stanford has won six of seven against the Trojans, but these aren't Lane Kiffin's boys.
These are Ed Orgeron's fun-loving, whooping, hollering, cookie-eating-at-the-training-table Trojans. They are thin in numbers but heavy in confidence and they have nothing to lose. That only increases Tommy Trojan's hopes of making his jaunts on Traveler feel like a ride on Upset.
Five things to watch in Week 12
By Mark Schlabach | ESPN.com
Five things we'll be watching in college football Saturday:
1. Will USC's resurgence continue against No. 4 Stanford?
Since firing coach Lane Kiffin after an ugly 62-41 loss at Arizona State on Sept. 28, USC has gone 4-1 under interim coach Ed Orgeron, including three victories in a row. Sophomore quarterback Cody Kessler seems much more comfortable than he did at the start of the season, throwing six touchdowns with two interceptions in the past five games. He has completed 82 percent of his passes the past two games.
But after beating Utah at home and Oregon State and California on the road, the Trojans will take a big step up in competition when they play the Cardinal at the Coliseum on Saturday night. Stanford has won its past four games against USC and is coming off a 26-20 win over then-No. 3 Oregon last week. In last season's 21-14 win over the Trojans, the Cardinal allowed only 26 rushing yards. USC tailbacks Tre Madden (hamstring) and Silas Redd (knee) have been limited in practice this week.
"They've got great pass-rushers," Orgeron said. "We're going to have to protect Cody and run the football. It's not about Stanford; it's about us executing."
2. Can No. 25 Georgia spoil the Iron Bowl?
The excitement is already building for the Nov. 30 Iron Bowl, in which No. 1 Alabama and No. 7 Auburn might play for an SEC West title and a corresponding spot in the Dec. 7 SEC championship. In the storied history of the Iron Bowl, it has never decided which team would play for an SEC championship in Atlanta's Georgia Dome.
But the surprising Tigers first have to defeat Georgia, which beat them soundly in each of the previous two seasons. Last season, UGA shut out Auburn 38-0 at Jordan-Hare Stadium, its first shutout victory in the series since 1976. In 2011, Georgia defeated the Tigers 45-7 at Sanford Stadium.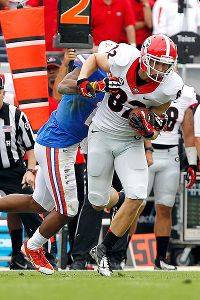 Kim Klement/USA TODAY SportsMichael Bennett returned to action against Florida after missing two games with a knee injury.
Injuries derailed Georgia this year, but it rebounded to defeat Florida and FCS foe Appalachian State the past two weeks. Tailback Todd Gurley ran for 175 yards in the past two games after missing three consecutive games with a badly sprained ankle. Receiver Michael Bennett also returned after missing two games with a knee injury.
UGA's much-maligned defense will face former teammate Nick Marshall, now Auburn's starting quarterback. He ran for a career-high 214 yards with two touchdowns on 14 carries in last week's 55-23 victory at Tennessee. The Tigers are averaging a whopping 320 rushing yards per game; UGA has allowed only one opponent (South Carolina) to run for more than 200 yards in a game this season.
"We are excited that we have the opportunity to, I guess you could say, flex our muscles, show who we really are," UGA defensive end Ray Drew said. "This is going to be one of those tell-tale games."
3. Will No. 24 Texas stay in the Big 12 championship hunt?
Left for dead after early-season losses to BYU and Ole Miss, Texas has won six games in a row to stay atop the Big 12 standings. After surviving a 47-40 overtime win at West Virginia last week, the Longhorns will face perhaps their most difficult challenge to date when they host No. 12 Oklahoma State in Austin on Saturday. UT won 13 of the previous 15 meetings against the Pokes.
The Longhorns will have to move on without top tailback Johnathan Gray, who suffered a season-ending Achilles injury in last week's game. Gray led UT with 780 rushing yards this season, averaging nearly 5 yards per carry. Junior Malcolm Brown, who has seen his workload increase in the past four games, will take over as the primary runner. After carrying the ball fewer than 10 times in each of the first five games, Brown averaged 22 in the past four, gaining 379 yards with seven touchdowns.
The Longhorns also will be without top defensive tackle Chris Whaley, who suffered a season-ending knee injury against the Mountaineers. The Cowboys, who have won five games in a row, didn't have many problems moving the ball against UT's defense in last season's 41-36 loss in Stillwater, Okla. The Pokes gained 576 yards of offense, and Joseph Randle ran for 199 yards with two touchdowns.
4. Is No. 5 Baylor ready for its challenging stretch run?
The high-scoring Bears were criticized for playing a soft schedule until they blasted then-No. 10 Oklahoma 41-12 in Waco last week. Now they're getting ready to play the meat of their schedule, starting with Saturday's game against Texas Tech at AT&T Stadium in Arlington, Texas. The Red Raiders were one of the country's biggest surprises under first-year coach Kliff Kingsbury, until losing each of their past three games.
The Bears are banged up going into the stretch run. Star receiver Tevin Reese will miss the rest of the regular season after dislocating his right wrist against the Sooners. He was averaging 25 yards per catch and had eight touchdowns. Baylor still has Antwan Goodley, who leads the Big 12 with 122 receiving yards per game along with 10 touchdowns.
Texas Tech's defense has collapsed during its three-game losing streak, allowing 849 rushing yards with 13 touchdowns during the slump. Last week, the Red Raiders allowed a season-high 291 rushing yards in a 49-26 loss to Kansas State. The Bears are averaging 295.4 rushing yards, but tailbacks Lache Seastrunk (groin) and Glasco Martin (knee) are banged up. If they can't play, freshman Shock Linwood will carry most of the load for the second week in a row.
5. Will Nebraska or No. 16 Michigan State take control of the Big Ten Legends Division title?
Michigan State has never defeated Nebraska, but the the Spartans can claim at least a share of the Legends Division title and take a two-game lead on both the Cornhuskers and Minnesota if they win in Lincoln on Saturday. Michigan State would then earn a spot in the Big Ten championship game in Indianapolis the following week if it defeats Northwestern, or Minnesota loses to Wisconsin.
If Nebraska defeats Michigan State for the eighth consecutive time, it would take control of the division. Last season, the Spartans squandered a 10-point lead in the final eight minutes of a 28-24 loss to the Cornhuskers. Nebraska quarterback Taylor Martinez ran for a 35-yard touchdown with 7:02 to play, and then guided the Cornhuskers on an 80-yard scoring drive in the final 80 seconds, throwing a 5-yard touchdown pass to Jamal Turner with six seconds to play.
The Cornhuskers' winning touchdown came after a pass interference call on against the Spartans put the ball at the MSU 5 with 17 seconds remaining. Earlier in the game, MSU had an interception return for a touchdown nullified by a controversial penalty.
"The football game last year was difficult to swallow the way it went down at the end, and I'll leave it at that," Spartans coach Mark Dantonio said. "There were some different things that went on in the game that were unconventional. I'll leave it at that."
What to watch in Week 12
Click below to see what our reporters think you should be watching for in each conference this weekend.
---

Steve Addazio has done a tremendous job turning around Boston College in just his first year as head coach. This weekend, he can take the Eagles the next step by becoming bowl-eligible with a victory of ACC-winless NC State. In Pittsburgh, the Panthers are flying high after ending Notre Dame's bowl hopes last week, but North Carolina is coming to town with the confidence of a three-game win streak. ACC
---

Nebraska has to be feeling like luck is on its side after executing two come-from-behind wins in a row. With Michigan State, a team they have never lost to, coming to town, the Cornhuskers seem to have history's advantage. Look for Michigan State's defense to have something to say about that, though. In Evanston, Michigan and Northwestern are playing a different tune. Both are struggling to find any confidence and are hoping to salvage some dignity down the stretch. Big Ten
---

The pressure is on Oklahoma State this weekend in Austin. The objective is simple: Beat Texas and the Cowboys put themselves in prime position in the Big 12 title race. On the other sideline, Texas will be without some key contributors, and someone will have to step up if the Longhorns are to continue their magical turnaround season. Big 12
---

It's all about jockeying for position in the division races and trying to get into the good graces of bowl officials in the later weeks. The Pac-12 currently has eight bowl-eligible teams, and all are looking to pad their résumés. Pac-12
---

When Georgia and Auburn meet on the Plains, there will be a lot on the line. Everyone is looking forward to the Iron Bowl, but Auburn cannot afford to overlook the Dawgs. If Georgia can pull off the upset, it can get itself right back in the SEC East race and put the pressure on Missouri to win out in the final two weeks. SEC
Recruiting Updates
By
RecruitingNation
| ESPN.com

Art Briles has found success on the recruiting trail while at Baylor, thanks to straight talk and long-standing Texas connections. Jeremy Crabtree »
More from RecruitingNation:
• Baylor attracting recruits on D


• Rankings: ESPN 300 | Class rankings
• Hot Board

| On The Trail

| Home
Fantasy college football
Make GameDay your game day with three ways to play fantasy football.