Top 50 College Hoops Coaches: Nos. 50-25
Editor's note: Over the next five weeks, we will reveal the top 50 coaches in college basketball as decided by our ESPN Forecast panel. Today we unveil Nos. 50-25. On Tuesday, we release No. 24.
---
Which coaches are doing the best job right now?
We've been thinking about that question this offseason, looking for the best way to quantify the answer. Luckily, we've got ESPN Forecast. Last week, we asked a panel of nearly 100 ESPN writers, editors, broadcasters and researchers to rate college basketball coaches on all aspects of running a program, on a scale of 1-10. (The crucial distinction here is that the prompt was not career-oriented. This isn't about legacy. It's all about the present.) We compiled their scores and ranked the names, and now comes the fun part: The big reveal.
The list has plenty of obvious selections, but the panel also contains more than a few surprises -- and a few snubs. For the next five weeks, we'll count down the top 25. But today, we kick things off with Nos. 50-25. What wisdom does the crowd have to offer? Let's find out:
Tie: No. 50: Randy Bennett, Saint Mary's; Scott Drew, Baylor
We used a tiebreak system to resolve all ties ... except for this one.
We just didn't have the heart to kick a coach out of the top 50 on a tiebreak. So Baylor's Scott Drew snuck in at 50, which, let's be clear, is way too low. Drew has often been the butt of jokes on Twitter for ostensibly doing too little with his talented teams, but he doesn't get enough credit for recruiting so well to Waco, Texas (which has had its most successful hoops decade ever under Drew after one of the worst scandals in college hoops history) in the first place.

Bennett, meanwhile, has elevated Saint Mary's to consistent tournament contention alongside rival Gonzaga in the West Coast Conference, even if 2013's recruiting violations and the subsequent four-year probation cast a shadow over that success.
No. 49: Richard Pitino, Minnesota

Someone made an impression in his first Big Ten season, huh? Richard Pitino, all of 31 years old, guided the Gophers to the NIT title in 2013-14, a strong finish to an encouraging first season. (And one that provided a shot of his father, Rick Pitino, screaming from courtside at one of his son's guards that the Gophers had no timeouts left, while former Louisville guard Peyton Siva sat beside him laughing. Dads are so embarrassing!)
No. 48: Stew Morrill, Utah State

Since 1998, Morrill's steady hand has guided the Aggies' consistent mid-major success upward through the Big West, then the WAC, and now into the Mountain West, where Utah State and Morrill have their biggest audience yet.
No. 47: Bob Hoffman, Mercer

Hoffman has long been a respected member of the coaching fraternity. But it wasn't until March, when his Bears upset Duke (and potential No. 1 pick Jabari Parker) and Nay Nay'd their way into our hearts, that Hoffman crossed over into the mainstream.
No. 46: John Thompson III, Georgetown

A few years ago -- or, heck, even last summer -- Thompson would have surely ranked higher on this list. But the 2013-14 season was a frustrating step back. And even when Georgetown has been good, its propensity for early-round exits has left Hoyas fans grumbling.
No. 45: Mike Brey, Notre Dame

Brey is a lot like Thompson: Save 2013-14, his teams are almost always good if not great, and almost always fall short of expectations in the tournament.
No. 44: Rick Barnes, Texas

Save Drew, no coach seems to get stuck with the dreaded "good recruiter, bad coach" label more than Barnes, which is pretty unfair, given that (a) recruiting is part of coaching and (b) Barnes' teams always defend. After a pair of down years, the Longhorns got back into top 25 territory for much of 2013-14, and their mix of returners and newcomers means they'll be back again next season.
No. 43: Chris Mack, Xavier

Mack has been steady at Xavier, missing the tournament just once in his four years. He did an especially nice job with a young team in 2013-14, but will have to replace NBA-bound sophomore guard Semaj Christon.
No. 42: Josh Pastner, Memphis

After a promising but occasionally rocky first few years in Memphis -- where fans are desperately hungry for John Calipari-era success -- the relentlessly upbeat Pastner seems to have settled into something of a groove. His best skill is still his recruiting, but he's a better overall coach than he often gets credit for.
No. 41: Ed Cooley, Providence

Providence senior Bryce Cotton just put together one of the most impressive individual seasons -- Cotton averaged 21.8 points, 5.9 assists and 3.5 rebounds in 39.9 minutes per game -- in 2013-14. To say he was instrumental to the Friars' success is a huge understatement, but Cooley has done a great job on the recruiting trail, and his bench is better stocked now than any Providence team in recent memory. Cooley's done a great job there.
No. 40: Bruce Weber, Kansas State

The conductor of one of the aughts' greatest teams (the 2004-05 Illini), Weber eventually wore out his welcome in Champaign, Illinois. He's since found a comfortable home at Kansas State, where rising sophomore Marcus Foster has a chance to make the 2014-15 Wildcats special.
No. 39: Tubby Smith, Texas Tech

Last season Smith took a Texas Tech program ravaged by Hurricane Billy Clyde and almost immediately made it respectable; the Red Raiders jumped from 233rd to 83rd in adjusted efficiency in the matter of one season.
No. 38: Buzz Williams, Virginia Tech

Williams' streak of Sweet 16 appearances at Marquette finally ended in 2013-14, and so did his tenure: In March, Williams was lured to Virginia Tech to help new AD Whit Babcock salvage the now-disastrous decision to fire Seth Greenberg (who, full disclosure, now works at ESPN) and hire greenhorn James Johnson. Williams will have a football pocketbook and near total autonomy in Blacksburg, Virginia, and you better believe the Hokies will get better fast.
No. 37: Rick Byrd, Belmont

Belmont is the best indie act in college hoops, a consistent offensive (and efficiency margin) powerhouse whose lack of a Cinderella run has kept the Bruins, and Byrd, under the radar. But those of us who spend all year obsessing over college hoops know and respect Tennessee's best-kept secret.
No. 36: Steve Alford, UCLA

UCLA's introduction of Alford (and his utterly bonkers contract buyout clause) went about as poorly as it possibly could have, but Alford very quickly salvaged it by getting a great season out of the uniquely talented players (Kyle Anderson, Jordan Adams) former coach Ben Howland left behind. Alford has also begun to shore up the tricky West Coast recruiting circuit that Howland totally alienated.
No. 35: Phil Martelli, Saint Joseph's

Martelli's hard-line transfer policy lost him a fair bit of respect within the sport back in 2011, but just as disconcerting was what looked like consistent underachievement from a clearly talented group of players in the seasons that followed. In 2013-14, Martelli's team came on at the perfect time, winning the A-10 tournament en route to a second-round NCAA tournament loss (in OT) to eventual champion UConn. (Remember that?)
No. 34: Tad Boyle, Colorado

Boyle took over for former Colorado coach Jeff Bzdelik (whose three sub-.500 seasons were so enticing Wake Forest just had to hire him), and that swap may go down as one of the best coaching upgrades in Colorado hoops history. Boyle has been comprehensively good in Boulder, Colorado, both on the court (where he's 92-50) and off it, where CU fans are now deeply engaged with a program that spent most of the past two decades awash in Chauncey Billups nostalgia.
No. 33: Fran McCaffery, Iowa

It's safe to say 2013-14 hurt McCaffery with the panel. He would almost certainly have ranked higher had the Hawkeyes maintained their top-10 early-season trajectory, when they were one of the best and most thrilling offensive teams in the country, and not, you know, totally collapsed down the stretch. That Iowa ended the regular season 20-11 (9-9) (the exact same record, with the exact same Big Ten tourney seeding and matchups, as 2012-13) was hilarious and sad at the same time. But McCaffery's overall success in Iowa City shouldn't be ignored: Next season he'll have just as much talent at his disposal.
No. 32: Tim Miles, Nebraska

A couple of years ago, Tim Miles was the funny coach with the funny Twitter feed, the guy most likely to be sitting alone at Big Ten media day while simultaneously making fun of himself for sitting alone at Big Ten media day. (Five years ago, at Big 12 media day, that coach was Fred Hoiberg. My how things change.) Now, after taking the Cornhuskers to their first NCAA tournament since 1998 in just his second season, Miles is a bona fide rising star in the profession. He's turning Nebraska into a real program, and he has the long-run backing of the athletics department, and the elite facilities, to finish the job.
No. 31: Lon Kruger, Oklahoma

The uncreative love to bust out the "Death. Taxes. Bo Ryan." catchphrase anytime Wisconsin wins a game, but what about Kruger? Kruger's teams are always solid no matter where he is, and his Oklahoma tenure -- which began in the wake of some pretty serious Jeff Capel-era recruiting violations -- has seen Kruger steadily lead the Sooners further and further up the solidity ladder. Dude is a great coach.
No. 30: Bob Huggins, West Virginia

Huggins is a well-respected basketball mind if not always the paragon of virtue (not that I'm one to judge) among colleagues and media members, but he's at a pretty interesting place at West Virginia presently. Last season was a mild disappointment. For all the Mountaineers' offensive brilliance -- and Juwan Staten was one of the best guards in the country in the last couple of months of the season -- their un-Huggy-like defense kept them out of the tournament. Staten is back next season, but with Eron Harris transferring, will Huggins have enough around him?
No. 29: Jim Crews, Saint Louis

Coaching college basketball is demanding enough. Coaching college basketball in the wake of the death of a beloved friend and mentor is kind of unimaginable. But Crews did just that these past two seasons, guiding a tight Saint Louis senior corps through the gut-wrenching passing of former coach Rick Majerus. This season, his lockdown defense was good enough to satisfy Majerus' prediction that the Billikens would one day be a top-10 team. Few coaches evince a more relaxed, self-assured perspective.
No. 28: Jim Larranaga, Miami

Your humble author believes Larranaga deserves a spot in the top 25, if not for his brilliant 2012-13 season at Miami then at least for the gif that immortalized it. The Hurricanes lost almost everyone from that watershed campaign last spring, and it showed in 2013-14. Expect a big leap forward this fall.
No. 27: Mick Cronin, Cincinnati

The Bearcats' 2013-14 season didn't end the way Cronin would have preferred; Cincinnati picked the wrong time to go cold, and was promptly upset by No. 12 seed Harvard, in its first tournament game this spring. But Cronin's most recent season was still his best in the eight years since he took over for the deposed Bob Huggins, the culmination of a slow, steady build that should keep Cincinnati at or near the top of the American for the foreseeable future.
No. 26: Archie Miller, Dayton

There's nothing like an Elite Eight run to boost your stock, huh? The panel may be falling for a little bit of recency bias here, but there's no question Miller belongs on the list. In 2013-14, he took a team that started conference play 1-5 and turned it into one that would upend Ohio State, Syracuse and Stanford -- and galvanize a joyous, resolute Flyers fan base -- in the year's most memorable tournament run.
No. 25: Jamie Dixon, Pittsburgh

No. 25 may be too low for Dixon in the long run -- his first eight years were all excellent, and his teams' relentless rebounding is basically a guarantee that his team will (almost) always be above average -- but the ranking is at least understandable when viewed as a measure of short-term performance. Pittsburgh has been decent, but hardly great, the past three seasons. The Panthers are often maddening to boot. Which is probably why the panel scored Dixon out to No. 25: Not because he's not good, but because everyone has come to expect more.
-- Eamonn Brennan
COACHES WHO JUST MISSED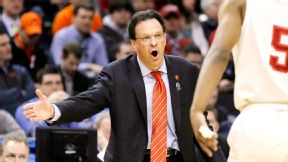 AP Photo/Kiichiro Sato
Some big names missed our list of top 50 coaches. Here are the 25 names who just missed, listed in alphabetical order.
Dana Altman, Oregon
Tim Cluess, Iona
Tom Crean, Indiana
Keith Dambrot, Akron
Johnny Dawkins, Stanford
Fran Dunphy, Temple
Leonard Hamilton, Florida State
Ben Jacobson, Northern Iowa
Derek Kellogg, Massachusetts
Larry Krystkowiak, Utah
Mike Lonergan, George Washington
Cuonzo Martin, California
Chris Mooney, Richmond
Craig Neal, New Mexico
Matt Painter, Purdue
Dave Paulsen, Bucknell
Bruce Pearl, Auburn
Steve Prohm, Murray State
Dave Rose, BYU
Herb Sendek, Arizona State
Kevin Stallings, Vanderbilt
Andy Toole, Robert Morris
Brad Underwood, Stephen F. Austin
Brian Wardle, Wisconsin-Green Bay
Michael White, Louisiana Tech
HOW DOES IT WORK?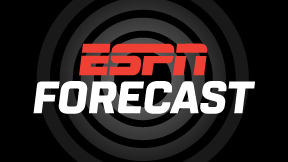 What is ESPN Forecast?
Our engine for creating more accurate sports predictions and opinion.
Does it work?
Yes. This is the future of forecasting, as demonstrated by the 2012 presidential election and Fortune 500 companies.
How does it work?
Our approach, in a nutshell, is to create a diverse panel of people with college basketball expertise and aggregate predictions and opinions. For ESPN Forecast, we have a panel of 45 members that collectively possess vast college basketball experience, knowledge and perspective.
Why does it work?
This panel has a collective intelligence that's greater than any individual member's knowledge and sharper than that of any single statistical system.
Diversity is a key factor in creating accurate predictions and opinion. The wisdom of the crowd comes from having diverse views that emerge from independent thinking.
The ESPN Forecast panel is a diverse mix of contributors from across the spectrum.
The result?
More accurate, insightful forecasts and views.
This is the wisdom of the crowd in action. This is ESPN Forecast.
COACHING CENTRAL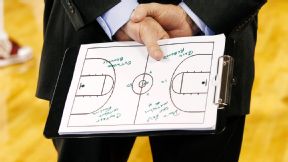 AP Photo/Mel Evans
BIGGEST SURPRISES
Here are a few surprises from the initial set of rankings:
Tom Crean (Not ranked) - Well, the Indiana coach failed to crack the Top 50. And that's surprising - maybe. Under Crean, Indiana has reached the Sweet 16 in two of the last three years. The Hoosiers won the Big Ten regular season crown in 2012-13, too. He's also responsible for the restoration of a program that fell short of a lofty legacy as it endured the post-Kelvin Sampson Era sanctions. All of that after he led Marquette to the Final Four in 2003. That all should count for something. But perception matters, too.

And the perception that Crean has failed to alter is one that sees him as more of a recruiter than an Xs and Os guy. A 4-15 record overall against Bo Ryan, one of the game's great Xs and Os coaches, only magnifies that notion. Crean had two top-five NBA draft picks in 2012-13. But he couldn't advance beyond the Sweet 16 with Victor Oladipo and Cody Zeller, even though that Hoosiers squad spent a chunk of the season with the No. 1 slot. They exited the Big Dance after shooting 33.3 percent and committing 18 turnovers against Syracuse in the Sweet 16. And last season, Indiana went 7-11 in the Big Ten and failed to reach the NCAA tourney. Yes, Crean had a lot of inexperienced players on that team. But that shouldn't happen when one of the league's top athletes (Yogi Ferrell) and a future lottery pick (Noah Vonleh) anchor your roster. Still, Steve Alford has just one Sweet 16 appearance in his entire career (1999). And Fran McCaffery finally turned Iowa into an NCAA tourney team last season. Not sure how those guys are ranked in the 30s and Crean can't even crack the Top 50. It's interesting.
Buzz Williams (No. 38) - Marquette entered last season as the favorite to win the championship in the (new) Big East's first season. The Golden Eagles fell short of those expectations when they finished sixth and missed the NCAA tourney last year. Not the best regular season for Williams, who left to fill Virginia Tech's opening a few weeks ago. But Marquette was coming off a shared Big East title in a much tougher version of the conference.

The Golden Eagles split that 2012-13 crown with a Louisville team that won the national championship that year and a Georgetown team that looked like a Final Four squad before Dunk City ruined those plans in the opening round. Marquette made five consecutive NCAA tourney appearances (2009-2013) under Williams. That run included two Sweet 16 appearances and an Elite Eight run in 2013. Nothing against Tad Boyle (No. 34) and Tim Miles (No. 32) - both good coaches - but they can't match that. Seems too low for Williams.
To read the entire post, click here.