Top 50 coaches: No. 3 Tom Izzo
Editor's note: Over five weeks, we will reveal the top 50 coaches in college basketball as decided by our ESPN Forecast panel. Today we unveil No. 3: Michigan State's Tom Izzo. On Thursday, we will release No. 2 and No. 1.
---
Typically, time and distance confer a sense of inevitability. The further we get from March and April, the more the team that won the national title was always going to win the national title, no matter how unlikely it was at the time.
In the case of the 2014 Connecticut Huskies, the opposite is true. At the time, UConn was impressive but not really shocking; even as a No. 7 seed, they never felt like impossible underdogs. They were still UConn, after all. The threat was always acknowledged. Now, though, three months' distance somehow affords us a wider, fuller view. And really, the whole thing is startling.
More from ESPN.com

Final Fours are almost expected at Michigan State. That's how good Tom Izzo has been, and that's why he's No. 3 on our list, writes Eamonn Brennan. Story


How has Tom Izzo done so well at Michigan State? Let those who have played for him and worked alongside him explain, writes Dana O'Neil. Story

• Recruiting strategy


• Don't expect a slide


• Nation blog
Consider it. In six straight games, UConn survived red-hot St. Joe's; handled four-loss, No. 2-seeded Villanova; outlasted hobbled but dangerous No. 3-seed Iowa State; knocked out a Michigan State team that was seeded No. 4; smothered clear, overall favorite Florida in the Final Four; and somehow managed to down obscenely talented, suddenly indestructible Kentucky, which had downed Wichita State, Michigan, Louisville and Wisconsin en route to the final.
The turning point -- the point at which UConn morphed from a dangerous early-round upstart into a genuine national title threat -- was its game against Michigan State.
To many, this author included, it was inconceivable that the Spartans would miss the Final Four. They had everything on their side: Talent, experience, size, and finally, after an injury-plagued Big Ten campaign, health.
More than anything, though, they had Tom Izzo. And Izzo had a group of seniors that hadn't yet been to a Final Four in their careers. And no senior to ever play for Izzo failed to reach at least one Final Four in his career. Seriously: Was there a safer Final Four bet on the board?
Expecting Final Fours is silly, because getting to the Final Four is insanely hard. Here's the most impressive thing you can say about Izzo, then: In his 19 seasons in East Lansing, Izzo has made the whole thing look so rote that it's more surprising when his teams don't get to the Final Four than when they do.
That is just one of many impressive things about Izzo, obviously. The No. 3-ranked coach in our ESPN Forecast top 50 poll has long since established, and consistently maintained, Michigan State's status as one of the best and most successful basketball programs in the country. It's easy to forget how quickly Michigan State got good under Izzo: In just his third season, 1997-98, he won the Big Ten title. In his fourth, he went to the Final Four. In his fifth, Mateen Cleaves and Co. won the national title. The Spartans haven't missed the tournament since.
In 2008-09 and 2009-10, Izzo took two very good but hardly vintage teams to back-to-back Final Fours. In 2010-11 -- perhaps the only disappointing season of Izzo's past decade -- many of those same players mentally checked out. It was a weird 19-15 year, a drastically bad one by the Spartans' usual standards, and they still finished fourth in the Big Ten and got to the NCAA tournament anyway.
In the past three seasons, the Spartans have averaged 28.3 wins. They won the Big Ten once, and finished second twice. Two major conference powers -- Michigan and Indiana -- have risen from the relative dead in these past three years. Both programs are not only playing Michigan State on the court, but recruiting against it in Michigan, Chicago, and Indiana. Injuries to Keith Appling, Gary Harris, Branden Dawson and Adreian Payne -- the Spartans' core -- occasionally crippled Michigan State. Still Izzo has kept winning.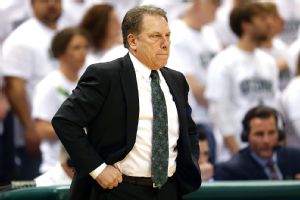 Leon Halip/Getty ImagesMichigan State has never suffered a losing season under Izzo and has not missed the NCAA tournament since 1997.
And that's all of the macro stuff. In the micro, Izzo might be even more highly regarded. His game-to-game scouting acumen, his ability to develop players in the long and short terms, his stylistic flexibility, the way his teams rebound, his array of layered inbounds plays -- all of these things make coaches and basketball strategy geeks act like Xbox fanboys at an E3 press conference. There's a question basketball people sometimes ask: If you had one game to win, and both teams were equal, who would you choose to coach it? I can't remember a time when the consensus answer wasn't "Izzo."
And where the media are concerned, no coach is more honest about himself or his own team. Izzo press conferences are the original no-spin zone.
So, yeah: There are a lot of impressive things about Tom Izzo.
That first statistic was the craziest, though. It's the one that in March's flurry of radio calls and preview videos and bracket consultations with friends could always count on to raise an eyebrow: No senior at Michigan State under Izzo has ever failed to appear in at least one Final Four. I mentioned it regularly, and rightly so. For 19 years, Izzo was the best guarantee in the business: Come play for me, go to a Final Four.
Connecticut ended that streak. Winning a national title is impressive in its own right. Beating Florida and Kentucky in Dallas was pretty good, too. But stopping Izzo six points short of the Final Four? "Startling" is a pretty good place to start.
-- Eamonn Brennan
---
Previous: Nos. 50-25 » No. 24: McKillop » No. 23: McDermott » No. 22: Amaker »
• No. 21: Brown » No. 20: Matta » No. 19: Wright » No. 18: Fisher » No. 17: Few »
• No. 16: Williams » No. 15: Hoiberg » No. 14: Bennett » No. 13: Smart »
• No. 12: Boeheim » No. 11: Miller » No. 10: Ollie » No. 9: Beilein » No. 8: Marshall »
• No. 7: Ryan » No. 6 Self » No. 5 Pitino » No. 4 Krzyzewski »
Full Top 50 Coaches List
No. 50: Tie -- Randy Bennett, Saint Mary's; Scott Drew, Baylor
No. 49: Richard Pitino, Minnesota
No. 48: Stew Morrill, Utah State
No. 47: Bob Hoffman, Mercer
No. 46: John Thompson III, Georgetown
No. 45: Mike Brey, Notre Dame
No. 44: Rick Barnes, Texas
No. 43: Chris Mack, Xavier
No. 42: Josh Pastner, Memphis
No. 41: Ed Cooley, Providence
No. 40: Bruce Weber, Kansas State
No. 39: Tubby Smith, Texas Tech
No. 38: Buzz Williams, Virginia Tech
No. 37: Rick Byrd, Belmont
No. 36: Steve Alford, UCLA
No. 35: Phil Martelli, Saint Joseph's
No. 34: Tad Boyle, Colorado
No. 33: Fran McCaffery, Iowa
No. 32: Tim Miles, Nebraska
No. 31: Lon Kruger, Oklahoma
No. 30: Bob Huggins, West Virginia
No. 29: Jim Crews, Saint Louis
No. 28: Jim Larranaga, Miami
No. 27: Mick Cronin, Cincinnati
No. 26: Archie Miller, Dayton
No. 25: Jamie Dixon, Pittsburgh
No. 24: Bob McKillop, Davidson
No. 23: Greg McDermott, Creighton
No. 22: Tommy Amaker, Harvard
No. 21: Larry Brown, SMU
No. 20: Thad Matta, Ohio State
No. 19: Jay Wright, Villanova
No. 18: Steve Fisher, San Diego State
No. 17: Mark Few, Gonzaga
No. 16: Roy Williams, North Carolina
No. 15: Fred Hoiberg, Iowa State
No. 14: Tony Bennett, Virginia
No. 13: Shaka Smart, VCU
No. 12: Jim Boeheim, Syracuse
No. 11: Sean Miller, Arizona
No. 10: Kevin Ollie, UConn
No. 9: John Beilein, Michigan
No. 8: Gregg Marshall, Wichita State
No. 7: Bo Ryan, Wisconsin
No. 6: Bill Self, Kansas
No. 5: Rick Pitino, Louisville
No. 4: Mike Krzyzewski, Duke
No. 3: Tom Izzo, Michigan State
COACHES WHO JUST MISSED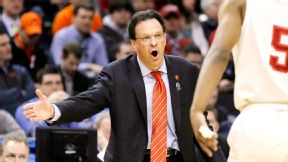 AP Photo/Kiichiro Sato
Some big names missed our list of top 50 coaches. Here are the 25 names who just missed, listed in alphabetical order.
Dana Altman, Oregon
Tim Cluess, Iona
Tom Crean, Indiana
Keith Dambrot, Akron
Johnny Dawkins, Stanford
Fran Dunphy, Temple
Leonard Hamilton, Florida State
Ben Jacobson, Northern Iowa
Derek Kellogg, Massachusetts
Larry Krystkowiak, Utah
Mike Lonergan, George Washington
Cuonzo Martin, California
Chris Mooney, Richmond
Craig Neal, New Mexico
Matt Painter, Purdue
Dave Paulsen, Bucknell
Bruce Pearl, Auburn
Steve Prohm, Murray State
Dave Rose, BYU
Herb Sendek, Arizona State
Kevin Stallings, Vanderbilt
Andy Toole, Robert Morris
Brad Underwood, Stephen F. Austin
Brian Wardle, Wisconsin-Green Bay
Michael White, Louisiana Tech
HOW DOES IT WORK?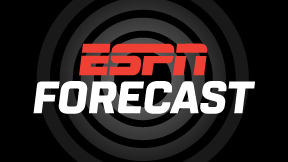 What is ESPN Forecast?
Our engine for creating more accurate sports predictions and opinion.
Does it work?
Yes. This is the future of forecasting, as demonstrated by the 2012 presidential election and Fortune 500 companies.
How does it work?
Our approach, in a nutshell, is to create a diverse panel of people with college basketball expertise and aggregate predictions and opinions. For ESPN Forecast, we have a panel of 45 members that collectively possess vast college basketball experience, knowledge and perspective.
Why does it work?
This panel has a collective intelligence that's greater than any individual member's knowledge and sharper than that of any single statistical system.
Diversity is a key factor in creating accurate predictions and opinion. The wisdom of the crowd comes from having diverse views that emerge from independent thinking.
The ESPN Forecast panel is a diverse mix of contributors from across the spectrum.
The result?
More accurate, insightful forecasts and views.
This is the wisdom of the crowd in action. This is ESPN Forecast.
COACHING CENTRAL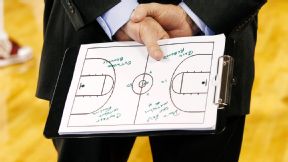 AP Photo/Mel Evans