Top 50 coaches: No. 10 Kevin Ollie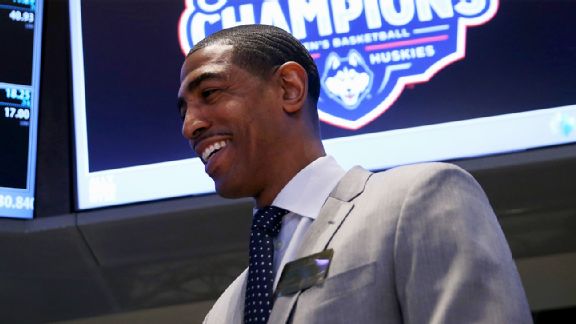 John Moore/Getty ImagesKevin Ollie has learned quickly, taking UConn to a national title in just his second season after replacing legend Jim Calhoun.
Editor's note: During the next five weeks, we will reveal the top 50 coaches in college basketball as decided by our ESPN Forecast panel. Today we unveil No. 10: UConn's Kevin Ollie. On Tuesday, we release No. 9.
---
It's a time-tested rule of coaching realpolitik, a piece of career advice all young coaches must instinctually understand: Don't succeed the icon. Don't submit yourself to unrealistic expectations. Don't put yourself in that emotional vortex, that strange and wondrous mental space where die-hard fans pine for their old coaching hero. They'll still come to games looking for that feeling they used to have in their heyday. Half of them will still subconsciously expect to see the generational icon who had things humming back when they were on campus, when they were young and life was good. They'll show up looking for him and see you instead, and you'll remind them of how things have changed. Whether they know it or not, a little part of them will hate you for it. They won't be able to help it.
Take a different job. Build your own program. Work your way up. Just, whatever you do, don't follow the Hall of Famer. It almost never ends well.
Kevin Ollie surely received this advice. He looked headed for an all-time vortex, that's for sure. In 2010, after an unlikely and widely respected NBA career, Ollie returned to his alma mater to become an assistant coach under UConn legend Jim Calhoun -- the man who for three decades almost single-handedly, by sheer force of will, morphed the Huskies from an old Yankee Conference power into a national brand, a perennial title threat. In 2011, Kemba Walker led the Huskies to Calhoun's third and most unexpected national title. Rumors about Calhoun's impending retirement surfaced, and it became clear that when Calhoun finally stepped away, he was intent on having Ollie succeed him.
In 2011-12, Calhoun coached his final season at Connecticut. In 2012-13, Ollie took over. This was what faced him: An uncertain athletic director upset with Calhoun's late-date wrangling, and unwilling to give Ollie more than a one-year contract; a team that could not even participate in the NCAA tournament in Ollie's first season; reasonable concerns that UConn's once-dominant recruiting pipeline had dried up; and, oh by the way, he was doing the one thing you're never supposed to when you're a college basketball coach looking to make his own name in the sport. He was following the legend.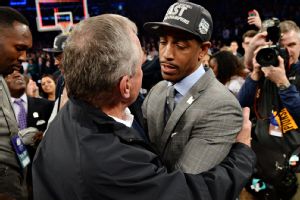 Robert Deutsch/USA TODAY SportsThe shadow cast by Jim Calhoun could have overwhelmed Kevin Ollie ... but it didn't.
Two years later, the Connecticut Huskies won the 2014 national title.
Ollie ranks No. 10 on our ESPN Forecast top 50 coaches list, and you might argue that he should go higher. After all, we have just a two-year sample size, and has anybody done a better coaching job the last two years?
Think about it: Last season, his first as a head coach at any level, Ollie inherited a team that knew from the start of the year that it wouldn't go to the NCAA tournament. Because of things the UConn coaching staff did long before any of those players arrived in Storrs, the entire unifying competitive principle of college basketball no longer applied to Ollie's squad. If ever there was a team that had good reason to take a year off, it was that one. We all would have understood.
Instead, Ollie pounded away at his players' pride. He rallied the group around a deeper internal goal: You play hard because you respect yourself and your family and your teammates and the game. You do it because that's the only way to play basketball in the first place. You don't complain. You play. The Huskies finished the season 20-10. They would have gone to the NCAA tournament, had they been allowed.
If you paid close attention, it was easy to see then that Ollie would be special. But few could expect what would come next. A year later, in the first postseason for which Ollie was eligible, he took the No. 7-seeded Huskies all the way to the national title. Even at No. 10 in our rankings, the work he did in the NCAA tournament is probably underrated. It was certainly understated. Ollie doesn't have some wild new X's and O's contraption; he doesn't really mess with complicated sets. Mostly, he put his players in positions to succeed, which for Shabazz Napier and Ryan Boatright meant lots of spread sets and pick-and-rolls. When his teams took leads -- and they usually did -- they rode Napier and Boatright to the finish line. Teams couldn't turn UConn over, and the Huskies never missed their free throws. The NCAA tournament is characterized by its last-second madness. Our most recent national champion's best quality was how it wrung the life out of crunchtime comebacks before they ever had a chance to begin.
Personally, what's crazy is that I'm not sure which season was my favorite coaching job. Ollie was magnificent in the tournament, his team a picture of collective confidence and, you know, UConn won the whole thing. But I can't help but feel like it was his first season that was his true masterpiece, in similarly understated ways. Two seasons, two very different kinds of successes.
This summer, after some minor flirtation with NBA front offices, Ollie signed a hefty long-term deal at UConn. He plans to be in Storrs for a long time. Where he takes UConn from here is going to be fascinating to watch, but we already know this much: In two short years, Ollie proved that Connecticut need not go through the psychic trauma of the post-icon comedown. Turns out, the Huskies will be just fine.
They say it's a bad idea to follow the legend because you'll never be your own man. Kevin Ollie never had that problem.
-- Eamonn Brennan
---
Previous: Nos. 50-25 » No. 24: McKillop » No. 23: McDermott » No. 22: Amaker »
• No. 21: Brown » No. 20: Matta » No. 19: Wright » No. 18: Fisher » No. 17: Few »
• No. 16: Williams » No. 15: Hoiberg » No. 14: Bennett » No. 13: Smart »
• No. 12: Boeheim » No. 11: Sean Miller »
Full Top 50 Coaches List
No. 50: Tie -- Randy Bennett, Saint Mary's; Scott Drew, Baylor
No. 49: Richard Pitino, Minnesota
No. 48: Stew Morrill, Utah State
No. 47: Bob Hoffman, Mercer
No. 46: John Thompson III, Georgetown
No. 45: Mike Brey, Notre Dame
No. 44: Rick Barnes, Texas
No. 43: Chris Mack, Xavier
No. 42: Josh Pastner, Memphis
No. 41: Ed Cooley, Providence
No. 40: Bruce Weber, Kansas State
No. 39: Tubby Smith, Texas Tech
No. 38: Buzz Williams, Virginia Tech
No. 37: Rick Byrd, Belmont
No. 36: Steve Alford, UCLA
No. 35: Phil Martelli, Saint Joseph's
No. 34: Tad Boyle, Colorado
No. 33: Fran McCaffery, Iowa
No. 32: Tim Miles, Nebraska
No. 31: Lon Kruger, Oklahoma
No. 30: Bob Huggins, West Virginia
No. 29: Jim Crews, Saint Louis
No. 28: Jim Larranaga, Miami
No. 27: Mick Cronin, Cincinnati
No. 26: Archie Miller, Dayton
No. 25: Jamie Dixon, Pittsburgh
No. 24: Bob McKillop, Davidson
No. 23: Greg McDermott, Creighton
No. 22: Tommy Amaker, Harvard
No. 21: Larry Brown, SMU
No. 20: Thad Matta, Ohio State
No. 19: Jay Wright, Villanova
No. 18: Steve Fisher, San Diego State
No. 17: Mark Few, Gonzaga
No. 16: Roy Williams, North Carolina
No. 15: Fred Hoiberg, Iowa State
No. 14: Tony Bennett, Virginia
No. 13: Shaka Smart, VCU
No. 12: Jim Boeheim, Syracuse
No. 11: Sean Miller, Arizona
No. 10: Kevin Ollie, UConn
COACHES WHO JUST MISSED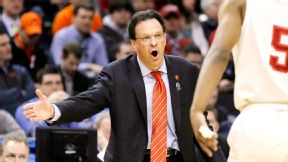 AP Photo/Kiichiro Sato
Some big names missed our list of top 50 coaches. Here are the 25 names who just missed, listed in alphabetical order.
Dana Altman, Oregon
Tim Cluess, Iona
Tom Crean, Indiana
Keith Dambrot, Akron
Johnny Dawkins, Stanford
Fran Dunphy, Temple
Leonard Hamilton, Florida State
Ben Jacobson, Northern Iowa
Derek Kellogg, Massachusetts
Larry Krystkowiak, Utah
Mike Lonergan, George Washington
Cuonzo Martin, California
Chris Mooney, Richmond
Craig Neal, New Mexico
Matt Painter, Purdue
Dave Paulsen, Bucknell
Bruce Pearl, Auburn
Steve Prohm, Murray State
Dave Rose, BYU
Herb Sendek, Arizona State
Kevin Stallings, Vanderbilt
Andy Toole, Robert Morris
Brad Underwood, Stephen F. Austin
Brian Wardle, Wisconsin-Green Bay
Michael White, Louisiana Tech
HOW DOES IT WORK?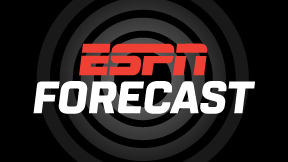 What is ESPN Forecast?
Our engine for creating more accurate sports predictions and opinion.
Does it work?
Yes. This is the future of forecasting, as demonstrated by the 2012 presidential election and Fortune 500 companies.
How does it work?
Our approach, in a nutshell, is to create a diverse panel of people with college basketball expertise and aggregate predictions and opinions. For ESPN Forecast, we have a panel of 45 members that collectively possess vast college basketball experience, knowledge and perspective.
Why does it work?
This panel has a collective intelligence that's greater than any individual member's knowledge and sharper than that of any single statistical system.
Diversity is a key factor in creating accurate predictions and opinion. The wisdom of the crowd comes from having diverse views that emerge from independent thinking.
The ESPN Forecast panel is a diverse mix of contributors from across the spectrum.
The result?
More accurate, insightful forecasts and views.
This is the wisdom of the crowd in action. This is ESPN Forecast.
COACHING CENTRAL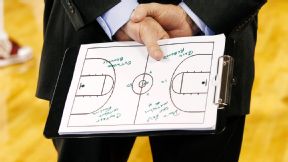 AP Photo/Mel Evans