So about those new rules ... are they working?
COLUMBUS, Ohio -- The game had just ended and John Adams had one thing on his mind -- the roast beef sandwich on Hawaiian bread awaiting him at a Springfield Arby's on the drive home between Columbus and Indianapolis.
Unfortunately, the woman sitting in the stands behind him had other ideas. The Ohio State fan wearing the white down vest and red turtleneck spied Adams' name, and more his title (NCAA supervisor of officials) on his press row seat and wanted to ask a simple question:
More on ESPN.com
Have the rules been good, bad or ugly? Who has more work to do, Kansas or Kentucky? And how long will Arizona be No. 1? Our panel debates. Daily Word

---
Missed some of the weekend's big happenings? Need a primer to get set for the new week. Fear not, the Game Plan has you covered. Blog
"Do you think these new rules are working?''
Too bad she didn't have an easier one, such as how to get Republicans and Democrats to work together.
Are the new rules working and, maybe more critically, are they worth it? It depends whom you ask. But no matter whom you ask, they will undoubtedly have an opinion. Plenty want to share them with Adams.
Fortunately, after 15 years patrolling the court as a college official himself, he has developed dinosaur thick skin. He has read comments from critical coaches, including Tom Izzo, whom Adams respects a great deal. Without being impolite, Adams doesn't care.
In his mind, the question really doesn't merit an answer because the rules to eliminate handchecking and arm bars, and also to significantly alter the block-charge call, are the rules now.
They aren't going away.
"When those four things [placing and keeping a hand/forearm on an opponent, putting two hands on an opponent, continually jabbing an opponent and using an arm bar] happen against a player with the ball, they're fouls,'' he said. "They're not maybe a foul, sometimes a foul, not late in the game they're not a foul. They're fouls.''
The trouble so far, though, is that there have been an awful lot of them and people are wondering if, in an effort to make the game better, the rules committee hasn't at least temporarily made it worse.
To find out just how things are going, ESPN.com watched a game with Adams, the one man whose opinion really matters. We watched the Ohio State-Wyoming game with him last month.
---
The first whistle came with 16:42 on the clock and it came against arguably one of the best defenders in the country, Ohio State's Aaron Craft, the Big Ten's two-time defensive player of the year.
Adams, who noticed Craft giving a far wider berth to the player he was guarding than a year earlier, simply shrugged.
"That's a foul,'' he said, jotting down a note on his notepad.
Adams always has been a note taker.
Before he became the defender of rule changes, his biggest job was to evaluate officials and find the best ones to work the NCAA tournament. Unlike in the NBA, the 838 registered college referees aren't full-time employees and they aren't employed by a central office. They work as independent contractors, paid by individual conferences (most work for multiple leagues).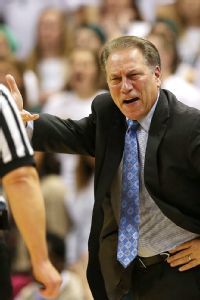 Leon Halip/Getty ImagesTom Izzo was one of the coaches concerned about how the rules changes would impact the game.
Each league submits a list of officials it would recommend to work the tournament and Adams is obliged to have one from each (32 automatic official qualifiers, if you will), but he relies mostly on his own evaluations and those of his four regional coordinators to choose the 108 (100 active and eight alternate) people who will work the games in March.
In order to find the best, he canvasses the country during the regular season and watches countless games on tape, transferring his personal notes into formulaic evaluation forms that rank performances on everything from an official's fitness to their call accuracy. But with the attention on the new rules, this year Adams' note taking has another purpose. Back in Indianapolis, the NCAA tapes every game he attends; at his home, he tapes several more. He uses his notes to go to spots he has marked as he re-watches the game film.
Each week he compiles a video highlight/lowlight film for officials to view on an NCAA website, stressing examples of how the new rules were called properly and improperly.
"Getting 838 people together on anything that requires any kind of judgment call is hard,'' Adams said. "But the games I've seen, the buy-in by the officials has been extraordinary. I'm not getting any push-back. I'm not saying there haven't been missed calls. They have. But I think they like it because it's taken some of the gray out of the game.''
---
The gray always has been a problem in any sport. Strike or ball? Pass interference or no call? Charge or block? Subjectivity is impossible to remove entirely from game officiating, but in basketball, it had gone too far. Officials were given latitude to consider whether a foul was actually impeding a player's progress as opposed to looking at the black and white, foul or no foul.
These rules eliminate that.
With 3:16 left in the first half, Ohio State's LaQuinton Ross was whistled for a foul on an entry pass to Wyoming's Larry Nance Jr.
"The new rules had nothing to do with that,'' Adams said. "That was a foul two years ago, two months ago and 2 minutes ago.''
And the difference is now it's being called. And it's being called in New York and Los Angeles, in November and presumably in March.
Anyone who has watched college basketball for the past decade knows that hasn't always been the case. Conferences developed reputations for their style of play and the games were officiated to that style -- Big Ten and Big East equated to brawn and brawls; the Pac 12 more finesse.
Adams acknowledged as much before tipoff, saying that a team from the Mountain West -- like, say, Wyoming -- ought to be able to walk into a Big Ten gym and expect continuity. Too often that wasn't the case.
Worse, Adams admitted, the officiating changed from month to month.
"There was essentially three seasons,'' he said. "There's been a conference season, nonconference and the tournament. And the officiating styles vary from one season to the next, and they shouldn't. I would love to see our games called the same in January as they are in March. That's how it should be.''
To make that happen with these new rules, Adams spent the better part of the early fall barnstorming. He met with the NABC board of directors and the NCAA tournament selection committee, with all of the coordinators in every Division I, II and III conference. And finally, he met with every official during four regional clinics.
The message was loud and clear:
"You have to call it,'' Adams said simply. "There were some skeptics. That's natural. Of the 838 officials, probably 150 of them have been doing it for 20 years. Now you're saying, 'OK, change.' We're saying don't judge advantage or disadvantage. That's hard. I get it.''
But ultimately Adams believes that if everyone is on board and every game is called the same way and to the rules, as opposed to the discretion of the officials, there will be less complaining.
"The more predictability we have, the better the game will be played and feel,'' he said.
---
By the end of the first half, neither Wyoming nor Ohio State was in the double bonus in what Adams thought was a clean, well-officiated game.
That hasn't been the case all season.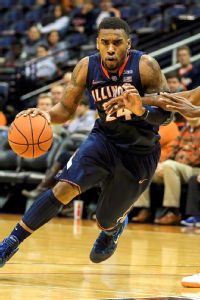 Daniel Shirey/USA TODAY SportsIs this a foul? Last year, some it was and other times it wasn't. Director of officials John Adams thinks there's more consistency this year.
There have been plenty of flat-out ugly games this year, the nadir perhaps coming at the beginning, on only the second day of the season.
In 40 minutes that sent the game backward and Twitter afire, Seton Hall and Niagara were whistled for 73 fouls, which made for 102 free throw attempts, two exasperated coaches, 15,438 aggravated fans and a laborious game checking in at 2 hours, 28 miniutes.
"It was crazy,'' Seton Hall point guard Tom Maayan told The Star Ledger. "That many fouls called, it slowed the pace of the game and slowed everything down.''
There have been others. UMass and Nebraska exchanged 82 free throws and just this week, Florida State and Minnesota were tagged for 52 fouls and took 67 free throws.
Already this season, there have been 16 instances in which a team has taken 50 or more free throws in a single game. That happened just 11 times all of last season.
Overall, fouls and free throws are up substantially. Last season, teams averaged 17.9 fouls per game and 20.1 free throws. This year, according to the latest numbers crunched by ESPN Stats & Information, teams are committing 19.8 fouls per game and 23.7 free throws.
Those are numbers have left some coaches bristling.
"The free throw is a separate act from basketball; that's not really part of the game,'' Colorado State coach Larry Eustachy said. "But now it's become maybe the biggest factor.''
On the flip side, scoring is up significantly as well. Last season college hoops dipped toward its peach-basket day numbers, with teams averaging 67.5 points per game, the fewest since 1952.
One month in, that number has jumped to 73.8.
All of that, while interesting to Adams, is frankly irrelevant. While most folks think the rules were changed to bring scoring back, Adams said it was really more of a push to take rugby out.
"Scoring is up, but that's not why we did this,'' he said. "We did it for the physicality, to get the roughness out of the game. Our game was too rough. Everybody understood that our game couldn't keep going down the road we were going down.''
---
The air that brought the tweet of the whistle to life hadn't even died out before the boos started. By the time Nance Jr. stepped to the line, the short but sweet, "Ref, you suck," chant mixed in.
It had taken a while. The game between Ohio State and Wyoming, while tight, wasn't terribly controversial. So the fans, more nervous about an upset, weren't terribly upset with the officials.
Until finally Amir Williams was hit for a handcheck and the Schottenstein Center roared its disapproval.
"The only thing I question is maybe the foul occurred earlier,'' Adams said of the whistle against Williams. "But that's a foul.''
And it will remain that way. The intent isn't that after the noise dies down, the officials will back off or that there will be some sort of compromise.
No, the intent is to dramatically change the way the game is called and to stop impeding the progress for a player with the ball.
"By taking guidelines from the back of the book that specifically referred just to handchecking and modifying them for contact on players with the ball, I think we've made a significant change for the better in our game,'' Adams said. "It's not without growing pains, and not everybody is going to agree with it. But it has a chance, if given a chance, to make the game better.''
Giving the rules the chance, that will be the hard part.
Before Adams turned to leave the Schottenstein Center and grab that roast beef sandwich, he turned to the woman who stopped him.
"So do you think the rules are working?''
Andy Katz's Weekly Honors
Monday's Game Plan
Game Plan is our new Monday morning primer, designed to give you everything you need to know about games that were and the games that will be in college hoops this week. Send us feedback and submissions via email and Twitter.

It's been five years. God, five years already? Five years! Five national champions, five teams of five All-Americans, five draft classes, thousands of college basketball games, hundreds of injuries, and more minutes than I'd like to even attempt to count have passed between the two best games of Maurice Creek's career.
You might remember the first. It was Dec. 12, 2009. Creek was one of Tom Crean's intriguing freshmen then, but no one had any illusions about the fixture at hand: First-year Kentucky coach John Calipari was bringing John Wall and DeMarcus Cousins and Patrick Patterson and Eric Bledsoe to town, and Indiana was going to get rocked.
The Hoosiers only avoided "Monstars"-level demolition that day -- they lost 90-73 -- because Creek was so surprisingly good. He had 31 points in 32 minutes on 14 shots; he went 5-of-8 from 3; he was crafty and sneakily athletic and hardly out of place against UK's future-NBA roster. His future was blinding.
Finally, mercifully, the next great game in Creek's career came Sunday night against Maryland.
To read all of Monday's Game Plan, complete with ICYMI, state of the week and games you need to see, click here.
Freshman Tracker
Each week we release the Freshman Tracker, and each week there are new names and plenty of movement. This week is no different, with two newcomers.
For this week's edition, we've added a section on what the top 10 first-year players in the country need to improve to become even more well-rounded.

1. Jabari Parker, F, Duke Blue Devils 6-foot-8, 235 pounds
Parker rebounded from a subpar shooting effort against Arizona with a solid effort in Duke's big win over Michigan. He finished with 15 points (most of them in the post) and six boards in the victory.
Needs to improve: Parker is as skilled on the offensive end as any freshman in a long time, but he needs to improve on the defensive end of the floor. One coach also told me that he's such a gifted scorer that he takes it for granted and isn't always as sharp as he needs to be, such as being in position to catch the ball in the proper spot.
Stats: 22.1 PPG, 7.8 RPG, 47 percent 3-point shooting | Previous rank: 1

2. Julius Randle, PF, Kentucky Wildcats 6-9, 250 pounds
After starting the season with seven consecutive double-doubles, Randle has had two subpar games -- at least by his standards. Still, he averaged 14 points and eight boards in a win over Providence and a loss in Arlington, Texas, against Baylor. Randle also averaged four assists in the two contests.
Needs to improve: Randle is a capable and willing passer, but he needs to continue to improve his decision-making and learn to value the ball. He will also have to work on being able to effectively score over long and athletic defenders.
Stats: 17.9 PPG, 12.1 RPG, 2.3 APG | Previous rank: 2

3. Aaron Gordon, F, Arizona Wildcats 6-9, 225 pounds
Gordon had 19 points and eight rebounds in a win over Texas Tech and finished with just four points but grabbed eight boards in a victory against UNLV. He's one of the best players on a team that will likely move to No. 1 in the land when the rankings are released Monday.
Needs to improve: His motor constantly runs, but Gordon will have to work on learning where he's most effective scoring the ball -- and he also has to be more selfish and assertive on the offensive end. He's only averaging 9.5 field goal attempts per game. Gordon also needs to work on his free throw shooting, as he's shooting just 49 percent from the line.
Stats: 12 PPG, 9 RPG | Previous rank: 3
To see the entire top 10 in this week's Freshman Tracker, click here.

What To Watch
MONDAY
• Bryant at Notre Dame, 7 ET, ESPNU
• Alcorn State at Houson, 7:30 ET, ESPNU
TUESDAY
• Kansas at Florida, 7 ET, ESPN
• Oakland at Indiana, 7 ET, ESPN2
• Boise State at Kentucky, 9 ET, ESPN
• Gonzaga at West Virginia, 9 ET, ESPN2
WEDNESDAY
• NDSU vs. Notre Dame, 7 ET, ESPNU
• Howard at Central Florida, 7 ET, ESPN3
• Princeton at Rutgers, 7:30 ET, ESPNU
THURSDAY
• Maryland at Boston College, 7 ET, ESPNU
FRIDAY
• Ark-Little Rock at Memphis, 8 ET, ESPN3
• Missouri State at Oral Roberts, 8 ET, ESPN3
• Iowa at Iowa State, 9:30 ET, ESPNU
SATURDAY
• WKU at Louisville, noon ET, ESPN2
• VCU at Northern Iowa, noon ET, ESPNU
• Youngstown St. at Pittsburgh, noon ET, ESPN3
• Samford at Florida Gulf Coast, 1 ET, ESPN3
• Eastern Kentucky at Wisconsin, 1 ET, ESPN3
• Florida Atlantic at Maryland, 2 ET, ESPN3
• Oklahoma State vs. La. Tech, 2 ET, ESPN
• Tennessee at Wichita State, 2 ET, ESPN2
• Indiana State at UMKC, 3 ET, ESPN3
• Notre Dame at Indiana, 3:15 ET, ESPN
• UNC Greensboro at Rutgers, 4 ET, ESPN3
• Michigan State at Oakland, 4 ET, ESPN2
• Middle Tennessee at Ole Miss, 5 ET, ESPN3
• Kentucky at North Carolina, 5:15 ET, ESPN
• Detroit at NC State, 6 ET, ESPN3
• New Mexico at Kansas, 7 ET, ESPN2
• Furman at Clemson, 7 ET, ESPN3
• Illinois at Oregon, 9 ET, ESPN2
SUNDAY
• Phil. at Boston College, noon, ESPN3
• UNC Asheville at USC Upstate, 3 ET, ESPN3
• W. Michigan at Missouri, 7 ET, ESPNU