1. Heat's Playoff Poise Helps Finish The Nets
By Israel Gutierrez | ESPN.com
MIAMI -- This wasn't quite Game 5 of the 2011 Eastern Conference finals, when LeBron James and Dwyane Wade clinched their first NBA Finals trip together by erasing a 12-point deficit in the final three minutes with a dizzying flurry of shots.
It wasn't quite Game 6 of last season's NBA Finals, when a headband-less LeBron went beast mode and an offensive rebound from Chris Bosh resulted in the unforgettable, championship-salvaging, "get-those-(bleeping)-ropes-outta-here" Ray Allen 3-pointer.
This was just the second round. Just Game 5, holding a 3-1 lead.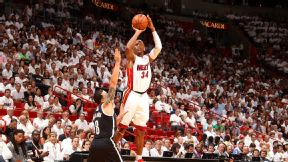 Issac Baldizon/Getty ImagesRay Allen found the range to help the Heat finish off the Nets with a frantic finish in Game 5.
Yet in the end, it was just another remarkable finish from this Heat team that has grown accustomed to the finishes that mix a little bit of frantic with a whole lot of poise and, of course, a good amount of luck.
"It's never easy for us," James said about 45 minutes after celebrating the dramatic 96-94 series-clinching win by jumping on the courtside table and roaring at the crowd.
Interestingly enough, Miami's final push to avoid playing a Game 6 in Brooklyn began with a reverse version of that 2013 Finals Game 6 combination.
With the Heat trailing 89-80 thanks to a blistering Joe Johnson, it was Allen who managed to grab an offensive rebound following a Wade miss and kicked the ball to an open Bosh for one of his four 3-pointers.
Johnson managed another bucket, a 20-foot step-back over LeBron, on the ensuing possession to give the Nets an eight-point lead, but the Heat's comeback movement was already in motion.
And it seemed like the basketball gods were working with Miami.
Leading 91-83, Mirza Teletovic, who hit 11 3-pointers in the series already and is fond of tweeting his shot chart for inspiration, had a dagger in hand with no one around.
Rather than sticking a knife in the Heat with less than three minutes remaining, Teletovic missed badly on a wide-open 3-pointer.
The combination of skill and good fortune continued seconds later, as Wade drove for what appeared would be a layup. But Teletovic helped aggressively at the rim, leaving Wade to desperately search for another option.
Wade blindly threw the ball in the general direction of LeBron, who had to step inside the 3-point line to gather the ball, then stepped back outside to drain a shot that narrowed the gap to five points with 2:48 left.
"I saw the floor open to attack, and [Teletovic] came off LeBron, because I thought I had a layup," Wade said. "You just know where guys are gonna be. So I threw it to the place where I knew Bron was going to be."
After a Paul Pierce miss, this time it was Mario Chalmers who tossed a fortunate pass after getting stuck in traffic. This one went to Wade, who managed to gather and shoot a baseline fadeaway for the last of his playoff-high 28 points.
"I think Rio bowled it to me," Wade said. "He rolled it. I was able to pick it up and make a baseline shot.
"So many things had to go right for us down the stretch. But that's just a team that's played together for a while, knowing where individuals are going to be and what they're going to do, it helps so much."
It also helps to have a determined LeBron James on your side.
It's not often that an opponent can flat-out light up LeBron. In fact, it's difficult to recall any player who has even had a three-possession stretch against LeBron like Johnson did midway through the fourth, draining a pair of 20-footers and a three-point play over the four-time MVP.
Yet when the Heat had a series victory in sight, James played such suffocating defense that even the red-hot Johnson was tamed.
With 1:30 remaining and the Heat trailing by three, LeBron finally timed Johnson's moves correctly and blocked a midrange attempt.
"That was good D," Johnson acknowledged after the game.
"He was torching me," James said of Johnson. "It just got to a point where I looked at myself and I said, 'If I don't get stops, we're going to lose the game.'
"[Jason] Kidd is kind of like one of those old-school basketball coaches, kind of like Mark Jackson, where if there's a guy that's going, he's going to give it back to him, no matter who's on him, time and time again. So in order for us to put ourselves in position to win, I had to get stops."
That was one stop. Perhaps not even the most critical, but it was one.
After a pair of LeBron free throws narrowed the Nets' lead to a single point, Johnson missed again, this time from 3-point range late in the shot clock.
It was the type of offense that essentially doomed Brooklyn down the stretch.
"We were playing against the clock, not being aggressive making plays," Johnson said. "We made it hard on ourselves."
The Heat weren't exactly making basketball look easy, either.
After a timeout, LeBron drew two defenders on a simple screen-roll, and kicked it out to a wide-open Chalmers. Now, Chalmers hadn't hit a shot in the entire game, tossing bricks and an air ball on his 0-for-5 night. But the Heat's unpredictable point guard has never been afraid of the big moments.
Which is why it was odd to see him pass up a shot despite rising off the floor to launch it.
"I didn't have the ball in my hands, really," Chalmers said. "I didn't feel like I had good enough balance.
"I saw a white jersey out of the corner of my eye, and it was Ray."
If you're ever caught in the air with the basketball looking for a bail-out option, there's possibly no better sight in basketball than an open Ray Allen ... even if you didn't know who it was when you dished it ... even if Allen hadn't hit a 3-pointer in six attempts to that point ... even if the pass itself was rather awkward and didn't exactly put Allen in perfect position to shoot.
"In hindsight, it was an incredible look-off," Heat coach Erik Spoelstra said, mostly joking. "And then he threw him a corkscrew curveball. So it wasn't even in rhythm."
Who needs rhythm?
Well, most players do, but not Allen. He caught the awkward pass, stepped perfectly behind the line like he had a rearview camera on his heels and did what Ray Allen does.
"It came off weird, where he didn't really throw it to me," Allen said. "He was in between, like he was throwing it to me to drive. And then I was like, 'This ball is going up.'"
Up, and in. Of course.
More from ESPN.com
• Wednesday's Best: The Ten »
• Stein's Summer Scoop: Nets | Blazers
• Strauss: Time to get to know Kerr
• MacMahon: Healthy aims for Spurs
• Haberstroh: Grading Heat's win
• Youngmisuk: Nets see what's missing
• Elhassan: How Kerr fits in GSW


• Roster Reload: Nets

And just like that, the Heat team that began the game 1-of-16 from 3-point range had the lead again, for the first time since it was 42-41 late in the second quarter. It was Miami's eighth made 3-pointer of the second half.
Frankly, Allen can do that catch-and-shoot routine in his sleep, even at age 38.
It was the final possessions on the other end of the floor that were perhaps more impressive.
The Nets had been picking on Allen all series long, yet Spoelstra stuck with him despite the opportunity to go with defensive substitutions late.
It helped that he was assigned to Pierce, who's not the quickest player, and someone with whom Allen is quite familiar.
But even in the final defensive stop -- one that was necessary because of one more Johnson 3-pointer and a missed LeBron free throw that kept the Heat lead at just two -- Allen managed to make an impact.
He was the first player to get his hand on the ball as Johnson tried to dribble free for a shot, and he actually snuck his arm between Johnson's legs for another swipe at the ball, which LeBron also slapped at from the front to tear it away and secure the victory.
"I was thinking about it," Spoelstra said of substituting for Allen in the game's final defensive possessions. "Don't tell him that."
It would have been the sound coaching move, actually. But there's no second-guessing required.
Not when the Heat were so good at closing in this series. For the five games, Miami outscored the Nets by 32 points in the fourth quarter.
This final stretch just happened to require the most work. But this group has been there before. And they've now done it again.
Dimes past: 27 | 28 | 29 | 30 | May 1 | 2 | 3 | 4 | 5 | 6 | 7 | 8 | 9 | 10 | 11 | 12 | 13
2. Around The Association



Portland Trail Blazers



82

FINAL
Recap | Box score

104



San Antonio Spurs



MVP: Kawhi Leonard, whose baseball mitt-like hands left large imprints on this game. Leonard had 22 points for the game, several of which came off of his five steals, which proved to be a huge boost for the San Antonio offense and defense.
X factor: Leonard was not the only one forcing turnovers by Portland players; the Trail Blazers turned the ball over 18 times, leading to 20 points for San Antonio. The Spurs, however, turned the ball over only eight times.
That was ... needed rest: Tony Parker left this game in the first half due to hamstring tightness. With the Clippers and Thunder still playing, this series win gives the Spurs much-needed time to make sure their star point guard will be ready in the next round.
MVP: After a slow start, LeBron James scorched the Nets in the second half, scoring 29 points overall, 15 of which came from the free throw line. Perhaps LeBron's most valuable play came on the game's final possession, locking down Joe Johnson and preventing him from tying the game.
X factor: When nothing seemed to be working for the Heat, especially their outside shooting, Chris Bosh was there to pick them up. Bosh hit four 3-pointers, most of which came during the Heat's furious fourth-quarter rally.
Defining moment: Ray Allen wasn't at his best, but he came up big when it mattered most. With 32 seconds remaining, Allen hit a corner 3-pointer to put the Heat ahead for good and advance them to the Eastern Conference finals.
3. Wednesday's Best
Johnson
Joe Johnson, Nets: In a losing effort, JJ nearly kept Brooklyn alive with a 15-for-23 shooting night from the field. He had a game-high 34 points despite being hounded by LeBron James in the 96-94 elimination loss to the Heat.
4. Wednesday's Worst
Nets' second-round exit: Down by eight with less than five minutes left, the Heat forced Brooklyn into nine straight missed shots and a Game 5 swan song. The Fighting Prokhorovs squeaked by the Raptors in the first round, but this wasn't close to a title run for the Nets.
Daily Leaders
7. Quote Of The Night
"I think I still have something in the tank I can give a team. Maybe one or two [years] at the most."
-- Nets forward Paul Pierce, who is 36 and slated to be a free agent
8. Table King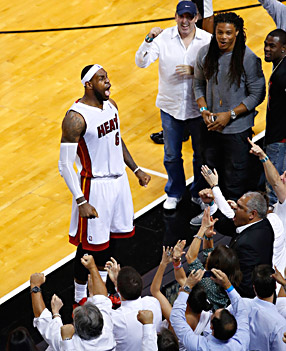 Robert Mayer/USA TODAY SportsComing back to beat the Nets in Game 5 gave LeBron James reason to elevate his approval of how the East semifinal series turned out.
9. Stat Check
By
Elias Sports Bureau
| ESPN.com
The San Antonio Spurs advanced to the Western Conference finals after defeating the Portland Trail Blazers 104-82 in Game 5 of their semifinals series. San Antonio dominated the matchup with Portland, winning each of its four games by at least 15 points. That marked only the third time in the past 15 years in which a team defeated its opponent by at least 15 points four times in a single playoff series. The other such series in that span involved the Boston Celtics, who had four wins of that kind against the Atlanta Hawks in the 2008 opening round, and the Denver Nuggets, who had four 15-point victories against the New Orleans Hornets in the 2009 opening round.