NEW YORK -- The New York Knicks punctuated their five-game homestand Monday with a fifth straight win, trouncing the Detroit Pistons, 99-85. The outlook couldn't look much brighter for the Knicks as they round the midway point of the season and begin the home stretch to the playoffs.
Amar'e Stoudemire is healthy, on the court, and contributing in a big way. Raymond Felton has returned and is once again providing the dribble penetration the Knicks sorely missed during his prolonged absence due to a hand injury. Aside from Rasheed Wallace, who would only play spot minutes with Stoudemire back, the Knicks are whole.
Their sundry scoring options overwhelmed a Detroit team trying to integrate new starting point guard Jose Calderon, who had not practiced with the team before making his debut Monday night. In addition to the novelty of playing with Calderon, the Pistons could have been feeling the effects of losing Tayshaun Prince, formerly the Pistons' longest-tenured player, in the same trade.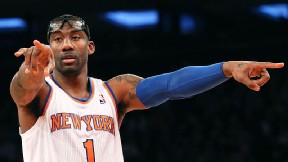 Anthony Gruppuso/USA TODAY SportsAmar'e Stoudemire's strong play continued, scoring 20 points on 8-of-14 shooting against the Pistons.
Detroit point guard Will Bynum confessed they did not plan to shut down New York's potent offense. "With a team like that, you have to be willing to give up something," said Bynum.
The Knicks, led by 27 breezy points from Carmelo Anthony, were happy to take what the Pistons were offering.
"Tonight we let the guys who want to beat us, beat us," said Bynum, "and that's Melo."
New York sprinted to a 20-6 advantage in the first seven minutes and led 58-36 after the first half. It wasn't a particularly fast-paced half, the Knicks just seemed to score every time down the court. From an efficiency standpoint, the second quarter was about as perfect as any team can play. In that period, New York did not take a single two-point shot outside of the paint. Everything was at the rim -- where fouls and easy lay-ins occur -- or out at the 3-point line, where the Knicks are the league's second-most accurate team.
New York used its spread pick-and-roll attack to pull the Pistons' defense apart, drilling 10 first-half 3-pointers off their crisp ball movement. When the Knicks' offense is really clicking, players don't appear to be improvising, though of course they are. Rather it's as though they are reciting a script that calls for open shot after open shot.
Coach Mike Woodson has said he hopes to catch the Miami Heat, which lead the Knicks in the Eastern Conference by just half a game, by the All-Star break. Whether or not they reach that particular deadline, New York will certainly have a shot at finishing the season with the East's best record if they can stay healthy.
Though it can't be exactly what the Knicks envisioned when they brought Anthony, Tyson Chandler and Stoudemire together in 2011, they must be happy with how it looks now that each member of the NBA's most expensive frontcourt is playing. The Knicks would be thrilled were Monday's performance to become the new normal.
In addition to Anthony's scintillating scoring, Chandler became the first Knick since Willis Reed in 1969-70 to record 20 rebounds in three straight games. Perhaps he was inspired by a sitdown with Mike Woodson a few games ago to address Chandler "taking plays off."
Stoudemire, for his part, had another strong showing with 20 points on 8-of-14 shooting -- his 10th straight game shooting at least 50 percent from the field. He's scoring as efficiently as ever, but it's now as a supersub. No longer the offense's primary focal point, Stoudemire adds depth without forcing the rest of his team to adjust much to his presence. He gives J.R. Smith and the Knicks' bench unit a boost, and has proven a reliable low-post scorer, especially from the left block.
Though Stoudemire made his name in the NBA as a hyper-athletic dunker, these days he relies more on his quick footwork and soft touch.
"Amar'e's a different player," said Woodson. "He's not that one-dimensional guy that's a pick-and-roll guy or a pick-and-pop guy."
Woodson said Stoudemire has transformed into "another guy we can put on the low post who can draw double teams and kick it out to guys who can make shots."
As the Pistons were reminded, the Knicks have a lot of guys who can make those shots.
With a healthy lineup, New York now has the depth, at least on offense, that is so vital for regular-season success.
Is the East's top seed a realistic goal? Things will get tougher as New York closes the season with 21 of 36 games on the road, and the Knicks have shot a signifcantly worse percentage from the field and the 3-point line away from home.
And the Knicks still occasionally find themselves at loose ends on defense. It was clear that the Pistons wanted to target Stoudemire in the second half, and did so successfully with Greg Monroe in isolations or high pick-and-rolls. Whether New York's strategy on that end, which Pistons coach Lawrence Frank referred to as "random switching," can survive a tough postseason series remains unclear.
So if they do surpass Miami, it will likely be because the offense continues its whirring efficiency. Anthony's simple postgame analysis might well sum it up:
"We have so many threats. When we score like that it is hard for teams to stop us."
Dimes past: Jan. 21 | 22 | 23 | 24 | 25-26 | 27 | 25-26 | 27 | 28 | 29 | 30 | 31 | Feb. 1-2 | 3
2. Around The Association
3. Monday's Best
James
LeBron James, Heat: The winner of this prestigious honor on Sunday, James topped himself on Monday, going 13-for-14 from the field for a career-best 93-percent shooting night in a 99-93 win over the Bobcats. Check out how he ruled.
4. Monday's Worst

The bruised and battered Magic: With six players sidelined, the Magic didn't stand much of a chance, slouching to a 10th straight loss -- a 78-61 downing by the Sixers. Orlando is now on the board as the lone team with multiple double-digit losing streaks this season.
6. Tweet Of The Night
And it feels good. Drink it in good people. May not see it again RT @shotime40: Let it be known. On 2/4/13 @ShaneBattier dunked a basketball.

— Shane Battier (@ShaneBattier) February 4, 2013
7. Quote Of The Night
"It's mental. When I step up to the line in games, and I think so much about missing because everybody saying I can't shoot free throws. And it's just going up there and shooting it. When I do have those games when I go up there and shoot it, they're good. So my thing -- it's all mental. In high school I was 90 percent from the line."
-- Lakers center Dwight Howard, telling Stephen A. Smith about his free-throw shooting woes, among other things.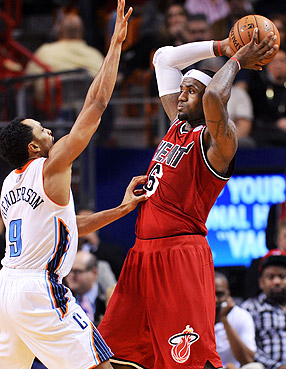 Steve Mitchell-USA TODAY Sports
LeBron James could not be contained by Gerald Henderson and the Bobcats, showing off his moves down low en route to the win.
By ESPN Stats & Info
Durant
Kevin Durant scored 19 points in the Thunder's win against the Mavericks. That ended his streak of 12 straight games with at least 20 points versus Dallas. It was the longest run of 20-point games against Mark Cuban's club since Zach Randolph had a dozen in a row from 2006 to 2010.
See more from Elias
MVP: LaMarcus Aldridge. Missed clutch free throws aside, Aldridge was spectacular in this game. He had 25 points, 13 rebounds and 4 assists. The Portland All-Star played tremendous defense and was unstoppable from midrange.
X factor: For some reason, Wesley Matthews loves playing the Timberwolves. He was 7-of-11 from the field, including 4-of-8 from downtown. It didn't matter how Minnesota guarded Matthews, he just kept draining 3's.
That was ... thrilling: The last time these two played, the Blazers led by as many as 21 before a furious comeback by Minnesota fell just short. It was the same song, different verse tonight, as the Wolves went on a 22-6 run to bring the game within one point. Alas, once again, Minnesota couldn't get over the hump.
MVP: Jason Thompson. It was for a losing effort, but JT played better than anyone else on the court in Salt Lake City. The forward stepped up with some energetic play that led to 23 points and 10 rebounds. He also had a furious putback dunk that helped cap a 9-0 Kings run to close the first half.
That was ... so Boogie. DeMarcus Cousins quickly ruined the feel-good vibes of Sacramento's 9-0 run at the end of the first half. The cantankerous center had already picked up one technical complaining, and after the halftime buzzer sounded, Cousins complained some more and was quickly ejected. He now has 12 technical fouls on the season.
X factor: 3-pointers. The Jazz had a very sloppy 23 turnovers in this game to Sacramento's 13. Luckily, Utah's 3-point shooting evened up the affair. Their 7-of-12 (58 percent) shooting from downtown contrasted nicely to the Kings' woeful 3-for-20 (15 percent) effort.
NBA Lockdown
Bruce Bowen and Israel Gutierrez discuss the Celtics' winning streak without Rondo, the Heat's struggles against the top of the Eastern Conference and much more.