TORONTO -- The boos started loud and vicious. The Toronto Raptors' public address announcer spoke Chris Bosh's name as he introduced the Miami Heat's starters, and the Air Canada Centre crowd made its feelings known. Almost three years ago Bosh put on a Raptors uniform for the final time -- since then, he has made three All-Star teams and won an NBA championship. In the same span, Toronto jerseys haven't been seen in an All-Star Game or the playoffs.
Bosh heard the boos as soon as he caught the ball on the first possession. He promptly buried a midrange jump shot. He heard them again two minutes later before he hit his second jumper of the game to put his team up 8-2.
By halftime, though, they dissipated. There were surely still some choice words for Bosh, but attention was mostly elsewhere. The Raptors built a 50-44 halftime lead, and fans focused on swingmen Rudy Gay and DeMar DeRozan scoring 20 and 16 of their eventual 29 and 27 points, respectively.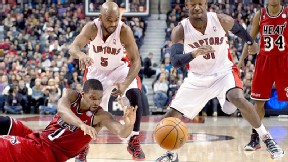 AP Photo/The Canadian Press/Frank GunnThe Raptors couldn't keep Chris Bosh down long.
Toronto out-rebounded Miami 22-13 in the first half and the slow-ish start wasn't anything new. The Heat trailed by four at halftime in Indiana on Friday and were tied after 24 minutes in Brooklyn and Boston the two games prior. They Heat have only held one halftime lead in the past six games, a game against the Pistons in which they were down 31-30 at the end of the first quarter before blowing them out in the final three.
"We knew we didn't play well in the first half and it was time for us to take control of the game. We turned up our energy," said Miami's Shane Battier. "It sounds simple but when we play with energy we're so much better, so much better and we've won so many more games. And the games on the road that we've lost, we've played with a lack of energy."
Bosh, in particular, turned it up as the Heat flipped the switch. He scored 22 of his 28 points and shot 9-for-12 from the field in the second half, leading to a 100-85 Miami win.
Standing at the free throw line with less than four minutes to go, the boos were once again booming as he put his team up by four. A minute later, Bosh quieted the crowd with a dagger 3-pointer from the left corner to make it 90-83. Cameras caught him sporting a look of satisfaction.
"Today I was hearing a lot from the fans," said Bosh. "I thanked them for continuing to stay on me and calling me names and stuff, because that helped my focus a lot. I was like, 'I need to get in this and shut 'em up.'"
Miami coach Erik Spoelstra knew it was time for his team to change things after Toronto won the second quarter 29-20, saying it "was not the way we really wanted to hold the fort." The Heat held the Raptors to 4-for-19 shooting in the third quarter, 7-for-18 in the fourth. Toronto scored 14 points in the paint in the second quarter alone and just 12 the rest of the way.
"We brought that up at halftime, that we're tired of getting pushed under the rim, tired of not coming up with the ball in traffic, tired of not digging up the loose balls under the rim and in the paint off the second chance," Spoelstra said. "So we did a better job of getting into that fray in the second half."
Spoelstra singled out Bosh's effort in that regard. "Chris really gave us a presence in the paint," he said. "Hit the big 3, but he was collapsing the defense with his rolls to the rim, catching it and going up strong in traffic. That makes us a different team when he gives us that presence there."
"Chris was really aggressive tonight, and when he's aggressive we're a much better team," Battier echoed. "He was active on both ends and he's really our X factor. To an extent you know what to expect from LeBron and Dwyane, but when Chris gives us that energy and what he did tonight we're really tough to beat."
"As a team and individually we could have given a much better effort and a much better performance," Bosh said of the first half. "That was something I was really thinking about during halftime and I just felt that I had to get into the game. I had to really put myself in that situation."
Before the game, Spoelstra called Bosh the team's most important player, a statement he has made repeatedly over the past two-and-a-half seasons. Still, he said he didn't run a single play for him down the stretch -- Bosh simply saw opportunities and acted on them.
"Chris has an opportunity every time that we run a pick-and-roll to collapse the defense, get into the paint into open areas and he was very aggressive on his catches and his approaches to the rim," Spoelstra said.
The Heat have beaten the Raptors all nine times they've met since Bosh's arrival alongside LeBron James and Dwyane Wade. Bosh has missed three of those games and this was just his third experience as an opponent at the Air Canada Centre. The crowd was subdued compared to when he first returned, but judging by the way he was received early in the afternoon the city isn't quite over his departure.
"I'm a little surprised," Bosh said. "But they pay their money, they can do what they want. I hope they just remember the good times."
James Herbert's work appears on Hardwood Paroxysm. Follow him @outsidethenba
Dimes past: Jan. 21 | 22 | 23 | 24 | 25-26 | 27 | 25-26 | 27 | 28 | 29 | 30 | 31 | Feb. 1-2
2. Around The Association
MVP: Let's give it to Earl Clark, who finished with 17 points, 10 rebounds, and several highlight plays. Pau Gasol was great on offense, but Clark played out of his mind in the first half.
That was … jaw-dropping: Halfway through the fourth quarter, Andre Drummond flies in for an interception, evades defenders with a behind-the-back dribble, and guides it to Brandon Knight for a monster transition dunk. What can't this young giant do?
X factor: Will Bynum (18 points, 10 assists) is built like a running back with dancer's feet. The Lakers are quite bad at defending lead guards, but Bynum dismantled the Lakers' D with his hesitation dribbles and smooth sidesteps.
Defining moment: Celtics' ball, Clippers down two with 26.6 seconds left. Conventional wisdom says you have to foul, but the Clippers played it out. Bad idea. Paul Pierce stepped up and stepped back with a dagger 3-pointer to seal the deal.
Well that was … balance: The Celtics had five guys in double-figures and 52 bench points, helping them build a 19-point lead at one point. Yes, Pierce was the hero, but don't overlook Jason Terry's jumper or Avery Bradley's drawn charge, either.
X factor: The Clippers scored just 10 points and turned it over eight times in the second quarter, and that hole was just too big to crawl out of in the end.
MVP: LeBron James, any surprise? A week and a half after dropping a triple-double on the Raptors, he followed up with a 30-8-7 performance and took just 16 attempts to get there. He's pretty good defensively, too.
That was … entertaining: The Raptors still don't have the talent to hang with teams like the Heat, but this game -- especially the first half -- was a track meet, complete with several dunks and degree-of-difficulty buckets.
Defining moment: The Raptors had been working to narrow the deficit all quarter, but former Raptor Chris Bosh's 3-pointer with 2:42 remaining stretched the lead to seven and essentially ended it.
3. Sunday's Best
James
LeBron James, Heat: Sank 10 of 16 shots en route to 30 points, 8 rebounds and 7 assists in the 100-85 win over the Raptors. The win ensured that Heat coach Erik Spoelstra will be leading the East at the All-Star Game.
4. Sunday's Worst
Barnes
Matt Barnes, Clippers: In a return from a one-game suspension, Barnes missed all six of his shots in a 106-104 loss to the Celtics. Barnes had been suspended one game for striking the neck of Wolves center Greg Stiemsma.
6. Tweet Of The Night
Me n my girl watched Looper last night. She doesn't understand time travel like me. I'm like babe it's really simple. Years of Star Trek!

— Roy Hibbert (@Hoya2aPacer) January 28, 2013
7. Quote Of The Night
"You don't want to be thinking about ways you could have helped the team win while you're trying to watch the Super Bowl. We're happy we took care of it."
-- LeBron James, on beating the Raptors on Super Bowl Sunday. He led the effort to delay the Heat's return to Miami in order to watch the big game.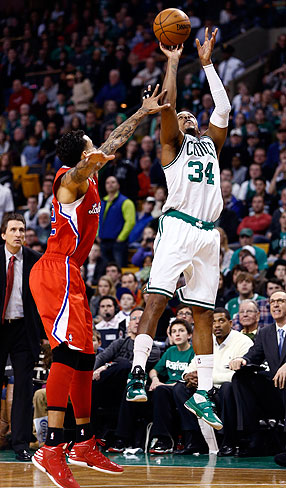 Mark L. Baer/USA TODAY Sports
Paul Pierce sinks a 3-pointer with 2.5 seconds left to clinch the 106-104 win over the Clippers. Pierce finished with a team-high 22 points.
By ESPN Stats & Info

The Boston Celtics' bench outscored the Los Angeles Clippers' bench 52-29 Sunday. Both benches were nearly identical in field goal attempts, with the Celtics going 17-26 and the Clippers 11-27, but the difference was the free throw line. The Celtics' bench was 12-14 while the Clippers' bench was 3-3 from the free-throw line.
See more from Elias