1. Anger Management: Westbrook Loses Cool
OKLAHOMA CITY -- Russell Westbrook being angry is nothing new.
Russell Westbrook being angry at his teammates is nothing new.
But it's always news, especially when he gets so angry that he loses it and storms off the bench into the tunnel.
What would've been an otherwise nondescript 106-89 win for the Oklahoma City Thunder over the Memphis Grizzlies -- centered around how inept the Grizzlies looked offensively after the Rudy Gay trade -- was spiced up by Westbrook blowing a gasket in the third quarter.
With 8:53 left in the period and the Thunder up by 25, Westbrook isolated on Jerryd Bayless, backing him down in the post. Thabo Sefolosha cut from the right wing into the paint as Westbrook started to make a move. The cut brought over an extra defender, confusing Westbrook for a second. The hesitation caused Westbrook to draw a five-second backdown call, to which he responded by spiking the ball hard into the floor twice, and then barking at Sefolosha.
Sefolosha barked back. Westbrook barked some more.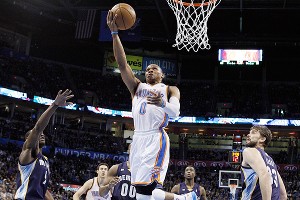 AP Photo/Sue OgrockiA driving Russell is a happy Russell.
For a player as emotional and hot-headed as Westbrook, the eruption wasn't really all that surprising. What happened next, actually was.
Westbrook went to the bench earlier than usual in the third and, as assistant Mo Cheeks tried to calm him down, Westbrook pulled away, flipped over some equipment and took off for the locker room. It was a pretty stunning move. An uninjured player leaving the floor just to cool off.
"Russell's an emotional guy. He plays hard. He plays every night. He plays for his team every night," Thunder coach Scott Brooks said. "There's no question he was frustrated. I'm not trying to downplay that. He has to be able to control his frustrations, but that's part of it. It's nothing that's going to carry over until tomorrow, it's over with, we've moved on."
Westbrook's outburst can be looked at two ways: (1) It's another example of how his emotions get the best of him and he needs to grow up, or (2) it shows development in that area and that he's controlling himself better.
What's interesting about it is that Westbrook actually requested to come out of the game. After his dust-up with Sefolosha, he looked at the bench, tugged on his jersey and said "get me." He wanted out to clear his head and cool off.
But what was happening off the court evidently became a big distraction for everyone, including the Thunder. As Westbrook boiled over on the bench, Memphis quietly cut a 25-point deficit to 10 late in the third. With the game suddenly and surprisingly in doubt, Westbrook returned to court to begin the fourth quarter and actually was the steadying force the Thunder needed to regain control. He knocked down a jumper, picked up a couple assists and helped slam the door on Memphis.
"I knew he was coming back, I knew he was coming back and was going to play in the fourth quarter," Brooks said. "But I know we needed to take him out at that moment, and you can make whatever you want to make out of it, but we knew he was coming back."
Said Westbrook of how he controlled his temper: "I control it like a man, like I did tonight."
Whatever that means. But the Westbrook from two years ago probably would've totally lost it both off and on the court. When he re-entered, he wouldn't have been able to shake it off and his engine would've continued to run hot. He has grown up some and while he didn't necessarily control it, he clearly tried to take measures to calm himself down.
"We lost a lot of veteran guys here," Nick Collison said. "And the reason we've been able to keep up and go … is because what Russell, what Kevin, have done as leaders. And they've been great this year. They've grown up a lot. Their voice with the team and they've done it with their play too. I didn't see what happened tonight, but I know those guys deserve a lot of credit. … Russ in particular has grown up a lot. We're going to be fine."
Said Kevin Durant: "It was a disagreement. It's the game of basketball, you have so many different emotions on one team. You're going to have disagreements. It's not the first, it's not going to be the last. You've just got to know how to respond to each other, and I think we always do a great job of that. It's a disagreement. All teams have them, but luckily on our team we talk it out and don't let it simmer for a long time. Russell came back and responded really, really well for us in the fourth."
With Westbrook, it's never as simple as a "disagreement." It's always perceived as something bigger, always seen as a possible issue that's going to be what stands in the way of the Thunder reaching their full potential. Westbrook is a lightning rod of criticism, and it's most self-inflicted for exactly the reasons displayed against Memphis.
But he runs on emotion and anger. He goaltended Denver's mascot a couple weeks ago, completely unprovoked, and it sparked his team on a 9-0 run which included his game-tying 3-pointer. It's who he is and it's who he's going to be.
The question is if it's going to get in the way of his play, and more importantly, Oklahoma City's. Thursday, it didn't, because he didn't let it. Even if his method of handling it was a bit unorthodox. But when it comes to Russell Westbrook, there aren't too many things done in a traditional manner.
Royce Young's work appears on Daily Thunder. Follow him @dailythunder.
Dimes past: Jan. 17 | 18-19 | 20 | 21 | 22 | 23 | 24 | 25-26 | 27 | 25-26 | 27 | 28 | 29 | 30
Around The Association
MVP: Kevin Durant. Russell Westbrook made a great run at the start, but after his blow-up in the third and Durant's ridiculous close? Have to pick Durant as the game's MVP. A humdrum 27-7-6 for the Durantula.
X factor: Hard to drop a game you start 9-of-9 from the field -- early in the game, OKC was shooting 100 percent to 27 percent for Memphis! They cooled down, but OKC still outshot Memphis by 22 percent. That wins games.
That was … respectable: Memphis lost its leading scorer, and the reinforcements hadn't yet arrived -- the Grizzlies had just nine players at their disposal! Didn't matter. Grit, grind and a solid fight all the same. The Thunder are just that good.
MVP: Showing off the all-around game that earned him an All-Star berth, David Lee scored 15 points, grabbed 20 rebounds and doled out 9 assists. He came up just short of a triple-double, but registered his league-leading 30th double-double with ease.
Defining moment: With time winding down and his team two points behind, Brandan Wright had the ball knocked from his hands on the left block by Andrew Bogut. The Mavericks were then forced to foul, losing their best chance to steal a win on the road.
That was … a predictable finish: Dallas never led in this game, but routinely and easily fought back from double-digit deficits to keep things competitive. Without Dirk Nowitzki in tow, though, it's hardly surprising the Mavs' comeback bid fell just short in the final moments.
3. Thursday's Best
Lee
David Lee, Warriors: Lee finished one dime shy of a triple-double (15 points, 20 rebounds, 9 assists) as the Warriors held on at home. He and Klay Thompson (27 points) carried Golden State in the absence of Stephen Curry.
4. Thursday's Worst
Randolph
Zach Randolph, Grizzlies: His 19 rebounds aside, Randolph was lost on the offensive end in Oklahoma City, missing his first 10 shots en route to a 4-for-17 night with nine points. Memphis is going to need more scoring from Randolph after sending leading scorer Rudy Gay north of the border.
6. Tweet Of The Night
I feel bad for that little kid that Russell Westbrook left hanging: http://youtu.be/_wLTGvp5ctU

—J.A. Adande (@jadande) January 31, 2013
7. Quote Of The Night
"It's a fact that we got a chance to make world history here. We got a great situation. We got a chance to make history. This is a beautiful situation to be in, the situation we're in. This is beautiful."
-- Lakers' Metta World Peace, on the pressure of turning things around for the 20-26 Lakers.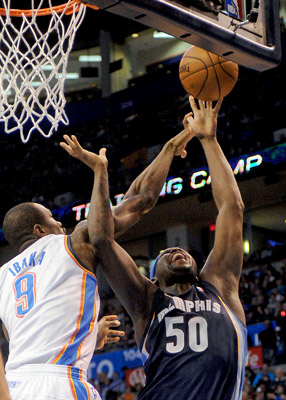 Mark D. Smith/USA TODAY Sports
The Grizzlies couldn't make up for an 0-for-10 start from Zach Randolph in a lopsided loss in Oklahoma City.
By Elias Sports Bureau
Ibaka
Serge Ibaka blocked six shots in 26 minutes on the floor in the Oklahoma city Thunder's win over the Memphis Grizzlies. Over the past two seasons, Ibaka has recorded more than five blocks in less than 30 minutes 11 times. All other NBA players have combined for just 10 such games over that span.
See more from Elias