1. Valley Of The Stun: Nash Returns With Loss
PHOENIX -- No truly spine-tingling ovations. No fancy passes to hush a building he packed like the old days. No baskets, one shot and one measly assist in the fourth quarter for Steve Nash in his homecoming game, meaning it was the furthest thing from a pre-birthday bash before Nash turns 39 next week.
His ballyhooed return to the desert actually ended with the home team's much-maligned Michael Beasley, not Nash, palming the game ball in his big left hand.
That would be Beasley palming it, after his season-high 27 points off the bench, while conducting the triumphant postgame interview on ESPN.
"We kicked it," Los Angeles Lakers coach Mike D'Antoni said.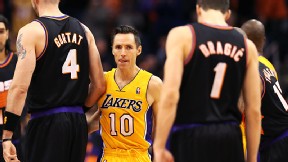 Mark J. Rebilas/USA TODAY SportsNash on the scene of "the best years of my life."
Kicked it and bricked it in a fourth quarter of stagnant offense and 4-for-21 shooting that had D'Antoni -- whose presence was supposed to add to the nostalgia on what we all presumed to be Nash's night -- hoping that the 13-point blown lead in this humbling 92-86 defeat to what's left of the Phoenix Suns is all that L.A. lost here.
This was also supposed to be the cushy opener of a seven-game, make-or-break road trip for Nash & Co. after three home wins that had seemingly launched their season at last. Yet it should be clear by now, after all the struggles and backward steps we've seen from a group that'll be lugging an eight-game road losing streak into Minnesota on Friday night, that little with this starry constellation of Lakers turns out as we all imagine it will.
Kobe Bryant fell one assist shy of his fourth straight game with a double-digit dime total as the Lakers' new QB, but the enduring images of the evening were Dwight Howard glumly parked at his locker afterward with yet another ice pack strapped to his reinjured right shoulder … and Nash factoring so little in the offense down the stretch in an arena that, in his words, housed "the best years of my life."
These certainly aren't the Suns anymore -- not the Nash-and-D'Antoni Suns so fondly remembered by the locals -- but this Nash isn't theirs, either. Not when he doesn't have the ball late in the game and totals a modest 11 points and 2 assists in 33 minutes. Not when he's operating as a spot-up shooter who gets only eight shots and records his eighth straight game with fewer than 10 assists for the first time since 2003-04. Not when he's operating as an off-the-ball shooter who gets only eight shots. Not when most of the clean looks are falling to a 6-for-17 Metta World Peace because the Suns were so determined not to leave their former heart and soul uncovered.
"I was a little bit afraid before the game," said former Nash protege Goran Dragic , giving a glimpse into the Suns' intent to keep the visiting No. 10 shadowed to lure Bryant into repeatedly feeding MWP in the corners."
Added Nash, referring to L.A.'s ongoing search for offensive balance and acknowledging how unfamiliar it felt to log eight fourth-quarter minutes and still feel like such a spectator: "Those are things we've still got to work out."
Despite plenty of pregame confidence from Bryant and D'Antoni that Nash would get nothing but a love shower in the desert, it certainly wasn't the warmest reception. A smattering of boos was clearly audible during pregame introductions, with a first-quarter video tribute of glory-days highlights eventually lifting fans out of their seats to stand and salute the former No. 13 and drown out the boos.
Nash could deal with all that, though. He knows it's hard for some Suns diehards to accept the new team he chose -- even if it was largely for family reasons -- and calmly shook off the errant corner 3-pointer in the first half that somehow hit the side of the backboard, too. Yet he couldn't escape the fact that a fall-from-ahead loss to the worst Suns team since Nash's rookie season in 1996-97, coupled with the fresh injury concerns surrounding Howard, threatens to plunge the 20-26 Lakers straight back into crisis.
After spending the day with his children and hugging both father John and young son Matteo near the Lakers' bench just before the opening tip, Nash wasn't expecting another 18-assist eruption like he generated against the Dallas Mavericks back in 2004-05 when he and D'Antoni went to Big D together for the first time after Nash left the Mavs in free agency. All he wanted was a win to keep the Lakers' momentum building.
Now?
After the Lakers blew a 78-65 lead with 10 minutes to go and managed just 13 points in the final period, they might need another reboot. After L.A. surrendered 19 of the game's final 27 points once Howard went to the bench with 6:56 to go, you started to wonder how many more times these guys can proclaim that the season starts over tonight.
Seven Seasons Or Less. That might prove to be the most apt title for the book that sums up this nightmare if the Lakers, as it appears yet again, keep having to hit refresh because they so readily fold unless everything is flowing perfectly.
"He was the face of the franchise for so long," Suns swingman Jared Dudley said. "Even though they might not have won a championship, he got 'em so far. He's gotta go down as one of the best Suns if not the best Sun.
"I won't say I'm sad they're not doing super well, but I always want to see Steve Nash do well. I owe him a lot. It might set [the Suns] up better for the future to have picks and cap space and all that stuff [after signing-and-trading Nash to L.A.], but I would have loved to play another year with him."
On his way out of the US Airways Center, which hadn't been this loud or alive all season, Nash could only concede: "Tonight was a big setback."


ESPN.com senior writer Marc Stein
• On Twitter @ESPNSteinLine | On TrueHoop | On ESPN.com | On email
• Follow ESPN's NBA coverage on Twitter | On Facebook | On Google+
Dimes past: Jan. 17 | 18-19 | 20 | 21 | 22 | 23 | 24 | 25-26 | 27 | 25-26 | 27 | 28 | 29
3. Wednesday's Best
Beasley
Michael Beasley, Suns: For a night, he was Can't Miss Beasley, playing like a guy taken No. 2 in the 2008 draft. He scored a season-high 27 points and helped the Suns rally from 13 down in the fourth quarter to beat the Lakers, 92-86. Beas also had five steals.
4. Wednesday's Worst

Lakers' finishing touch: When Dwight Howard exited the game with 6:56 left in the fourth quarter after reinjuring his shoulder, so did the Lakers' hopes of clamping down on defense against Phoenix. With Kobe not finding the range late, it was time to bid adieu to a three-game win streak.
6. Tweet Of The Night
Thanks to the fans and my teammates in Memphis for the memories. Came in a 19 year old kid now leaving a 26 year old man..thank you!

—Rudy Gay (@rudygay22) January 30, 2013
7. Quote Of The Night
"Well, you know, 'all for one' didn't last [very] long, did it? Forty-eight-hour shelf life. That's not bad. We'll take what we can get."
-- Lakers coach Mike D'Antoni, on Pau Gasol's gripes about a recent fourth-quarter benching.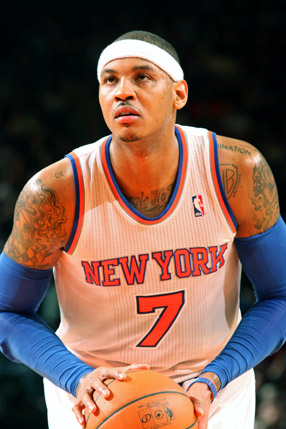 Ray Amati/NBAE via Getty Images
By Elias Sports Bureau
Horford
Credit Al Horford for the Hawks' 93-92 triumph against the Raptors. Horford made what proved to be the game-winning field goal on a dunk with 21 seconds remaining in the fourth quarter, and he preserved the lead by blocking two potential go-ahead field goal attempts in the final 13 seconds of the game (rejecting shots by Kyle Lowry and DeMar DeRozan). Horford was the first NBA player to block two shots during the final 15 seconds of a one-point victory for his team since Detroit's Ben Wallace did in a 90-89 overtime win at Toronto exactly nine years earlier (Jan. 30, 2004).
See more from Elias
Most valuable player: Paul Millsap. The Jazz shook off Monday's humiliating loss against Houston, led primarily by Millsap's efficient and relentless scoring. Millsap made 11 of 16 free throws and went 7-for-12 from the field on his way to 25 points.
X factor: After New Orleans had taken an early 10-point lead, Derrick Favors came off the bench for the Jazz and almost single-handedly pulled Utah back into the game with nine second-quarter points.
Least valuable player: Greivis Vasquez -- sort of. Although he did have 13 assists, Vasquez shot a dreadful 8-for-21 from the floor, including 0-for-4 from 3, four turnovers and some suspect perimeter defense.
MVP:The Pacers' starting five, which saw each starter notch double figures for scoring in beating the Pistons. Roy Hibbert and Lance Stephenson had 11 rebounds apiece, permitting the bench plenty of mop-up duty in the blowout.
X factor: The Andre Drummond Watch is usually rewarding. The 19-year-old Pistons rookie had 14 rebounds and 3 blocks in 24 minutes of action.
That was … awkward: Tayshaun Prince and Austin Daye found out just before tipoff that they had been traded. And thus ended a good decade-plus as a Piston for Prince, the last link to Deee-troit Basketball's 2004 title.
-- Andrew Ayres, ESPN.com
MVP: Al Horford had a great all-around night with 22 points, 10 rebounds, 6 assists and 3 blocks, including a key rejection on Kyle Lowry late in the fourth quarter.
LVP: After a solid streak of games, Amir Johnson finally regressed to the mean. He was 3-for-12 from the field in this one and missed all three of his attempts at the line.
Defining moment: Jose Calderon and Ed Davis were traded just about an hour before the game started, leaving the Raptors with just nine healthy bodies in this one. Toronto gave its best effort, but in the end Josh Smith and Al Horford were just too much.