TORONTO -- Andrew Bogut broke his shoelace in the visitors locker room postgame at the Air Canada Centre on Monday and joked it was a result of his brute strength. Then he complained about the weather in Toronto -- the Australian center who spends most of his time in California can't show off his muscles wearing an undershirt in January up here. Bogut wore a smile through all of this and exited the locker room in a musical mood, singing, "Hello, hello, it's good to be back."
Bogut's first game since the first week of November was good for both him and his team, as the Golden State Warriors beat the Toronto Raptors 114-102, a needed victory after dropping the first two games of their Eastern Conference road trip in Chicago and Milwaukee. Returning from rehabilitating his surgically repaired left ankle and suiting up for just the fifth time since being acquired from the Milwaukee Bucks two days before last season's trade deadline, he was pleased to be playing after what he called a "bumpy ride."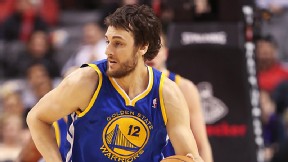 Tom Szczerbowski/USA TODAY SportsThe West's surprise team just got better inside.
"It's been a long season for me so far, a frustrating season both mentally and physically," Bogut said. "Just to be out there running up and down the court again, especially getting the win, it was very satisfying."
He made an impact early, scoring on a hook shot 14 seconds into the game. He finished with 12 points on 6-for-8 shooting, 8 rebounds, 2 assists, 4 blocks and a steal in 24 solid minutes. Three of the six field goals were dunks, including a particularly powerful one in the second quarter. "That kind of showed my ankle's feeling pretty good," Bogut said.
Perhaps the prettiest play of the night was his first slam, a simple two-hander just more than two minutes into the game. Stephen Curry and David Lee ran a pick-and-roll on the right wing and Curry threw a left-handed pass to the All-Star power forward. Just as soon as Bogut's man, Aaron Gray, rotated to Lee, a touch pass headed Bogut's way for the finish. It was the kind of chemistry Warriors fans have been looking forward to since last March.
"It's very easy," Bogut said of sharing the frontcourt with Lee. "We're both high basketball IQ guys so it's not like some issues where we need to practice together for a month to get to know each other. I've been studying the way he plays when I've been hurt. I'm watching guys' tendencies, not just David's but everybody's. I think we're both great passers, great ball handlers; we complement each other pretty well."
"I think that as we go on our high-low game is going to be very effective just because it's hard for teams to help in on that high-low because you have such good shooters on the wings," Lee said. "So it's going to create some more problems for other teams' defenses."
Lee could barely get that sentence out before praising Bogut's defense, though. In Milwaukee, Bogut was one of the best defenders on the planet -- strong and smart, directing his teammates, the rare big man who plays great post defense and pick-and-roll defense, blocks shots and takes charges. That's the main reason Bogut was brought to the Bay Area. Late in the second quarter, he blocked a DeMar DeRozan driving layup. Then, after his pass to Curry didn't connect, he blocked a Gray layup. It happened in a span of 10 seconds.
"I felt like I became a better defender tonight because he's constantly talking to me and constantly rotating to get my back and vice versa," Lee said. "That's going to be the major improvement and I'm excited for us to continue to get used to playing on the same frontline and being even better."
"Some guys might think, 'Whoa, this guy's been out for all this time, he's already telling us where to go.' But I think defensively I see a lot," Bogut said. "I'm a pretty vocal guy, so I'm [calling] out screens, making sure guys don't get nailed, making sure there's help at all times. I've got no problem doing that."
Bogut's teammates have no problem with it either. "To have a veteran like that -- obviously we had Festus [Ezeli], who was playing most of his minutes, so a guy that knows the game a little better, I think it'll show in our defensive performances," Curry said.
It certainly helped down low -- Golden State scored a season-high 62 points in the paint and gave up just 34. Curry referred to him as a "presence" inside and Warriors coach Mark Jackson was more than excited to have his missing piece back in action.
"He was great," Jackson said. "You can tell we're a different basketball team with him on the floor. He's a weapon on the offensive end. His ability to pass, his ability to rebound, block shots and also make plays -- it's great to have him. Makes me a better coach."
Golden State's biggest run of the game came at the beginning of the third quarter, turning a 54-52 halftime deficit into a 71-60 lead in less than five minutes with Bogut on the floor. Almost immediately after he went to the bench, Toronto went on a 16-4 run in just more than three minutes.
Bogut said the plan is to stick to a 25-minute limit until the All-Star break in mid-February, without playing on back-to-back nights, then "lifting the lid off everything and being back to normal." He said he has no complaints physically and feels nothing he did when he tried to give it a go at the start of the season, when "my ankle just felt like jelly and just kind of collapsed on itself." He was encouraged by his explosiveness and his ability to give second and third efforts.
"I didn't feel too bad," Bogut said. "Our trainers here have done a great job of making sure that I'm getting my conditioning in when I was hurt -- [anti-gravity] treadmill and elliptical -- so I've been doing a fair bit. But it's very hard to simulate on-court conditioning when you're nervous and there's fans, people cheering when the lights come on. It's a little different. For the most part I felt pretty good, but there's still a little ways to go."
There may be a little way to go, but Bogut will enjoy getting himself there. The ride should be a lot less bumpy from here on out.
James Herbert's work appears on Hardwood Paroxysm. Follow him @outsidethenba
Dimes past: Jan. 10 | 11-12 | 13 | 14 | 15 | 16 | 17 | 18-19 | 20 | 21 | 22 | 23 | 24 | 25-26 | 27
2. Around The Association
3. Monday's Best
Gay
Rudy Gay, Grizzlies: The man around whom trade talks swirl like a winter storm scored 26 points, including the winning basket off his own rebound with 13.3 seconds left, to lead Memphis to a 103-100 win over the Philadelphia 76ers.
4. Monday's Worst

Historic Utah beatdown: Most foes roll into Salt Lake City not expecting a win, usually with good reason. But the Jazz saw a six-game home win streak snapped with their worst home loss ever, a 125-80 thrashing by Houston. Rockets guard Jeremy Lin was sharp, riding high like a subject of a movie at Sundance. Which he is.
6. Tweet Of The Night
A kid with a dream from Akron Ohio. Now chopping it up with the Prez. Life is Good http://instagr.am/p/VCgq2-CTFj/

—LeBron James (@KingJames) January 28, 2013
7. Quote Of The Night
"Naturally, he may be a fun, outgoing guy, but for you to walk around every now and then with a scowl on your face or to get in someone's face, it puts everyone on notice and it puts everyone on edge."
-- Kobe Bryant, going over the recent closed-door meeting and the demeanor he believes Dwight Howard should carry himself with.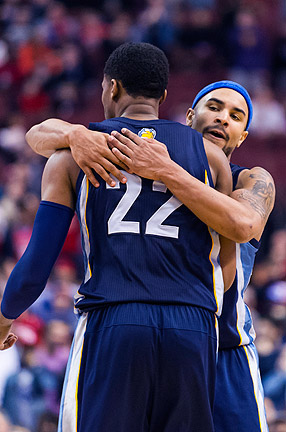 Howard Smith-USA TODAY Sports
Memphis Grizzlies forward Rudy Gay (22) celebrates with guard Jerryd Bayless after hitting the game-winning shot late in the fourth quarter against the Philadelphia 76ers.
By Elias Sports Bureau
Lee
David Lee posted team-high totals of 21 points, 12 rebounds and 7 assists in Warriors' victory at Toronto. It was the second game this season in which Lee reached those minimums in each of those three categories. The only other NBA players to have more than one such game this season are LeBron James (four), Kevin Durant (three) and Josh Smith (three).
See more from Elias
101





@


Recap




102
Most valuable player: Danilo Gallinari scored 19 of his game-high 27 points in the second half, including seven of his team's final 11 points. Winning by just one, Denver obviously needed every last bucket, but this was magnified by a near-five-minute scoreless stretch late that almost cost the Nuggets the game.
X factor: Lance Stephenson scored a season-high 20 points and was the entire offense during a furious late-game comeback by Indiana. With his team down 14 and just more than six minutes to play, he scored or assisted on 13 of the Pacers' next 15 points as they cut the lead to just two.
That was … redemption: Andre Iguodala was fouled in transition on back-to-back Nuggets possessions with less than 2:30 to play. He missed all four free throws. Then, after a controversial foul was called on Paul George as Iguodala leapt for a lob on a desperation out-of-bounds play with less than a second remaining, Andre stepped back to the line. He knocked down the shot, and Denver won by one.
125





@


Recap




80
MVP: James Harden scored a coldly efficient 25 points on just 15 shots and in just 28 minutes. He was the leader of the second-quarter offensive ambush that killed any chances of a Utah comeback.
Least valuable player: The Jazz's starting frontcourt. Not only did Al Jefferson and Paul Millsap combine to shoot a cringe-inducing 7-of-29 from the field, their defense was little more than a runway for Houston layups and dunks.
That was … an evisceration: Houston dominated this game as completely as an NBA team could dominate another. At tip-off, Houston staked a claim in the paint and defended it for 48 minutes.
Max & Marcellus
Black Mamba Kobe Bryant calls Max & Marcellus and talks about taking on different rolls to help his team win. Kobe talks about the difficulty of showing patience. Kobe compares his relationship with Shaq to his relationship with Dwight.