1. Even Without Rondo, Burying Celtics Premature
BOSTON -- In 2010 the NBA's teams and players learned a lesson about the Boston Celtics. Perhaps they even learned it about themselves: Do not kick dirt on the Celtics or you will regret it.
That was the year the "old" and "tired" Celtics looked done, getting drilled on a regular basis over the season's last month with Kevin Garnett dragging a bad leg, Paul Pierce struggling with consistency and Rajon Rondo unable to hit a jumper or a free throw. They ended up in Game 7 of the NBA Finals.
Some of the same sentiments were around midway through last season as well, when they were wallowing in the middle of the pack in the Eastern Conference and trade rumors swirled when they lost seven of eight games leading up to the deadline.
They ended up in Game 7 of the Eastern Conference finals.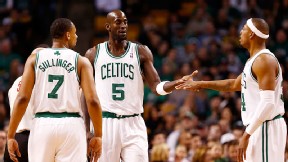 Mark L. Baer/USA TODAY SportsCan Boston hang in the playoff race now?
Playing without Rondo on Sunday, the Celtics earned a 100-98 double-overtime win over the Miami Heat. In the wake of the devastating news that Rondo tore his ACL, it was instantly tempting to declare the Celtics' run as a contender over. They're in eighth place in the East, Rondo is arguably their most important player, and they've just gotten over a six-game losing streak during which they once again looked old, slow and incapable.
This has been a team close to the tipping point for years. Someday, obviously, it will have to come. Rondo's injury could indeed be it, the sign to start stripping the pieces to start over. The end of an era is an easy conclusion to reach toward.
Or it could be just one more time the Celtics set themselves up to come bouncing back, making anyone who declared them buried to look like a fool again.
"You can write the obituary. I'm not, you can go ahead," Celtics coach Doc Rivers said defiantly Sunday afternoon.
"We won tonight, and so the way I look at it is we're going to stay in there. In my opinion, we're going nowhere. I like this team still. Obviously that's a blow, it's a huge blow for us. When something like this happens, somehow we'll find someone that's already in our locker room that's going to play terrific. And I have no idea who it is."
It'd be simple to call that wishful thinking if Rivers hadn't seen it happen so often in the past.
There was no doubt Sunday had a win-the-battle-but-lose-the-war feeling to it. Breaking that six-game skid over a Heat team that had been hot, Pierce stepped into Rondo's role with his first triple-double since Dec. 19, 2010. The Celtics' defense stymied the Heat's juggernaut offense to hold them under 100 points in 58 minutes. The maligned Jeff Green was as good as he's ever been in green, playing stout defense to frustrate LeBron James down the stretch.
The Celtics poured into the locker room with glee, back-slapping and smiling. Then Rondo limped in with the news.
"It was like, 'Yeahhhhhh-ohhhhhhh,'" Courtney Lee said, trying to describe the mood.
"I knew it before the game; no one else knew it," Rivers said. "I just didn't think it was any time to tell any of our guys that. I told them after the game. It was pretty emotional in the locker room."
There are two snap reactions: The Celtics need to go out and try to find another guard to help make up for the loss; or they need to break down the team and start by looking to trade Pierce as soon as possible.
The problem with adding players is the Celtics have limited flexibility. Because they used their full $5 million mid-level exception to sign Jason Terry last summer, they are subject to a new rule that prevents them from spending more than $74 million this season. Right now, they are at $72 million, which is one of the reasons they have two open roster spots. They can't make a trade in which they take on much money or sign a player to anything more than a minimum contract.
If anything, the Celtics were probably looking at ways to reduce their salary before Rondo's injury to get below the tax line of $70.3 million.
Those are the technical issues; now, for the emotional and practical ones. It's not as simple as just inserting Pierce into a trade machine. Pierce has a serious connection not just to the fan base but also to the Celtics ownership. He's been a part of the team since Wyc Grousbeck bought it in 2002, and his number is headed for the rafters. In this case it might not be a simple business decision.
But Pierce, who is still performing at a high level and has a reasonable contract because he's guaranteed only $5 million next season, is really the only option to deal. Garnett has a no-trade clause and the other players the Celtics signed last summer -- Jason Terry, Brandon Bass, Green and Lee -- have limited value because they're all on long-term contracts and none are performing all that well at the moment.
With those realities and the past, it's understandable why Rivers' snap reaction is to stay the course. It is something team president Danny Ainge is sure to study in the coming days. No decision needs to be made for several more weeks, and the leadership can take a look at how the Celtics absorb the loss of their All-Star point guard. There's little doubt they'll be getting some calls from teams interested in Pierce.
But the Celtics are also 2½ games up on the 76ers for the last playoff spot. They have been inconsistent all season with their execution and their effort. Even with Rondo healthy, it must be pointed out, they were a below-.500 team at the midway point. But where the Celtics are midseason never seems to matter; they always seem to be most potent in the playoffs no matter who is healthy.
According to the most recent Hollinger Playoff Odds, it might take only 34-36 wins to make it into the postseason in the weak East. Even if holding on to eighth place might just mean another meeting with the Heat in the first round, the Celtics are not a team that's meek. They've been told they're done before.
So bring out the skepticism, the trade rumors and the shovels. But don't assume the Celtics to change who they've become even with the Rondo loss.
"We still like our chances in the Eastern Conference," Pierce said. "We found we can play anybody with the team we put out there. Even without Rondo."


NBA Writer Brian Windhorst
• On Twitter @WindhorstESPN | On ESPN.com
• Follow ESPN's NBA coverage on Twitter | On Facebook | On Google+
Dimes past: Jan. 10 | 11-12 | 13 | 14 | 15 | 16 | 17 | 18-19 | 20 | 21 | 22 | 23 | 24 | 25-26
2. Around The Association
3. Sunday's Best
Anthony
Carmelo Anthony: Anthony tied a franchise record with nine 3-pointers, then converted a go-ahead, three-point play with 12.5 seconds left to cap a 42-point night and lead New York to a 106-104 victory over the Atlanta Hawks.
4. Sunday's Worst
Gay
Rudy Gay, Grizzlies: For a guy who can explode to the rim, Gay settled for too much hoisting. Gay went 3-for-17 from the field, including a 1-for-7 performance from long range in a 91-83 loss to the visting New Orleans Hornets.
6. Tweet Of The Night
If only Russell Westbrook could be the unselfish point guard Kobe Bryant is.

— Ethan Strauss (@SherwoodStrauss) January 27, 2013
7. Quote Of The Night
"I'm trying to evolve and find out what we need as a ballclub."
-- Kobe Bryant, after dishing 14 assists for the second straight game, both wins.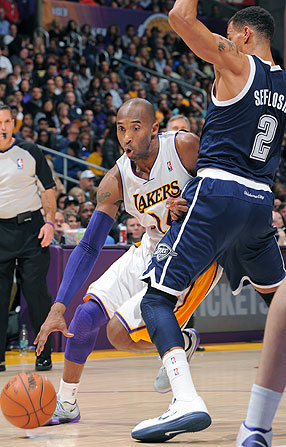 Andrew D. Bernstein/NBAE/Getty
Kobe Bryant helped his team to its first win over a top-four West foe after losing its first eight games against the Thunder, Spurs, Clippers and Grizzlies combined.
By Elias Sports Bureau

Boston's Big Three of yesteryear -- Kevin Garnett, Paul Pierce, and Ray Allen -- all played key roles in the Celtics' 100-98 double-overtime win over the Heat on Sunday. Garnett led Boston with 24 points, including all six of the Celtics' points in the first overtime period. Pierce recorded a triple-double and hit what proved to be the game-winning field goal with 30 seconds to play. The last player to cap a triple-double with a last-minute OT game-winner was LeBron James for the Cavaliers in March 2006.
Allen scored 21 points off the bench in his first game at TD Garden since joining the Heat after five seasons with the Celtics. That was the highest point total by a former Celtics player in his return to Boston since Ricky Davis scored 35 points at TD Garden for the Timberwolves in 2007 (also in two OTs).
As for Allen's role in Boston's victory, he missed a crucial free throw with 2:18 to play in the fourth quarter and the score tied at 81-81. Allen, a career 89 percent free throw shooter, had made 37 of his past 39 foul shots coming into the game. By shooting 5-for-7 from the line, he missed as many foul shots on Sunday as he had in his previous 26 games combined. And here's a surprise: Allen has now missed six of the past 13 foul shots he has taken with the score tied in either the fourth quarter or overtime.
ESPN SportsCenter AllNight Podcast
Jackie MacMullan joined Bob Valvano on SportsCenter Tonight to discuss Rajon Rondo's season-ending ACL tear, and what the Celtics will do moving forward.
MVP: Blake Griffin absolutely bullied Portland's frontcourt in three quarters of work by securing deep post position and making perfect passes en route to a 23-5-9 line in just 28 minutes.
X factor: 3-point shooting. The Blazers went 11-for-25 from 3-point land in their home win against the Clippers on Saturday, but Sunday held a different fate. Portland shot 3-for-15 and turned it over 19 times in an ugly loss.
LVP: J.J. Hickson. Stopping Blake Griffin is no easy task, but Hickson offered almost no resistance defensively all night long.
MVP: Shawn Marion came to play in his 1,000th career game. Marion finished the game with 18 points, nine rebounds and five assists. He became the 107th player in NBA history to reach the milestone.
X factor: The bench was huge for Dallas. Elton Brand and Vince Carter combined to score 27 points off the bench. Dallas' second unit scored a total of 56 points in the victory over Phoenix.
That was ... an historical night. There's no answer for Dirk Nowitzki. Dirk's first bucket in the third quarter moved him past Allen Iverson (24,368) for 18th place on the NBA's all-time scoring list. Dirk finished the game with 18 points.