1. Celtics Had To Have This One
By Brian Windhorst
ESPN.com
BOSTON -- There was a sentiment, especially in New England, that all were deprived of a potentially great series last year when the Miami Heat won an overtime Game 4 in Boston with Rajon Rondo playing with one arm.
It seems only heightened now, a year later, a round deeper, with tensions definitely increased. This time the Boston Celtics got the Game 4 overtime win and the Eastern Conference finals goes back to Miami 2-2 after a 93-91 battle.
It was a game the Celtics absolutely had to win. Not just to avoid falling to a virtually unrecoverable 3-1 series deficit. It was because LeBron James fouled out for the first time in more than four years and, before that, played seven minutes walking on egg shells. Because it could be the last time the Celtics play Miami without Chris Bosh, whom the Heat hope to have back for a pivotal Game 5. Because after blowing a 15-point lead earlier in this series, Boston built an 18-point advantage and would have regretted letting this one go for years to come.
And yet, the Heat still had two chances to get it any way. Once was at the end of regulation, when the Celtics' defense effectively swallowed a play for James and forced him into a bad pass. And once more at the end of overtime, when a pump fake freed Dwyane Wade for a reasonable look at a game-winning 3-pointer that bounced off the rim. It was in Wade's 51st minute of the game, by far his season high and his gauge was on empty.
"Red [Auerbach] wasn't going to let that go in," Celtics coach Doc Rivers said. "Not in the Boston Garden."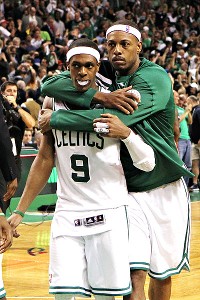 Jim Rogash/Getty Images
This has not been a clean series. Players from both sides are fighting injuries and officials have taken more of the stage than anyone would prefer. In Game 2, there were several calls that brushed too closely to the "deciding" tag than was comfortable, inciting screams of conspiracy from so many who are emotionally invested this outcome.
Sunday, both Paul Pierce and James fouled out on late offensive fouls, two of the 12 that were called in the game. Many were decisions that could have gone either way, which guarantees controversy no matter what.
"It was like chess," Ray Allen said of the foul situation. "They took our queen and we took their queen, so to speak."
Pierce's last two fouls came on offensive calls, both drawn artfully by Shane Battier. James was called for three offensive fouls, the last coming with two minutes to play in overtime when he got tangled with Celtics defender Mickael Pietrus while trying to post up. Pietrus, like Battier, appeared to bait James into the call -- and it worked.
"It's very difficult, I know how I play the game of basketball, I know I don't need the advantage of holding somebody or pushing somebody down," said James, who had 29 points. "I don't foul out. If I'm going to foul out, that's six fouls, I wish I would've earned them."
Pierce, who led the Celtics with 23 points, likely felt the same. As did Rondo, who was called for three offensive fouls on the night and was forced to the bench during a crucial stretch in the fourth quarter when the Heat wiped out the last of Boston's once strong lead.
But it has also been a tight series and, getting past the whistles, it is perhaps building toward a classic ending.
The scoring, shooting and rebounding are all virtually even four games in. Two of the four games have gone to overtime. Both teams have looked dominant, resilient and at a loss, depending on the moment. The Celtics have had double-figure leads in each of the past three games. The Heat are using smoke and mirrors to deal with Bosh's absence (Erik Spoelstra has played five different players at center, including James).
James is in the midst of one of the most prolific series of his career, averaging 32.3 points and nine rebounds while shooting 52 percent. Kevin Garnett continues to defy his age by averaging 20.5 points and 10.8 rebounds after another double-double (17 points, 14 rebounds) in Game 4. Rondo, in addition to leading the Celtics in scoring, has 42 assists and just 12 turnovers in this series. Heat guard Mario Chalmers is having the best playoff series of his career, averaging 14 points with just seven turnovers in 164 minutes.
Through all the clutter, what it is means is the stage is set for a great finish. There has been no shortage of drama, controversy or intrigue. And with Bosh poised to return and the pressure now officially on the favorite Heat, it only promises to continue. It's something the players, fighting through growing fatigue and what seems like non-stop frustration with officials, are preparing themselves for.
"These four teams left in the playoffs are in for a reason, the games are all close and deciding by just a couple points," James said. "It's a three-game series now."


NBA Writer Brian Windhorst
• On Twitter @WindhorstESPN | On ESPN.com
• Follow ESPN's NBA coverage on Twitter | On Facebook | On Google+
Dimes past: 17 | 18 | 19 | 20 | 21 | 22 | 23 | 24 | 26 | 27 | 28 | 29 | 31 | June 1 | 2
2. Around The Association
Most valuable player: Rajon Rondo. The oft-maligned guard's magical postseason continued as he posted 15 points, 15 assists and 5 rebounds in the victory to put his averages at 24, 10.5 and 7 for the series.
That was … anti-climatic: LeBron James and Paul Pierce both entered overtime a whistle away from fouling out. Neither lasted long. Pierce exited after tripping over Shane Battier 38 seconds in, and LeBron went the same way 2:30 later. The starless result was a six-point overtime period that didn't do justice to a game, or a series, that's otherwise been tremendous.
Defining moment: When Norris Cole scored with 8:22 remaining in the final period to give the Heat a 76-74 lead, their first of the game, it felt like déjà vu all over again for the Celtics. After a 17-of-26 start, Boston shot 30 percent the rest of the game and managed just 32 points after halftime. Everything went wrong after the break for the Celtics but this: They won.
3. Sunday's Best
Rondo
Rajon Rondo, Celtics: After a torrid start in which he controlled the game like he was its claw-game operator, Rondo finished off the Heat with three of the C's four over-time points. It wasn't 44 points, but Rondo's overall performance -- 15 points (7-for-14), 15 assists, 5 rebounds, 3 turnovers in 47 minutes -- was pretty impressive.
4. Sunday's Worst


Overtime: In between all the whistles, missed shots and superstars being shown the gate early, the Heat and Celtics were able to muster only six total points on a combined 2-for-13 shooting in the extra frame.
5. Quote Of The Night
"Them complaining and crying to the referees in transition."

-- Rajon Rondo, in a halftime interview with ESPN's Doris Burke when asked what holes he was exploiting in the Heat defense.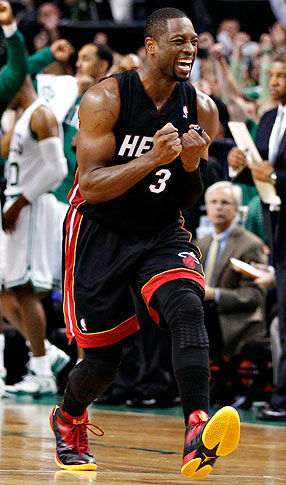 David Butler II/US Presswire
Dwyane Wade got a clean look at a game-winning 3 at the buzzer in OT, but his shot just rolled out, sealing a C's win and sending Wade into a tizzy.
By ESPN Stats & Info
Durant
LeBron James scored a game-high 29 points and Paul Pierce led the Boston Celtics with 23 points, but neither was on the floor for the end of the Celtics' 93-91 overtime victory over the Miami Heat in Game 4 of the Eastern Conference finals, having both collected their sixth personal foul earlier in the overtime period. It was the first NBA playoff game in which each team's outright high scorer fouled out since April 27, 1992, when Reggie Lewis (32 points for Boston) and Reggie Miller (32 points for the Pacers) were each whistled for six personal fouls in the Celtics' 102-98 victory at Indiana that completed a three-game sweep of their first-round series.