1. Durant's Late Surge Demands Attention
By J.A. Adande
ESPN.com
OKLAHOMA CITY -- This is why I have little time to worry about the officiating or the machinations of the draft lottery. If you obsess over that stuff, searching for the hidden agenda behind every whistle or numeric combination, you'll miss out on something special. You'll miss out on the kind of fourth-quarter performance Kevin Durant had on Saturday night.
Ease off the conspiracy theories for a minute and appreciate the masterpieces we have seen the past couple of weeks from Rajon Rondo, LeBron James and Dwyane Wade, Tony Parker and now Durant.
This demanded -- no, commanded -- your full attention. It was happening so fast, bucket after bucket, I had to stop to make sure I had this right. Let's see, two, four, six, nine ...13 consecutive points for the Thunder from Durant. Whoops, missed a free throw in there. Fourteen. Man, there's another jumper. Splash. Sixteen consecutive points. And they came in the fourth quarter, when it matters most, when the San Antonio Spurs were whittling a Thunder lead down to four points, intent on snatching this game and taking control of the Western Conference finals.
The series is even now, at two games apiece, because Durant tilted this game the Thunder's way in Game 4, for a 109-103 victory. Sometimes it's not about matchups or adjustments or anything else. Sometimes it's simply a matter of this team had this player, and the other team didn't.
The first thing I did when the final stats book came off the copy machine was look at the fourth-quarter box score. Durant played all 12 minutes, made 7 of 9 field goals and all four free throws, and had two assists. He scored 18 points, to give him 36 on the night. Magnificent numbers.
What grabbed Thunder coach Scott Brooks' attention was the eight assists Durant had on the night. Half of them came in the first half, when Durant attempted only four shots.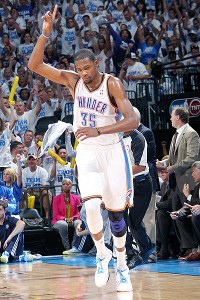 Layne Murdoch/NBAE/Getty Images
"He was finding himself at the end, but finding his teammates early in the game," Brooks said.
That's the way coaches are trained to look at games and box scores. They're trying to help their team get better and are too busy worrying about the next game to stop and savor the moment.
We have that luxury. We can evaluate and compare and maybe just appreciate what a stupendous clutch performance that was.
"I just want to be calm and composed and poised in those situations and make the right basketball play," Durant said. "There were times when I need to pass to my teammates and times when I need to score. I just try to take it on, try not to be nervous. Sometimes it's nerve-racking playing those games like that."
It's completely fair that we place so much emphasis on fourth-quarter results. The sport lends itself to it. It's not reasonable to expect a hockey player to score a goal in the final seconds of the third period. A starting pitcher can have a great game and still be watching from the dugout in the ninth inning. But in basketball, the ball goes to the big-money players and we demand that they produce.
"He's their guy," Stephen Jackson said of Durant. "He knows he has to finish their games. And he did a great job with it tonight."
This was far from a solo effort by Durant. The collective defensive effort held Parker to 12 points. The Thunder had 27 assists, a true reflection of how well they moved the ball. And you may never see Kendrick Perkins have a points-to-mean-mugging ratio as heavily titled toward the scoring column as it was in Game 5.
It takes something extraordinary to steal the headlines from a shooting performance that ranked among the greatest in NBA playoff history. Serge Ibaka's 11-for-11 game matched Boston Celtic Scott Wedman's 11-for-11 in the infamous Memorial Day Massacre of the Lakers in 1985, and is surpassed only by a 12-for-12 from Larry McNeill of the Kings. Not the Sacramento Kings. Not even the Kansas City Kings. The Kansas City-Omaha Kings, in 1974, against the Bulls.
But Durant took that storyline just like he took this game. It reminded me of the time Gary Payton went on a 10-minute rant on how he was being unfairly blamed for the Lakers trailing the Spurs 2-0 in the 2004 Western Conference finals. All we had to do was transcribe the tape and we had our story for the day ... until Phil Jackson trumped it with two key words, when he revealed how he told his team that another loss would be the "death knell" for the Lakers as we knew them and lead to the breakup of the team. Payton's rant became a note.
The story's a little more relevant because that series was the last time the Spurs lost after leading two games to none. It could happen again. It was unthinkable two games in, when they'd rolled their winning streak to 20 games and the Thunder were marveling at San Antonio's poise and ball movment. But now the Spurs are on a two-game losing streak, and it's actually the young Thunder who are setting the example.
"They want it," Jackson said. "That's the only thing I can say about that. They want to be here, they want to win. I love the passion in those young guys over there in that locker room. I love the passion, I love how much they want it. I just want us to be the same way come the next game.
The Spurs "can't get younger, but you've got to have that fire, have that energy from the beginning of the game like they are," Jackson said. "They're ready to play. It takes us a quarter or second quarter or even third quarter for us to get going and playing physical and hitting first. We've got to be that team from the beginning of the game. We can't just rely on being home and trying to win at home."
The Thunder are 3-3 on the road in this postseason. Ask any NBA coach and he'll gladly take a .500 road record come playoff time. That's what I'd give the Thunder in Game 5 Monday -- a 50-50 chance. Which means this is their best chance to win the series. As much progress as they're making, I still don't think they're ready to win a Game 7 on the road against the Spurs.
Unless ...
One day we'll see something like this and yawn, say, "Oh, Durant's heating up again," then go back to checking Twitter. We haven't reached that stage. We're not there because Durant isn't there yet himself. He's still processing this, learning the proper protocol and methods of Closerology.
As recently as Game 1 of this series he wasn't capable of doing this against the defense of Jackson, Kawhi Leonard and the Spurs, because they were crowding him, bumping him, denying him the ball and pushing him away from his preferred spots on the court.
Now Durant knows that less is more, slower will get you where you want to be right on time.
"I just slowed down, let my teammates screen for me," Durant said. "I think the first game I was going a little too fast. I was watching film and I was coming off the screen before the guy could set it."
I re-watched "Alien" the other night, and what struck me was how little time elapsed from when the creature first bursts out of the stomach until it's a fully mature killing machine.
Maybe Durant is evolving at a similar rate. Maybe he's ready to reach the highest level of hoop, outstanding performances in the clutch on the road.
It might happen in this series. Or it might not. The only thing I can say with certainty is that you'd better be watching.


ESPN senior writer J.A. Adande
• On Twitter @jadande | On ESPN.com | On TrueHoop | On e-mail
• Follow ESPN's NBA coverage on Twitter | On Facebook | On Google+
Dimes past: 16 | 17 | 18 | 19 | 20 | 21 | 22 | 23 | 24 | 26 | 27 | 28 | 29 | 31 | June 1
2. Around The Association
MVP: Kevin Durant reminded all of us why he's considered the preeminent scorer in the game, scoring 16 straight points in the fourth quarter to bury San Antonio. Durant finished with 36 points (18 in the fourth quarter), eight assists and six rebounds to help hold off the Spurs' late run and even this series at two.
X factor: Serge Ibaka, who made all 11 of his shots en route to 26 points. Ibaka slammed it down in traffic, hit open mid-range jumpers, and even rocked the cradle a la Dr. J on one emphatic slam.
That was ... great ball movement: The Thunder's offensive explosion came from a stunningly Spurs-like propensity to look for the best shot, not the best player. Durant had eight assists for the first time in his postseason career as the Thunder out-assisted the Spurs, 27-17.
3. Saturday's Best
Ibaka
Serge Ibaka, Thunder: Serge wins -- per-fect! The muscle-bound power forward terrorized the Spurs from midrange and inside, connecting on all 11 of his shots from the field to total 26 points in OKC's Game 4 victory.
4. Saturday's Worst
Westbrook
Russell Westbrook, Thunder: While Kevin Durant went off for 36, the other half of OKC's one-two combo was a punchless 2-for-10 from the field. In his worst performance of the postseason, Westbrook finished with seven points, five assists and four rebounds ... in a win.
5. Quote Of The Night
"I was there. I saw it. He was great. We tried to do a couple of different things, but his play was better than anything we did defensively, that's for sure."

-- Gregg Popovich, on Kevin Durant "taking over" the game in the fourth quarter.
KD walked in with Westbrook to the postgame presser and stopped and looked at the media and said, "You want a picture of his clothes?"

— Royce Young (@dailythunder) June 3, 2012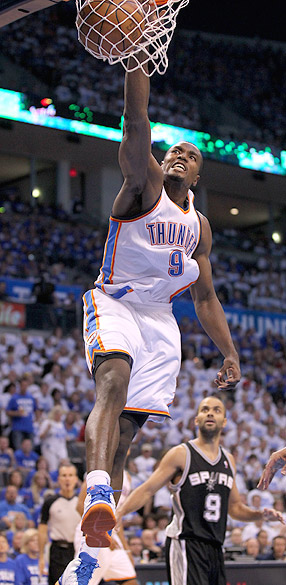 Matthew Emmons/US Presswire
Serge Ibaka provided the punch for the Thunder, connecting on all 11 of his shots from the field in Game 4 to help knot up the West finals.
Series »
By ESPN Stats & Info
Durant
Kevin Durant scored 36 points, including 18 in the fourth quarter, as the Thunder held on for a 109-103 win over the Spurs. Only two other players scored as many as 18 fourth-quarter points in a playoff game against the Spurs during the Popovich-Duncan era: Goran Dragic of the Suns scored 23 of his 26 points in the final period of a Suns victory in a 2010 conference semifinal series; and Deron Williams of the Jazz scored 18 in the fourth quarter of a loss to the Spurs in the 2007 Western Conference finals.