1. Can Spurs Stay Perfect In Postseason?
By J.A. Adande
ESPN.com
SAN ANTONIO -- In deference to the San Antonio Spurs' mentality -- and the way they're going they deserve all kinds of deference, bows in their direction, whatever else they want -- we won't put this in terms of extending their winning streak. They hate talking about it. So we'll look at what's still to come, what they could possibly do that's even more impressive than this 20-game roll they're riding.
They can win six games. In a row. A clean sweep through the playoffs and to the top of the NBA history books.
No NBA team has ever gone undefeated in the postseason. Perhaps no other team has been blessed with such a perfect alignment: a well-balanced squad that won't see a team properly equipped to beat it.
You don't want to get into a shooting contest with the Spurs. They're the top team in the playoffs in 3-point field goal percentage and overall field goal percentage. (And if you think that's just a case of getting hot lately, they won both of those categories in the regular season, too). It's tough to get to the basket because they crowd the lane and protect the rim so well.
The way to beat them is from within, with a big man who can do damage like the 16 points and 30 rebounds Andrew Bynum put on them the last time they lost. But there aren't any of those left in the playoffs.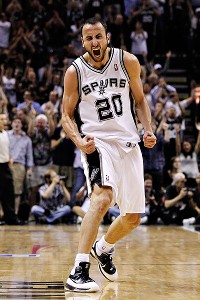 Tom Pennington/Getty Images
So I'll ask the same question I put out there after their incredible comeback against the Los Angeles Clippers in Game 3 of the second round: If the Spurs can't lose when down 24 on the road, when will they lose?
Actually, I'll update that based on the results of Tuesday night's 120-111 victory in Game 2 of the Western Conference finals: If a team built around a "big three" can't beat them when the trio goes for 88 points, who will beat them?
That's the pressing question, given this series and a potential NBA Finals matchup with the Miami Heat or the hobbled Boston Celtics. The Spurs are built to survive off nights. Tony Parker didn't do anything special in Game 1, and when he did play like an MVP candidate in Game 2 (34 points on 16-for-21 shooting and eight assists), Tim Duncan made only two of 11 shots. The Spurs can get away with nights like that from Duncan when Kawhi Leonard gives them 18 points and 10 rebounds.
It's not that the Thunder aren't worthy opponents. It just feels like this series is regressing, that the superiority of the Spurs is increasingly obvious. This was a more complete performance by the Spurs than in Game 1, which they won by a wider margin.
In many ways Game 2 was an optimal game for the Thunder. Oklahoma City coach Scott Brooks had plenty of good things to say about his team afterward. Their big three of Kevin Durant, Russell Westbrook and James Harden went off. They turned the ball over only 10 times. They made 47 percent of their 3-point shots. They grabbed 16 offensive rebounds. They extracted 36 free throws from a Spurs team that makes a point of not fouling.
And the Thunder never had a shot -- as in one shot that could have tied the game or given them the lead during the final 35½ minutes of the game. The best they could do was cut a Spurs lead that was 22 points in the third quarter down to six points in the fourth.
"We're not here to make it a close game or try to make it a good fight," Westbrook said. "We're trying to win. We lost tonight."
Join the club. Nine different teams have lost to the Spurs since the last time they dropped a game, on April 11. The only thing that hasn't varied is the Spurs' method.
"They spread you out," Brooks said. "They put some tough decisions on the floor that you have to guard their bigs rolling, and you've got to protect their 40 percent 3-point shooters and you've got to handle the ball and looks and attack …
"They pass the ball well. Very rarely do they take one extra dribble. If a man is open, they pass."
No doubt the Thunder will get a boost playing at home for Games 3 and 4. Though the last time the Spurs visited Chesapeake Energy Arena, on March 16, they emerged victorious. And that was before they acquired Boris Diaw and Stephen Jackson, who, respectively, were the starting center and one of the brigade of defenders that made Durant work so hard for his 31 points.
So it might take perfection to keep the Spurs from being perfect.
The last team to get this deep into the playoffs without a loss was the 2001 Lakers. Their run of 11 straight ran through the Spurs in the conference finals. Now Duncan & Co. are on the other side.
"It's a great run, but we're only worried about the next two wins in this series," Duncan said. "That's all that really matters at this point. If that makes it 22 in a row, that'd be great. We're just worried about getting these next two wins."
That attitude is why I like the Spurs' chance to get to 22, then 26. It's the same take-care-of-business approach that permeated a brief locker room conversation between Leonard and Gary Neal as they dressed following the game.
"Two games down, two games to go," Neal said.
"Six more," Leonard said.
After 20, six sounds so, so possible.


ESPN senior writer J.A. Adande
• On Twitter @jadande | On ESPN.com | On TrueHoop | On e-mail
• Follow ESPN's NBA coverage on Twitter | On Facebook | On Google+
Dimes past: 13 | 14 | 15 | 16 | 17 | 18 | 19 | 20 | 21 | 22 | 23 | 24 | 26 | 27 | 28
2. Around The Association
Most valuable player: Tony Parker exposed every seam in the Thunder's defense, netting 34 points on 21 shots and dishing out 8 assists. Parker submitted the most masterful of several impressive efforts.
X factor: Rookie Kawhi Leonard notched 18 points and 10 rebounds, Boris Diaw gave the Thunder a migraine with his passing and craft in the paint, and Manu Ginobili played the closer as the Spurs submitted an impressively balanced effort.
Defining moment: The Thunder made a gutty, impressive rally in the fourth, but what will be remembered from this game is the amazing stretch the Spurs put together at the start of the third quarter, with Parker and Diaw spearheading one of the most brilliant offensive stretches the league has seen in quite some time.
3. Tuesday's Best
Parker
Tony Parker, Spurs: The 30-year-old point guard isn't supposed to be the top scorer in a game that features the NBA points leader and a rocket launcher of a PG on the other side. Yet there's Tony, dropping 34 points on 76 percent shooting and also dishing out 8 assists.
4. Tuesday's Worst

Thunder defense: It's hard to stop the regular season's top-ranked offense, but the OKC D couldn't even slow the Spurs down. San Antonio shot 55 percent from the floor (despite shooting only 66 percent from the line) and put up 120 points.
5. Quote Of The Night
"We lost. There's no moral victories for us."

-- Kevin Durant, after the Thunder's Game 2 loss to the Spurs in San Antonio.
Spurs are 4th team in NBA history to win 20+ straight games in a season; 2 of previous 3 went on to win title

— ESPN Stats & Info (@ESPNStatsInfo) May 30, 2012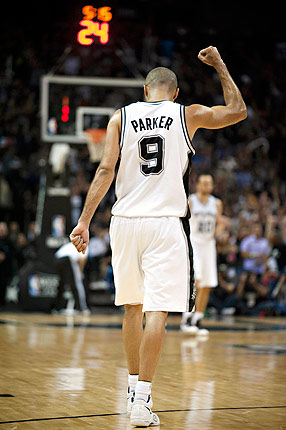 Brendan Maloney/US Presswire
Tony Parker goes all Tiger Woods during the Spurs' Game 2 win over the Thunder. San Antonio will now take a 2-0 series lead, and a whole lot of momentum, into Oklahoma City on Thursday.
By Elias Sports Bureau

The San Antonio Spurs defeated the Oklahoma City Thunder 120-111 to take a 2-0 lead in the Western Conference finals. It was the second-highest scoring non-overtime playoff game during Gregg Popovich's 16 seasons as an NBA head coach (all with San Antonio). The Spurs and Phoenix Suns combined for 235 points in San Antonio's 121-114 win during the 2005 Western Conference finals.
Kevin Durant (31 points), James Harden (30) and Russell Westbrook (27) became the first set of three teammates all to score more than 25 points in a 48-minute playoff game since 1995. The previous trio to do so were Kenny Smith (32), Clyde Drexler (30) and Hakeem Olajuwon (27) of the Houston Rockets in a 140-126 first-round win over the Utah Jazz.