1. No More Tears: LeBron Puts Hurt On C's
By Brian Windhorst
ESPN.com
MIAMI -- The Boston Celtics used to make LeBron James cry.
At least once in public, during a cold stare into nothingness sitting at his locker after a Game 7 playoff loss in 2008. His lip was stiff but his eyes were rimmed in red. And in private, well, only James knows how many times it's happened.
Monday night, the Celtics made James laugh.
Three minutes were left in the Heat's eventual 93-79 Game 1 victory. Kevin Garnett, the old battle ax himself, slammed James with a frustration foul with the game decided and nothing left but message-sending time. Then Garnett nuzzled his shoulder up to James' face in the classic passive-aggressive mannerism Garnett has been striking for years, the icy intimidation pose that's raised a few hundred thousand goose bumps over the years.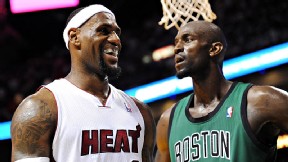 Steve Mitchell/US Presswire
James laughed. Not haughtily. Not defiantly. Not sarcastically. Just laughed carelessly as he held the ball out to the official past Garnett while giving him a dismissive side eye. Garnett, nor his teammates, could do anything about it. It was too late for that.
There are a few prevailing theories about this Heat-Celtics Eastern Conference finals. One is that the Heat are the favorites. The other is that the Celtics are going to scrap and fight to the death, their deficiencies in health and depth be damned. Because that is what they have always done; it's their character.
Maybe that is coming but in Game 1 there was little sign of it. The Heat, and James especially, plowed through them without a care in the world. The Celtics don't have anywhere near the margin of error they had facing James two years ago; they don't even have the wiggle room they had last year when this matchup ended in five games. They know it, too. But they didn't play like it in their first crack at the upset.
James got anything he wanted in this one, moving through the Celtics' usually stout defense with just average effort. Generally he got anywhere he wanted on the floor and scored with such ease that he had time to add style points. Usually against the Celtics, and it has generally been this way for years, every basket in the half-court of a playoff game seems like the product of a chess match. His 32 points on 22 shots seemed like Chutes and Ladders.
"I was able to get to a lot of my shots I was comfortable with making," James said. "I was able to attack."
Eventually, after a bit of a lackluster first half, Dwyane Wade got in on the getting, too. By the end he was gliding around the Celtics' defense with none of the usual fear of Garnett forearms, Paul Pierce body checks or Rajon Rondo pickpockets. Wade had 22 points on just 13 shots.
The Celtics turned the ball over just nine times. The Heat scored just 10 fast-break points. Miami missed 20 3-pointers. Garnett was fantastic, gashing the Heat's defensive strategy on him and providing 23 points and 10 rebounds in less than 31 minutes on the floor. These are bullet points at the top of the Celtics' game plan. Yet James and Wade beat them at Boston's bread and butter, half-court defense. This was a game that could've been in the Celtics' wheelhouse and instead, well, James laughed.
The Celtics seethed.
"We gave in to them both tonight, in my opinion," Celtics coach Doc Rivers said. "We let Wade, we let LeBron play in extreme comfort."
There are scenarios where the Celtics could pull off this upset. It is within their powers. But not playing this way. James and Wade have had big playoff games against the Celtics before, both have put up 40 points against them at different times. But it has never had this sort of repose. By the end they were brazen enough to try a few trick shots.
Maybe the Celtics were fatigued; they were less than 48 hours off a Game 7 win. Maybe the Celtics weren't quite ready for the upgrade in aggressiveness from the last round.
"As much as watch it and prepare for it, I think you need to face it to see it and get used to it," Rivers said.
Maybe it was just an off night.
Whatever, it was not satisfactory and it left the Celtics instantly posturing about Game 2.
"We just have to fight; it wasn't pretty," Rondo said. "Nothing dirty but they have to hit the deck, too."
The Celtics are known to lay a playoff dud or two; it's been happening for years, and they're just as well known for storming back. What they aren't known for is giving up 21 makes in 27 attempts in the paint. They aren't known for getting physically dominated around the rim as the Heat executed, blocking 11 shots and winning the rebound battle by 15. And they certainly aren't known for letting guys like Wade and James get off easy.
Long way to go in this series, and the Celtics know they have time. What they don't have is the leeway anymore, not with Ray Allen (1-of-7 shooting) and Pierce (5-of-18) hurting. And especially not with Wade and James slowly rewriting the record book as they get deeper into attack mode playing without Chris Bosh.
The Heat have been careful to extend the Celtics beaucoup respect, with coach Erik Spoelstra saying, "We have way too much respect for them as champions; they've proven themselves and we haven't accomplished anything."
But there had to be a sense of surprise in some corners of the home locker room. It just didn't feel like a playoff game against the vaunted Celtics.
Didn't feel that way down the hall, either. So the Celtics did the only thing they could do: promise to retrench.
"We have to put up more a fight and more of an effort," Garnett said. "We have to make sure we take them out of their comfort zone."


NBA Writer Brian Windhorst
• On Twitter @WindhorstESPN | On ESPN.com
• Follow ESPN's NBA coverage on Twitter | On Facebook | On Google+
Dimes past: May 12 | 13 | 14 | 15 | 16 | 17 | 18 | 19 | 20 | 21 | 22 | 23 | 24 | 26 | 27
2. Around The Association
MVP: Difficult to choose anyone but LeBron James, who dominated both ends of the floor, scored more than 30 points (32 overall) for the fifth time this postseason, grabbed 13 rebounds and appeared unstoppable offensively in multiple looks. James scored off the dribble, on pull-ups, in the post, on cuts, at the rim and from midrange, finishing 13-for-22. A virtuoso performance from the league's leading maestro.
LVP: The co-winners of this award belong to every Celtics starter not named Kevin Garnett, for a startling combination of passivity, lethargy and inefficiency. Ray Allen, Rajon Rondo, Brandon Bass and Paul Pierce shot a combined 18-for-56, didn't attack the glass and relied on Garnett to bail them out throughout the game. Given how poorly 80 percent of Boston's starting lineup played, it's a miracle this game was a game at all.
Defining moment: With score 86-71 and the Heat pulling away, Garnett fouled James on a putback and began yapping at him. Rather than retaliate, James held the ball in his outstretched arm behind Garnett's ear, smiled and repeated victoriously, "Yeah ... yeah!" as Garnett fell silent, down 15 points with no retaliation.
3. Monday's Best
James
LeBron James, Heat: He got the Heat's bid for a second straight East title off on the right foot, recording a 13-for-22 night en route to 32 points and 13 rebounds while also helping to keep Paul Pierce down. And he may have even had the last word on the notoriously yappy Kevin Garnett.
4. Monday's Worst
Pierce
Paul Pierce, Celtics: Here's a glass-half-full look at Boston's chances: In the playoff-opening loss against the Hawks, Pierce went 5-for-18 en route to 12 points. Pierce had virtually the same line (one more FG attempt) in the East finals opening loss to Miami. He bounced back before, right? (OK, the glass just has a few drops in it, but still.)
5. Quote Of The Night
"I don't know how long I've been in this league, but that has to rank as the worst I've ever had. I would have loved to earn it. "

-- Celtics coach Doc Rivers, after uttering "C'mon Eddie" at referee Ed Malloy to protest a no-call on a Rajon Rondo drive in the second quarter. Rivers was give a technical foul.