1. Celtics' Survivalist Instinct Shows In Game 7
By Peter May
ESPNBoston.com
BOSTON -- Celtics coach Doc Rivers felt like he just got through an episode of "Survivor." His team felt the same way. The Celtics didn't dazzle anyone on Saturday night. They sent no message or statement to South Beach. They simply found a way to win and advance, NCAA Tournament style.
The Celtics outlasted the 76ers 85-75 in Game 7. There's no other way to put it. They weren't dominant. They didn't impose their will on the Sixers. They simply grinded it out and had a little bit more at the end.
Perseverance has been a season-long trademark of this team -- and nowhere was it more apparent than in this game. There were times when the Celtics looked hopeless. Clueless. As Rivers put it, "the Sixers are a pain in the ass. They really are. They are a tough basketball team. They're difficult to play against."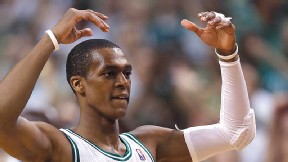 Greg M. Cooper/US Presswire
The Celtics looked to be in control (up 11 in the third quarter in a game where points came at a premium) and couldn't shake their guests. They were still in control (by the standards of this game, anyway) before dealing with a potentially calamitous situation with 4:16 left to play.
The Celtics led by three points. Paul Pierce was whistled for a charge, his sixth foul, and the Celtics had lost their captain and best end-of-game threat for the night. But, as Rivers noted, "nobody panicked. They just kept playing."
Or, as Brandon Bass aptly put it, "we just continued to grind."
Not only did Rivers not have Pierce for the closing stretch, he also was wondering what alien force had taken over the body of Ray Allen. Through three quarters, Allen had made one of nine shots, and that was a layup. Allen was getting looks. He was missing. Badly.
Rivers also was wondering when Rajon Rondo was going to decide it was Rondo Time and exert his will on the game. Rondo had had an underwhelming Game 6 and while he was putting up numbers Saturday that would eventually give him another triple-double, he also was turning it over too much and struggling like everyone else.
"It was a struggle,'' Rondo said. "No one played great. But we found a way to win."
This wasn't about the Celtics' wealth of playoff experience against the callow Sixers. When Pierce fouled out, the first thing that went through the mind of Sixers coach Doug Collins was, "we thought we had a great chance to win. Then Rondo made some great plays."
This was the ninth postseason triple-double for Rondo, who had 18 points, 10 assists and 10 rebounds. He has more than everyone else combined over the last four years. He didn't secure this one until he collected the rebound of the final Philadelphia miss of the night. You better believe he wanted that 10th rebound. He lives for stuff like that.
But he also knocked down two long jumpers, one of them a 3-pointer that was launched at least four feet beyond the line with plenty of time left on the shot clock. "I'm just trying to make a play,'' he shrugged. He drove for a basket. He knocked down four free throws, not one of his strong points. He had all seven points in a game-changing 7-0 run.
"Pierce went out and I know me, personally, I'm thinking, 'Let's go!' Rajon Rondo came through for his team. He put his team on his back,'' said Sixers guard Jrue Holiday.
The Celtics also got stops down the stretch and this might be the most overlooked part of their victory, both in Game 7 and in the series. It was not a pretty series to watch; Game 7 was in many ways a fitting finale as the Sixers shot 35 percent and the Celtics 42.5 percent (and only because they shot a stunning 69 percent in the fourth.) But the Celtics have been one of the best defensive teams in the league since the All-Star break and they rarely strayed in this series.
In that key 7-0 run, they forced an Evan Turner miss and a Thaddeus Young miss, collecting the rebound each time. That's no small feat for them; they are a horrible rebounding team and gave up 17 second-chance points Saturday. But when they needed the stop, they got it. When they needed the rebound, they got it.
The one thing they have not been able to do in this postseason is put teams away and take advantage of an extended period of rest. They certainly could use it. But had they done that, it would have run counter to their strange, but ultimately successful postseason strategy: outlast the other guy, no matter how long it takes and no matter how unseemly it might look.
Asked if he was surprised at all to be where he is, Pierce shook his head.
"Not really,'' he said. "I expect it. That's the way I look at things. I expected us to be here."
The message is clear: they're here. Disregard how they got there and who they beat. The Heat may not be quaking in their sandals in Miami, but the Celtics are going to show up on Monday night. Rivers said after the game that he already had packed for the trip.
Peter May covers the Celtics for ESPN Boston.com
Dimes past: May 10 | 11 | 12 | 13 | 14 | 15 | 16 | 17 | 18 | 19 | 20 | 21 | 22 | 23 | 24
2. Around The Association
MVP: Game 7, and the series, belonged to Kevin Garnett. In spite of the best efforts of a feisty Lavoy Allen, and the quiet/steady weight of advanced age, Garnett posted an 18 and 13 in the decisive game and his Celtics outscored the Sixers by 16 points in his 38 minutes on the floor. For the series, KG averaged a hair under 20 points and 11 rebounds per game.
X factor: In a game billed as "Experience versus Youth," it was the greenest of the Boston Big Four who took over down the stretch. After Paul Pierce fouled out with 4:16 remaining and the Celtics' lead at three, Rajon Rondo submitted the following: He scored immediately on a layup, rebounded an Evan Turner miss on the other end, connected on a 23-footer, grabbed yet another rebound, nailed an open 3-pointer, then hit a pair of free throws. When the dizzyingly productive spurt ended, the Celtics' lead was at 80-70 and the game was as good as won. Rondo finished with 18 points and 10 each in the rebound and assist categories.
Defining moment: When Ray Allen spotted up to take a 3-pointer over a leaping Turner with his Celtics nursing a 57-54 lead and 9:51 remaining in the series' final quarter -- and what could well have been the final period he would play in a Boston uniform -- he was 1-for-9 from the floor and 0-for-5 from beyond the arc. None of that mattered. Allen rattled it in, then hit another a few minutes later to prolong his Celtics career for, at least, another series.
3. Saturday's Best
Rondo
Rajon Rondo, Celtics: When Paul Pierce fouled out with 4:16 left in the game, things looked bleak. Then Rondo took it to another level, scoring 11 of his 18 points, and the Celtics beat the 76ers 85-75 in Game 7 to advance to the East finals against Miami.
4. Saturday's Worst
Turner
Evan Turner, Sixers: His minus-23 (13 more than any other Sixer) reinforces what John Hollinger has been saying: Going with more Lou Wiliams and Jodie Meeks gives the Sixers more floor spacing that Turner can't provide.
5. Quote Of The Night
"He put the team on his back."

-- Sixers guard Jrue Holiday, on the job Rajon Rondo did when Paul Pierce fouled out.
Reason No. 3,987 to ignore regular season results: In the last Heat-C's game, Dexter Pittman and Sasha Pavlovic were the leading scorers.

—Tom Haberstroh ‏@tomhaberstroh