1. This Pair Looks Beyond Compare
By Brian Windhorst
ESPN.com
INDIANAPOLIS -- Indiana Pacers coach Frank Vogel is more than an optimist; at times he can come off like a borderline utopian the way he believes so much in his team's chances and ability. Late Thursday night, though, he fell into what had to seem like the dark grip of reality.
In the moments after the Pacers had just taken another LeBron James-Dwyane Wade avalanche, this one serving as the knockout, the positive thinker turned stargazer.
"We had our whole focus on Derrick Rose (in the playoffs) last year and it's like having two of them out there. Only bigger," Vogel said. "It's a big challenge. We did the best we could. We put up a good fight. We gave them a little wake-up call. But ever since Game 3 these guys played at such a high level that I don't know if anybody can beat them."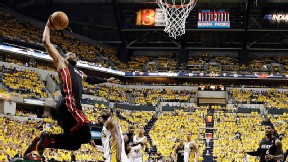 AP Photo/Darron Cummings
That is yet to be determined but the Heat are indeed moving on to another challenge. Their 105-93 Game 6 win finished off the Pacers Thursday as Wade and James completed a three-game series-altering sweep after Game 3 that it had Vogel in the odd position of reaching for hyperbole for the opposition.
Wade had one of the finer playoff games of his career, putting on a shooting display that got high marks for both efficiency and difficulty. He finished with 41 points on 17-of-25 shooting with a few of them being just preposterous. Including a lob over two Pacer defenders in the third quarter that arched some 18 feet in the air only to bank in at the shot clock buzzer. It's been that sort of week for the Pacers. And for Wade.
But there was also James dropping the hammer, pouring in 28 points in the supporting role including seven straight in the final two minutes of the game that finished off the No. 3 seed and guaranteed the Heat their second straight Eastern Conference finals berth. James made 12 of 23 shots and added seven assists and three steals.
The totals for the last three games, the Heat's reversal from the brink after falling down 2-1, are wild. James averaged 32.7 points, 11.3 rebounds and eight assists on 55 percent shooting. Wade averaged 33 points (he scored 99 in the three games, James 98), 7.3 rebounds and 3.7 assists on 62 percent shooting.
Those numbers for Wade come as a response to the worst playoff moment of his career in Game 3, where he scored five points on 2-of-13 shooting and looked like he had just eaten a very large but instantly regrettable meal. When the Heat doctors drained his knee last week they must've injected some venom.
In summation, Vogel decided that the "break" most thought his team got when Chris Bosh was sidelined in Game 1 actually turned out to be a curse.
"Chris Bosh is an awesome basketball player, but when he goes out it means more touches for LeBron and Wade and that's not exactly an advantage [for the opponent]," Vogel said. "They were spectacular this series; they were too much for us."
Of course, it didn't look that way a week ago. That's when the Heat looked adrift without their best big man and had to swallow 48 miserable hours in Indianapolis -- one of the outlets was team movie night seeing "The Dictator," which created a slew of team inside jokes -- and the Pacers looked like they had a serious chance at pulling the upset.
But the Heat made some adjustments, mostly to their offensive spacing that were aimed at spreading Indiana's defense, and Wade and James found a gear that hasn't been seen with such consistency in the brief history of their partnership.
"I don't know if they've been required to shoulder as much responsibility as they've had to now that Chris is out," Heat coach Erik Spoelstra said. "They had to give us more. This series brought out the best in them because they knew. They knew they had to play at an extremely high level for us to have a chance."
It got to the point where even losing Udonis Haslem, a vital piece with Bosh out, turned into a speed bump. Their role players instead stepped up -- Mario Chalmers in Game 3, Haslem in Game 4, Shane Battier in Game 5 and Mike Miller with his four 3-pointers on Thursday -- but basically James and Wade just dropped their heads and changed the course of the season.
The strength of their performance was so strong that it begs the question of whether it can be sustained. With Bosh's return uncertain and the road to a title only halfway conquered, they might not have a choice. With Wade's cranky knee and James' shaky finishes to the last two seasons, there are no guarantees.
But in the wake of the last three games it was hard for anyone in the Heat party to think about downsides, only that they might have tapped into the promised land of their two future Hall-of-Famers.
The fireworks, famously, have already been lit. Could this be the substance on which it was based? Wade and James are happy to ask you to stay tuned.
"We needed it," Wade said. "When you talk about three games, two guys being dominant at the same time, this was probably the best we've been."


NBA Writer Brian Windhorst
• On Twitter @WindhorstESPN | On ESPN.com
• Follow ESPN's NBA coverage on Twitter | On Facebook | On Google+
Dimes past: May 10 | 11 | 12 | 13 | 14 | 15 | 16 | 17 | 18 | 19 | 20 | 21 | 22 | 23
2. Around The Association
MVP: Dwyane Wade. Wade was as good as he has ever been when his team needed it most. He scored 20 points in the second quarter and finished with 41 points on 17-for-25 shooting. That is historically impressive, especially when you factor in his 10 rebounds.
X factor: Indiana's turnovers. The Pacers coughed the ball up 20 times, and while many of these were the result of good defense, many others were just sloppy ballhandling by Indiana. Mike Miller's four 3s also changed the game.
That was ... an intense matchup: The Pacers controlled the first half by dominating the paint early, but the Heat proved the old NBA playoff axiom: the more talented team always wins. Fouls and suspensions notwithstanding, the team with the two best players won the series.
3. Thursday's Best
Wade
Dwyane Wade, Heat: There's not too many greater contrasts in a single series than his Game 3 and Game 6 performances. He played in a daze in the Game 3 loss (five points) then went on to raze the Pacers with 17-for-25 shooting from the field (41 points) along with 10 rebounds in finishing the Pacers.
4. Thursday's Worst

That Not-Quite-There Feeling: The Pacers do many things well, but clearly have work to do when trying to contain a superstar explosion. As Pacers forward David West summed up, "It's not our time yet." But at least it seems like their time as a perennial Top 3 team in the East is at hand.
5. Quote Of The Night
"Those your closeout game pants, D-Wade? Really?"

-- LeBron James, on the pink pants his fellow Heat star sported.