1. 76ers' Unique Show Staves Off Elimination
By Henry Abbott
ESPN.com
PHILADELPHIA -- A win is more than a win … it's something to build on. Some things go well one night, and the hope is they might go well that same way again. Every win carries the whiff of permanent improvement.
Except maybe not in the 76ers' 82-75 Game 6 win over the Celtics. They head to Boston for the seventh Game 7 between the two historic franchises -- the last was three decades ago Wednesday -- certain that recent history is unlikely to repeat itself.
Consider some scenes from Wednesday night:
The Sixers' arena has not been consistently loud since Allen Iverson was on the court, and pregame Wednesday -- when the Phillies dominated local sports radio, despite an elimination game for the NBA team -- more of what Kevin Garnett had called "fair-weather" fans seemed to be the rule.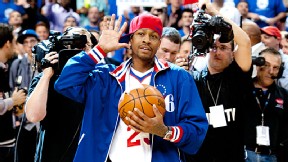 Jeff Fusco/Getty Images
But then Iverson emerged from the tunnel to ceremonially present the game ball to referee Joey Crawford (whom Iverson then attempted, unsuccessfully, to hug). Iverson toured the court, hand to ear, as if he were having trouble hearing the frenzied and delighted crowd.
Whatever trouble fans have embracing the current Sixers team, they have no such trouble with Iverson. And once he lit the fire, the crowd-taunting Garnett -- who was booed lustily every time he touched the ball -- was enough to keep them going, giving the Sixers a new level of home-court advantage.
"Someone else was talking bad about our fans," Sixers forward Elton Brand said later. "So it was good to get this victory for them."
"They got a lot of energy from the building," Celtics coach Doc Rivers noted.
But of course, the building won't be coming along to Boston for Game 7.
The Sixers demonstrated the impermanence of success in the opening few plays. Andre Iguodala dunked a lob pass hard in the first minute, which seemed like something to build on. They attempted the same lob pass twice more in the opening minutes, turning the ball over each time.
Things stayed weird. A few minutes later, Sixers guard Lou Williams went up to shoot, but the ball came loose and fell to the floor nearby. Williams couldn't touch it for fear of a double dribble call, so there the ball bounced, surrounded by 10 of the best athletes in the world, and nobody fighting for it.
Williams initiated his own solution, by suddenly boxing out the closest Celtic, Rajon Rondo. The fight was on, but Williams kept the lightning-quick Rondo on his back in a swirling and odd dance. More Sixers ran to help, and as soon as somebody touched the ball, Williams snagged it again and zoomed in for a layup attempt.
"Have you ever seen that before?" said one sportswriter to another on press row.
Minutes after that, Sixers forward Thaddeus Young made a dramatic save, flying out of bounds, whipping the ball under his own arm and … right off the face of an unsuspecting Keyon Dooling and into the front row. Dooling's reaction was, primarily, to rub his face in pain. Sixers ball, somehow.
There were some unusual plays from the ground-bound post player Elton Brand -- an early dunk, for instance, and a late long jumper.
And then there were the many ways the Celtics were simply not themselves.
On the whiteboard in the Sixers' locker room pregame, dangerous free throw and 3-point shooters were noted with special colors. Not highlighted: Ray Allen, who when fully healthy is among the best in NBA history by both measures. In these playoffs, however, he's suffering from bone spurs in his right ankle and shooting 60 percent from the free throw line and 28 percent from 3. He finished with no free throw attempts, and he was just 1-of-5 from 3-point range and 4-of-11 from the floor.
"They didn't face-guard Ray," Rivers said. "They actually allowed him to get loose. He just didn't hit shots."
Rondo finished with six assists in a series in which he had been averaging nearly 15 a game. Meanwhile, Boston made 37 percent of its 3-pointers in the regular season, but 21 percent on this night. Game 5's hero, Brandon Bass, finished having made just 2 of 12.
Put it all together and you get an 8-seed, in the 76ers, headed to Boston with a chance to become one of the most successful bottom-of-the-bracket teams in NBA history, with only the 1999 Eastern Conference champion Knicks ahead of them in the modern era.
History could be made, even if history will not affect the outcome.
Collins scored 10 points for the Sixers as they won a Game 7 in Boston in 1977. Like a lot of this Game 7's prologue, it's likely to have little bearing.
"Hell, these guys are so young," Rivers said. "Half of them don't even know I played. And they definitely don't know Doug [Collins] played."
Henry Abbott is editor and founder of TrueHoop
Dimes past: May 10 | 11 | 12 | 13 | 14 | 15 | 16 | 17 | 18 | 19 | 20 | 21 | 22
2. Around The Association
MVP: With his Sixers facing elimination, Jrue Holiday staved it off on both ends Wednesday. The third-year guard, who has grown as much as any player in this postseason, scored 20 points and, more importantly, stymied the previously un-stymiable Rajon Rondo; holding the straw that stirs the Boston drink to nine points on 4-of-14 shooting and just six assists.
X factor: In what has been a series, and a season, of contradictions for the curious little team from Philadelphia, here's another: The Sixers were outrebounded 48-37 by the Celtics -- and 14-7 on the offensive glass -- but outscored the visitors in the paint 42-16.
Defining moment: When Boston responded to an 11-0 Philly run that lasted for most of the first half of the third quarter with a Rondo layup and three-point play by Paul Pierce (who posted a 24-10 in defeat) to knot things at 46, it felt like the veteran Celts had taken the Sixers' best punch, wiped the blood off their chin and laughed. The Sixers weren't laughing. The home team girded itself, escaped the third with a 60-56 lead and never trailed again.
3. Wednesday's Best
Holiday
Jrue Holiday, 76ers: Holiday attacked the hole with impunity and the Celtics didn't have much of an answer. Holiday finished with a game-high 20 points and six assists in the 82-75 Game 6 win over the visiting Celtics.
4. Wednesday's Worst
Bass
Brandon Bass, Celtics: Fresh off a sizzling 27-point Game 5, Bass followed it up with a 2-for-12 clankfest. His shooting night summed up the Celtics' collective faulty aim, which finished at a clunky 33.3 percent.
5. Quote Of The Night
"I'm always in protect mode. For me, in the playoffs or the regular season, there are teams trying to go for me. It's happened. I'm not saying guys are playing dirty, but certain guys say 'If you hard foul LeBron, get him off balance, he'll stop being aggressive' and things like that."

-- LeBron James, eyeing the challenge ahead in Game 6 after a flagrant foul-filled Game 5.
New definition of Bird Rights: Larry Legend can insult his own team and doesn't have to explain what he means.

— Royce Webb, ESPN NBA ?@RoyceWebb May 23, 2012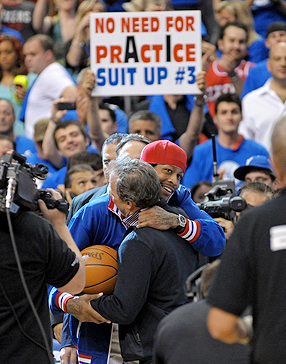 Eric Hartline-US PRESSWIRE
Former Philadelphia star Allen Iverson hugs team owner Joshua Harris before the start of Game 6 against the Boston Celtics in the Eastern Conference semifinals.
By Elias Sports Bureau
The 76ers and the Celtics played a dramatic, if somewhat ragged, Game 6 of their Eastern Conference semifinal series, with Philadelphia finally outlasting Boston 82-75. The 76ers made only 17 of 28 free throw attempts (60.7 percent), connected on only one of nine 3-point shots (11.1 percent), and were outrebounded 48 to 37 -- yes, those were the statistics of the winning team. Since the NBA instituted the 3-point field goal in 1979, Philadelphia became the first team to win a playoff game in which its free throw percentage and 3-point field goal percentage were so low and it had a double-digit deficit in rebounds.