1. Punishment Coming For Rough Plays?
By Brian Windhorst
ESPN.com
MIAMI -- NBA vice president Stu Jackson, the league's discipline guru, is in for a long morning of watching slow-motion replays and making tough decisions. The Indiana Pacers are in for a rough morning when they have to look their Hall of Fame boss in the eye after he questioned their toughness. And the Miami Heat are going to wake up not feeling the burn for the first time since the second round started.
What Game 5 of the Heat-Pacers series lacked in drama, it more than made up for in chicanery and controversy.
The Heat won handily, 115-83, to take a 3-2 series lead behind another strong combination game from LeBron James and Dwyane Wade on Tuesday night. The Heat have made a startling turnaround after falling behind 2-1 last week, and now have momentum and perhaps a health advantage, as the Pacers saw both Danny Granger (ankle) and David West (knee) suffer injuries in the loss.
That was all obscured, however, by a series of cheap shots, tentative officiating, bad feelings and, finally, a lowering of the boom by Pacers president Larry Bird about how everything went down.
Apparently frustrated by the way the Pacers allowed James (30 points) and Wade (28) to run all over them, and how the Heat dominated the boards (point guard Mario Chalmers had 11 rebounds, four more than he'd had in any other game in his career) for a second consecutive game, Bird criticized his team's effort in a late-night interview with the Indianapolis Star.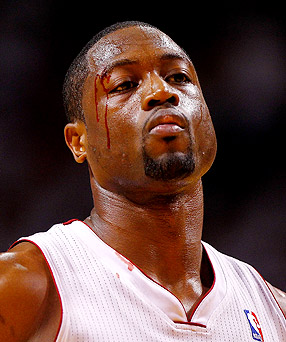 Mike Ehrmann/Getty Images
"I can't believe my team went soft," Bird said. "S-O-F-T. I'm disappointed. I never thought it would happen. That's all I have to say."
Following Game 3 of the 1984 Finals, a lopsided loss to the Los Angeles Lakers, Bird labeled his Boston Celtics teammates "sissies" in an attempt to fire them up. He might have the same motive here (after all, it did work 28 years ago; the Celtics won the next game and, ultimately, the series).
The current executive of the year apparently didn't like how his Pacers responded after a Udonis Haslem flagrant foul in the second quarter ended up being a rallying point for the Heat. Haslem leveled Tyler Hansbrough with both hands to the head on a shot attempt less than a minute after Hansbrough had bloodied Wade's face by raking him on a drive to the hoop.
Before the game started, there were vibes coming from both sides that they'd officially grown annoyed with each other. James and Wade both took shots at Granger for getting into on-court confrontations, and Indiana coach Frank Vogel said he hoped the Pacers could send the Heat back to being a 24-hour news topic with another loss. Then the flagrants started flying.
It didn't end until the game's final minute. The only intrigue left in the blowout was to see whether anything happened between Lance Stephenson and Juwan Howard, who have been involved in several incidents dating back to March. It was a slight misdirection, though, as the blow came from Dexter Pittman, who crushed Stephenson in the neck/shoulder area with a dirty elbow blast.
That probably will be the easiest call Jackson has when he breaks down the game film. Pittman probably earned himself a suspension for Game 6 with the uncalled-for cheap shot. The only question is whether it was severe enough to warrant more than a one-game penalty. Especially after cameras caught Pittman winking to a teammate following the play.
Another question is what it was going to take to get a flagrant foul 2 from the officiating crew of Derrick Stafford, Jason Phillips and Greg Williard. That's a veteran group, but they never took the needed action of kicking someone out of the game. Pittman's actions seemed blatant, but all the flagrants were deemed the lesser "penalty ones." Under league rules, none were reviewed.
Jackson's calls on Hansbrough and Haslem will be complex. Both included head shots, an area the NBA is known to want to protect. Haslem's play rather plainly was in retaliation for the foul on Wade. He also clearly did not go for the ball, no matter what he said after the game.
"I made a play on the ball," Haslem said. "You can't get suspended for making a play on the ball."
Jackson has three options: 1. He can leave the plays as called (that is what happened after Wade committed a flagrant on Darren Collison in Game 2); 2. He can upgrade any of the calls to a flagrant foul 2, which doesn't have teeth after the fact other than it counts toward "points" that eventually could lead to a suspension if more flagrants are racked up; or 3. He can add a fine and/or a suspension for Game 6 or longer.
Because of the nature of the plays and because this is a high-profile situation, there's a good chance Jackson will make the same ruling on the Hansbrough and Haslem fouls. You can break the replays down frame by frame and find small differences. There's also the retaliation factor with Haslem. But they were similar plays for the most part and were called as such by the game officials.
"Tyler committed a hard foul on one end; [Haslem] came in and just delivered a shot back," Pacers forward West said. "All is fair, that's the way I look at."
Jackson might have some more stern words, but it's reasonable to believe he'll take the same approach. However, a Haslem suspension might be more punitive to the Heat because they're already missing a power forward, Chris Bosh, due to injury. With Pittman likely to get suspended, the additional loss in the frontcourt could strip the Heat of three of their big men for Game 6.
It isn't unheard of for a flagrant foul 1 to be upgraded to a suspension-level punishment, but it is rare. Because neither Wade nor Hansbrough was injured on the play and neither foul led to an altercation -- criteria the league looks at when upgrading fouls -- there is a good chance both Hansbrough and Haslem will avoid suspensions.
Jackson could upgrade the fouls and levy a smaller fine, $5,000 or $10,000, and send the message that any more physical play in Game 6 will be expensive. Whatever he does, though, there will be plenty of debate. Especially with an elimination game coming Thursday.
"It definitely got a little aggressive out there," Hansbrough said. "Teams are so competitive, sometimes you're going to have hard fouls and hard plays."


NBA Writer Brian Windhorst
• On Twitter @WindhorstESPN | On ESPN.com
• Follow ESPN's NBA coverage on Twitter | On Facebook | On Google+
Dimes past: May 5 | 6 | 7 | 8 | 9 | 10 | 11 | 12 | 13 | 14 | 15 | 16 | 17 | 18 | 19 | 20 | 21
2. Around The Association
MVP: LeBron James. He was magnificent again in a huge game, scoring 30 points on 19 shots while tallying 10 rebounds and eight assists. He made seven of his first 11 shots and looked like the clear-cut MVP -- of the game and the league.
Defining moment: After a George Hill jumper cut Miami's lead to four with a minute left in the second quarter, the Pacers looked as if they would escape a terrible offensive half relatively unscathed. Then LeBron got out on the break for a highlight dunk and a flying layup. Miami went up nine, and it would win the battle of fast-break points 22-2.
X factor: Shane Battier. After making two of the 12 3-pointers he had taken in the first four games of this series, Battier scored Miami's first six points from long distance and added another before the half was over. He swished his fourth 3-pointer of the game to open the second half and ignite the blowout.
3. Tuesday's Best
James
LeBron James, Heat: LeBron atomically. After a monstrous Game 4, James put on an encore performance in a crucial home victory with 30 points (12-for-19), 10 rebounds and eight assists.
4. Tuesday's Worst
Pittman
Dexter Pittman, Heat: We didn't think it could get any uglier than Pittman's start to Game 3 (3 minutes, 0-for-2, 1 foul), but the Heat center's vicious elbow to Lance Stephenson will likely cost him a pretty penny.
5. Quote Of The Night
"I took a shot that I thought was uncalled for at that time. Obviously my face is not the ball."

-- Dwyane Wade, on the flagrant foul dished out by Tyler Hansbrough that ended with a trail of blood on Wade's face.
Larry Bird: "I can't believe my team went soft. S-O-F-T. I'm disappointed. I never thought it would happen."

— Mike Wells (@MikeWellsNBA) May 23, 2012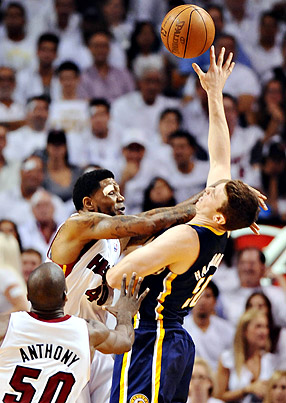 Steve Mitchell/US Presswire
Udonis Haslem's hard foul on Tyler Hansbrough was one of three particularly chippy plays in a rough-and-tumble Game 5 in Miami.
By Elias Sports Bureau
James
LeBron James came up two assists short of a triple-double in leading the Heat to a 115-83 win over the Pacers. James scored 30 points in Miami's victory and tallied 10 rebounds to complement his eight assists. It was the second straight game in which James attained totals that high in each of those categories. The only other players to record a 30-10-8 performance (or better) in back-to-back games of the same NBA playoff series were Dolph Schayes and Oscar Robertson (twice). James previously did it for Cleveland against Chicago in 2010.