1. Super Duo's Performance Revives Heat
By Brian Windhorst
ESPN.com
INDIANAPOLIS -- On a Sunday afternoon six years ago Pat Riley coached, or more accurately he watched, while Dwyane Wade and LeBron James simultaneously slipped into awe mode, neither seeming to touch the ground for an entire half.
That day Wade had 44 points and James 47, culminating in numbing fourth-quarter duel where they combined to score 39 points for opposite teams. Riley's Miami Heat lost the game to James' Cleveland Cavs but the coach's eyes glistened as he described taking it in.
"It was absolute greatness," Riley said then. "It was beyond description."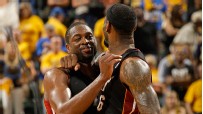 Ron Hoskins/NBAE/Getty Images
It was around then Riley first dreamed of the possibility of pairing them together someday, to replicate and multiply those moments. Four years and some remarkable circumstances later Riley and Wade made it happen. But the moments of absolute greatness, well, they haven't exactly been as free flowing as was in the plans.
But there's no denying the potential. In a vital game on another Sunday afternoon, Wade and James did capture that elusive zone. Down 2-1 to the Indiana Pacers and trailing by eight points at the half, it was going to take something remarkable to rescue the Heat from the brink. Wade and James turned potential into reality to do it.
There are two ways to illustrate what happened in the Heat's 101-93 Game 4 win that tied the series at 2-2. One is the scientific way, with statistical data. Let's start there.
James had 40 points, 18 rebounds and 9 assists, numerically one of the most prolific playoff games of his career. Wade had 30 points, 9 rebounds and 6 assists. In the second half, the two combined for 43 points (the Pacers had 39 as a team) on 16-of-26 shooting, 19 rebounds and 9 assists. At one point, the two scored 38 consecutive points for the Heat.
From the numbers alone, it was a display that instantly became historical. This will be a game referred for years when comparing performances of teammates in playoff games. There's a new baseline in the databases.
That other way was to absorb the display viscerally, the way Riley did that day in Cleveland in 2006. Wade, his left knee clearly feeling better four days after having a procedure to get it drained of fluid, jumped up Sunday and moved side to side like it was indeed 2006 again. Back to the old high screen play that powered the Heat to the title back then, Wade coming around the corner and zipping around and through Pacer defenders like a pinball.
James was all power, springing into piles for rebounds and coming away with the ball time and time again. Cutting in from nowhere to catch and dunk, the Pacers caught dealing with Wade and forgetting about the MVP. The process then reversing, James barreling toward the hoop as the Pacers collapsed only for him to wing a pass to Wade coming from an unexpected angle for a dunk. Then another. Then another.
"That's beautiful basketball for the Miami Heat," Wade said. "When we're playing that way it just brings so much more confidence."
Frustration from the opponent mounted as the fouls piled up and they realized it was because they couldn't get in front of them. Murmurs from the crowd, both in disappointment that their team was getting run over by two likely Hall-of-Famers mixed with some muffled marvel at what they were taking in.
From the highlights alone, it was a display that instantly became historical. This will be a game referred to for years when people argue about great performances from teammates in playoff games. There's a new baseline for the memory bank.
"I felt like I had to do whatever it took for us to win," James said. "I'm happy and I'm blessed that I was able make plays for our team throughout the game."
OK, now let's take a step back from the romanticism. Seeing all of it unfold without warning, it's easy to assume it can happen again. But absolute greatness just doesn't happen over and over. That's a lesson this Heat team has learned over the past two years of trying.
The Heat needed it just to outlast a Pacer team that had stunned them with a comprehensive defense and offensive parity in the series. They needed David West and Roy Hibbert to get in second-half foul trouble and for coach Frank Vogel to admit he left them on the bench too long. They needed slumping Udonis Haslem to have his best offensive day in two months, playing the Chris Bosh role by scoring 14 points off the bench.
James played his best overall playoff game in a Heat uniform, one that will be hard to duplicate. It was likely his best playoff performance since Game 5 of the Eastern Conference finals in 2009 when he had 37 points, 14 rebounds and 12 assists to help the Cavs hold off elimination. Wade's knee remains a concern, draining it is a short-term solution. It would be hard to fathom Haslem having another game like Sunday, where he did his most damage after sustaining a gash over his eye that eventually needed nine stitches.
In short, the greatest game in the Wade-James partnership guarantees nothing. The Pacers still are very much in the running to pull the upset because of just what it took to beat them. But the Heat do return to Miami with home-court advantage and a refreshed belief in themselves.
"It's just survival," Heat coach Erik Spoelstra said. "This is the epitome of a 2-3 (seed) matchup. There's not much room for error with either team."


NBA Writer Brian Windhorst
• On Twitter @WindhorstESPN | On ESPN.com
• Follow ESPN's NBA coverage on Twitter | On Facebook | On Google+
Dimes past: May 4 | 5 | 6 | 7 | 8 | 9 | 10 | 11 | 12 | 13 | 14 | 15 | 16 | 17 | 18 | 19
2. Around The Association
Most valuable player: LeBron James. No offense to Dwyane Wade, whose 22 second-half points on 13 shots changed the game, but nobody has put up the numbers James did (40 points, 18 rebounds, 9 assists, 2 blocks, 2 steals) in a playoff game in more than a half century.
X factor: Udonis Haslem. For three straight games with Chris Bosh injured, the Pacers sagged off the ball handler in the pick-and-roll and made LeBron and Wade beat them in the midrange. In Game 4, they were forced to double the ball handler and it left Haslem with some open jumpers. He made three in a three-minute stretch in winning time to stick a dagger in the Pacers' comeback attempt.
Defining moment: With 45 seconds remaining in the first half, LeBron threaded the needle with a bounce pass to find a cutting Wade for the baseline dunk. Wade had been 2-for-8 shooting prior. He would go on to score 14 points in the third quarter while not missing a shot and add eight more in the fourth. With that play, the NBA's most dynamic duo was back.
Most valuable player: Tim Duncan didn't let a revitalized Chris Paul and Blake Griffin stop him from sealing the deal. Every time the Clippers showed some fight, Duncan (21 points, nine rebounds) was there with a running hook, a smooth jumper or a blocked shot. Vintage TD.
Defining moment: Chris Paul (23 points, 11 assists) played a masterful game. But in a game that was so tightly contested, the final minute matters. Paul had the opportunity to take the lead and turned the ball over, which allowed the Spurs to hang on for the win.
That was surprisingly fun: For the majority of the series, the Spurs have dominated the Clippers with their oppressive precision. But in Game 4 Paul led the Clippers in an up-and-down effort that challenged the Spurs, and finally gave fans the down-to-the-wire excitement they've been missing.
3. Sunday's Best
James
LeBron James, Heat: James scored 40 points with 18 rebounds and 9 assists, numbers only matched by Elgin Baylor in a playoff game in 1961. James got a welcome hand from Dwyane Wade's 22 points in the second half of the 101-93 Game 4 win over the Pacers that evened the series.
4. Sunday's Worst

Swept away at home: Tough ending for the Clippers, who looked like they might avoid the sweep with a rejuvenated Blake Griffin and Chris Paul in the third quarter. Clippers guard Eric Bledsoe came up big, scoring 11 in a row to give the Clippers a 90-85 lead with 5:38 remaining. But then the Spurs did what the Spurs do.
5. Quote Of The Night
"That's beautiful basketball for the Miami Heat."

-- Dwyane Wade, on combining with LeBron James for 70 points.