1. Durant Delivers Every Way In Game 4
By J.A. Adande
ESPN.com
LOS ANGELES -- Kevin Durant is the most valuable player in these playoffs.
Ordinarily it would be foolish to make sweeping generalizations based on one day in one building ... but with half the remaining NBA participants in action inside Staples Center on Saturday, I'm confident in these proclamations: The San Antonio Spurs are the best team, and Oklahoma City's Durant is the best player.
You can't ask a guy to do more to deliver a playoff victory than Durant did down the stretch in the Thunder's 103-100 Game 4 victory that gave them a 3-1 lead in the series against the Lakers. He guarded Kobe Bryant while Bryant was in the process of missing eight of nine fourth-quarter shots (that doesn't count the meaningless last-second shot that went in). For the game, Bryant shot 0-for-4 with Durant guarding him.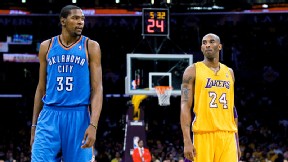 Layne Murdoch/Getty Images
Durant came up with his second big steal of the series, this time when Pau Gasol ignored an open shot and made a pass that disappointed Mike Brown and infuriated Bryant. He hit a baseline jumper to tie the game and a 3-pointer to put the Thunder up for good with 13.7 seconds remaining.
We're watching the evolution before our eyes. From scorer to clutch scorer to all-around performer. So thorough were his contributions that his two big shots weren't the first thing his teammates and coach noticed about his performance.
"Kevin's defense at the end," was Thunder coach Scott Brooks' initial mention of him.
And Derek Fisher, who has been on the court with some of the game's greatest players in the most important games over the past 12 years, said: "To me one of the most impressive things today was his rebound numbers [13 of 'em] and the way he fought defensively. He guarded Pau Gasol for 5-10 minutes, he guarded Kobe for 5-10 minutes, he guarded [Metta] World Peace for 10-15 minutes. He's willing to do everything."
Most of all, he's willing to take the clutch shots. That's where we place the most value, what we debate and analyze and devote entire segments of TV sports shows to, the clutch shots. The sportstalkosphere has become so prevalent that Durant admitted that when he lofted that final 3-pointer, while the ball was in the midst of his typical high-arching trajectory, he was worrying about the ramifications if it missed.
"I was thinking, 'If this doesn't go in, it's going to be a terrible shot,'" Durant said. "They're going to criticize me all night."
You still have to take them, though, which is what Kobe has steadfastly maintained this series, whether he was sinking free throws all night the way he did in Game 3 or coming up short in the fourth quarter, as he did in Games 2 and 4. Bryant zinged Gasol on Saturday night for his lack of aggressiveness (no shots, no rebounds in the fourth quarter), and felt no need to apologize for the way the offense stalled and the Lakers' 13-point lead evaporated after he returned in the fourth quarter with the Lakers while he was left to launch high-arching shots over Durant late in the shot clock.
Meanwhile, Russell Westbrook was going tete-a-tete with Kobe and then some, scoring nine consecutive points for the Thunder in the fourth quarter and 38 overall. But when he came up with the ball after the Lakers narrowly avoided a shot-clock violation, he slowed things down and looked for Durant on the left block, against Bryant.
"He's the best scorer in the game," Westbrook said. "He's proven it all season long. He has the confidence in the closing minute in the fourth quarter.
"My job as the point guard is to let him finish it off."
And so Durant did, with a lovely spin and a baseline jumper, on the opposite side from where he hit his winning shot in Game 2. That tied it. Kendrick Perkins put back a Westbrook miss to give the Thunder their first lead. And after two Bryant free throws, Durant drove home that killer 3-pointer, brining his point total to 31, giving him 10 makes in 18 field goal attempts.
"That's who Kevin is," Fisher said. "He's one of those special players that we get the privilege of seeing come through our league."
And right now, in the time that matters the most, no one is performing better.


ESPN senior writer J.A. Adande
• On Twitter @jadande | On ESPN.com | On TrueHoop | On e-mail
• Follow ESPN's NBA coverage on Twitter | On Facebook | On Google+
Dimes past: May 2 | 3 | 4 | 5 | 6 | 7 | 8 | 9 | 10 | 11 | 12 | 13 | 14 | 15 | 16 | 17 | 18
2. Around The Association
MVP: Russell Westbrook carried the Thunder during the third quarter; Kevin Durant did likewise in the fourth. The pair could split MVP honors, but Durant gets the nod for his derring-do in crunch time, including a go-ahead 3 in the final 30 seconds.
X factor: Kobe Bryant submitted three quarters of his best game this postseason, including a masterful third quarter in which he seemed unable to miss. His touch left him, though, in a 2-for-10 fourth quarter.
That was ... gutty. For much of this game, Oklahoma City could not get a call or come down with a loose ball, but the kids showed they're all grown up now by stealing a game they seemed destined to lose.
MVP: Tim Duncan. Symbolic of his team's performance Saturday, he started slow but never wavered from his approach. He finished with 19 points and 13 boards, along with four blocks and three assists. Only while he was out did Blake Griffin have success scoring the ball, just another indication of his dominance in Game 3.
Defining moment: The third quarter, as it has been in each of this series' first three games. The Spurs turned a 10-point deficit into an eight-point lead they would never relinquish by staying true to their philosophy of ball movement and turning the Clippers into an isolation team.
That was ... a tease. The Clippers' first-quarter outburst, in which they outscored the Spurs 33-11, gave us hope for a competitive series -- or at least a competitive game. But the Spurs slowly whittled away at the lead before putting a stranglehold on this matchup.
3. Saturday's Best
Durant
Kevin Durant, Thunder: Went for 31 points and 13 rebounds, and out-Kobed Kobe by hitting a 3-pointer with 13.7 second left that broke the tie and ultimately meant a 3-1 series lead for the Thunder.
4. Saturday's Worst

Lakers' finishing touch: Too much Kobe? Not enough Pau? How did it come to this? This looked like another Lakers win, but getting outscored 32-20 in the final quarter is something that indicates there's plenty of blame to go around.