1. The Rise Of Jeremy Lin And The Undrafted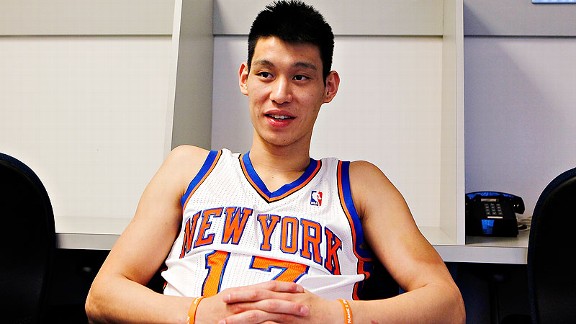 Jeff Zelevansky/Getty ImagesIt's time to lean back and take stock of Jeremy Lin's rapid ascent to prominence.
Fifty-seven days.
That's as long as it lasted.
Fifty-seven days is the extent of how long it took for Linsanity to launch, peak and crater to the point that the dead-serious word came last weekend, on April Fools' Day eve, that the darling of an NBA season that almost didn't happen would suddenly need knee surgery.
Chances are you've moved on to something else by now -- presumably that voice inside your head asking whether Dwight Howard has really managed to surpass LeBron James as the league's most villainous superstar -- but I'm not ready. Jeremy Lin's 57-day slice of basketball history, from the night he announced himself to the world on Feb. 4 by outdueling Deron Williams to the sad bulletin that landed him in a hospital bed, is worthy of at least one more detailed rewind before the playoffs completely commandeer our focus.
So here goes …
---
The trend
If there's been a better season for undrafted players than this 66-gamer spawned (barely) by an ugly five-month lockout, I can't remember it.
Very early on, Detroit's Ben Wallace played in his 1,055th regular-season game, nudging the four-time All-Star and four-time defensive player of the year past Avery Johnson's record for undrafted players since the NBA's 1976-77 merger with the ABA.
Then Mexican center Gustavo Ayon finally made it to the NBA at age 27. Signing a three-year deal with the Hornets in December after funding most of a $1.5 million buyout clause with Spanish club Baloncesto Fuenlabrada on his own -- and forfeiting more lucrative deals to stay in the Spanish League -- Ayon took advantage of New Orleans' slew of frontcourt injuries to become one of the Hornets pursued by other teams at the trade deadline. But why would they move him? Better to keep Ayon and see what he might become after the 6-foot-10, 250-pounder pulled down 17 boards in a February win in Cleveland, putting him alongside Michael Stewart (19 boards for Sacramento in 1998), Reggie Evans (17 for Seattle in 2002) and Udonis Haslem (17 for Miami in 2004) as one of just four undrafted rookies to have a rebounding game that big over the past 50 years, according to the Elias Sports Bureau.
Then in March, if it wasn't li'l John Lucas III leading the Derrick Rose-less Bulls to wins over Miami (home) and Orlando (road) with a combined 44 points in 48 minutes, it was my former Cal State Fullerton classmate and current ESPN colleague Bruce Bowen having his No. 12 retired by the San Antonio Spurs, thanks to Bowen's role as a starter and stopper on three Spurs title teams in eight seasons.
And then there's Lin.
After what he's done with the Knicks, without warning, after a rough rookie season with his hometown Golden State Warriors in which he made it into only 29 games and shot 39 percent from the floor?
Captain of Team Undrafted.


---
The highlight
Snagging Sports Illustrated covers on consecutive weeks, something only nine other athletes have ever done, is unreservedly epic.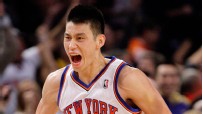 AP Photo/Frank Franklin II
The high point of Lin's fairy-tale rise to global fame, however, has to be something that happened on the floor.
And nothing tops Lakers at Knicks on Feb. 10.
In his third start and fourth game as the Knicks' new go-to guy -- with Amare Stoudemire and Carmelo Anthony injured, and Lin's bosses grateful they didn't go through with their original plans to waive the 23-year-old to prevent his $762,195 contract from becoming guaranteed for the rest of the season -- Lin squared off with Kobe Bryant in an ESPN Friday night showdown. Even crazier: Lin rose to the occasion like no one would have dared to dream and won the duel in one of Kobe's favorite buildings, lighting up Madison Square Garden for a whopping 38 points that changed his life forever.


---
The comparison
What Lin did statistically in his first 11 games of prominence, averaging 24 points on 53 percent shooting while driving New York to nine wins in that span, was actually not as thoroughly unprecedented as we were initially led to believe.
The reality is that Ronald "Flip" Murray, who never scored more than six points in a game in his 14 appearances as a rookie, began the 2003-04 campaign in Seattle as an emergency starter for the injured Ray Allen and promptly averaged 21.8 points in the Sonics' first 13 games.
Flip Murray, though, was never going to make the sort of cultural (and international) splash that Lin could as an Asian-American with Taiwanese parents who matriculated to the NBA from an unlikely training ground: Harvard (see Box 2). Ditto for another Pacific Northwesterner whose turn in the spotlight didn't even last as long as Murray's: Billy Ray Bates and his own arrival from oblivion to improbably spark a sub-.500 Portland team into the postseason in 1980.
The wave of interest in Lin's story was far more reminiscent of Fernandomania in 1981, when rookie Los Angeles Dodgers left-hander Fernando Valenzuela made an emergency start for the ailing Jerry Reuss on Opening Day and became an instant All-Star. The truth is that Valenzuela's story is in a different stratosphere stats-wise -- given that he started 8-0 and ultimately won both rookie of the year and Cy Young Award honors for a team that went on to win the World Series -- but it's the icon status Valenzuela quickly achieved with the Dodgers' huge Latino fan base that established the blueprint for Lin's tale to become a bigger-than-sports story.


---
The statistic
At the height of Linsanity, shocking numbers were a daily treat, with a fresh batch of gaudy stats circulating for dissection seemingly every day until the 2-8 skid that cost Mike D'Antoni his job after Carmelo Anthony returned Feb. 20 from a groin injury.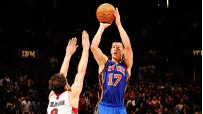 Ron Turenne/Getty Images
The Elias Sports Bureau would inform us, for example, that Lin's 238 points and 94 assists in his first 10 starts were better than Derrick Rose (189 points and 56 dimes), John Stockton (98 and 91), Isiah Thomas (212 and 69) and Magic Johnson (194 and 71).
The same Lin who, before his Feb. 4 eruption off the bench against the Nets, had never scored more than 13 points in an NBA game.
The Bovada bookmakers in Las Vegas, meanwhile, would send out multiple notices in February including Lin on their list of MVP candidates. (Found one in my files that lists Lin as a 50-1 shot, tied with Blake Griffin and Dirk Nowitzki, and next in line behind Dwyane Wade at 35-1.)
Yet there's one standout number that, to me, didn't get nearly enough play amid the constant chatter about whether Lin -- as Steve Nash heard for so long before him -- needed D'Antoni's system to thrive.
Lin's crunch-time efficiency rating, namely.
At the time he was shut down -- presumably for the rest of this season unless there's a longer-than-expected playoff run in the Knicks' future that would give the meniscal tear in his left knee sufficient time to heal -- Lin's PER in fourth quarters was a whopping 33.5. Without trying to get too Hollinger-esque on you, bear in mind that such a reading left Lin behind only the Clippers' Chris Paul (37.2) in the league when this week began … and ahead of the likes of Derrick Rose (32.9), Kyrie Irving (32.2), LeBron James (30.7) and Kevin Durant (29.4).


---
The future
Let's first dispel the notion that the sudden spike in Lin's minutes and role, after barely playing in the first month-plus of the season, doomed him to this knee injury. As one NBA medical expert reminded us this week, tendinitis and stress fractures are the classic injuries associated with overuse. The greater likelihood is that this injury, in a compacted season full of them, just happened.
Nor will the injury or Lin's mere mortal production after Woodson replaced D'Antoni (averages of 13.3 points and 5.3 assists over a seven-game span) make him any less of a free-agent commodity this summer. A quickie survey Thursday night of nearly a third of the league's 30 teams confirmed what we all suspected: The combination of Lin's talent and marketability, heading into a summer with few top unrestricted free agents and several clubs with cap space, has won him a lot of fans in front offices.
Yet pretty much every team I've asked is convinced that Lin is a lock to be re-signed by the Knicks. Looks like the only way it wouldn't happen is if Steve Nash tells the Knicks he's willing to join them for the mid-level exception, which New York has to save for Lin if it wants to take advantage of the Gilbert Arenas rule that prevents rival teams from offering more than the mid-level exception to restricted free agents with fewer than three seasons of service time.
The Knicks simply don't have the means to sign both Lin and Nash in the offseason. But one source close to the situation told ESPN.com that the Knicks are routinely besieged with offers (lucrative offers, naturally) from potential sponsors that want to be involved with Lin. Package those opportunities with Lin's size, athleticism and untapped potential -- along with an unmistakable fearlessness in the big moment that resonates as much as anything he showed us in those 57 days -- and the widespread pessimism about signing him away from the Knicks is understandable.
"They won't let him leave," said the aforementioned source.


Dimes past: March 22 | 23-24 | 25 | 26 | 27 | 28 | 29 | 30-31 | April 1 | 2 | 3 | 4 | 5


ESPN.com senior writer Marc Stein
• On Twitter @ESPNSteinLine | On TrueHoop | On ESPN.com | On email
• Follow ESPN's NBA coverage on Twitter | On Facebook | On Google+
2. All-Ivy League Team
The most we can promise when it comes to Jeremy Lin's season-ending-award worthiness is that he'll receive Most Improved Player consideration.
Consideration.
Whether he actually has a shot to win the MIP race, with a résumé built on the 940 mostly Cinderella-ish minutes he logged over the course of 25 starts and 35 games total, depends on the voters' willingness to reward Lin for what essentially amounts to a half-season of work. And a half-season is generally never enough in these races -- no matter how much hoopla that half-season generated worldwide -- with worthy candidates like Ersan Ilyasova, Goran Dragic, Nikola Pekovic and Ryan Anderson to get in the way.
That's especially true if we expand the MIP conversation (like last season when Kevin Love prevailed) to include former top-shelf lotto picks like DeMarcus Cousins.
Lin's 35 magical games, though, are unquestionably enough to clinch him a spot on the NBA's All-Ivy League team, if nothing else, despite the fact that this week's knee surgery has ruled him out for at least six weeks, likely ending his season.
Just based on what we saw from him in February, Lin is already an Ivy League all-timer. Ditto for his status as a Harvard legend, since the school that has produced eight U.S. presidents -- including NBA superfan Barack Obama -- sent only three players to the highest level of pro basketball before Lin. They were Saul Mariaschin, Edward Smith and Wyndol Gray, all of whom were in and out of the league by 1954.
Here's how the conference's all-time squad looks after factoring in what we've seen in 2011-12, when Cornell's Jeff Foote actually made it two Ivy Leaguers for the season after getting in four games with the Hornets, who signed the 7-footer to a 10-day deal out of the D-League last month:
F: Princeton's Bill Bradley (Hall of Famer played on both Knicks championship teams)
F: Columbia's Jim McMillian (Helped Lakers win it all in 1971-72, and also played for my Buffalo Braves)
C: Yale's Chris Dudley (Carved out NBA career spanning 16 seasons)
G: Princeton's Geoff Petrie (1971 rookie of the year and two-time All-Star)
G: Harvard's Jeremy Lin (Think we've covered most of the highlights by now)
Honorable mention: Dartmouth's Rudy LaRusso and Princeton's Brian Taylor
3. Marc's Quote
Griffin
"The tip dunk?"
Clippers forward Blake Griffin, seeking clarification when asked by yours truly to rate his one-handed putback flush of a Randy Foye miss in Dallas on the night Foye drained a club-record-tying eight 3-pointers.
Griffin's two posterizations of Pau Gasol two nights later at Staples Center got more notoriety -- at least partly because Blake laid so much contact on Pau on the second dunk -- but I want to focus on what he did against the helpless Mavs. Mainly because Blake isn't alone here.
I need clarification, too.
As in: Why are we still using "tip dunks" to describe thunderous rebound jams? Surely there has to be a better, smarter description.
I freely admit that I haven't come up with one yet, even after turning to Twitter for input. And I realize that Blake's free throw woes, intermittent focus on D and counters in the half court to defenders sagging off him are all more pressing issues in Clipperland … as well as the fact that he's eligible for a contract extension this summer that may or may not determine how long Chris Paul stays with the Clips.
Still …
This one really bugs me for some reason. Blake is hammering home missed shots with vicious force that leaves crowds breathless. There is nothing tippy about these buckets.
So let's ponder this.
PS: Blake, for the record, seemed pretty unimpressed with the Dallas dunk. As if he knew something better was coming soon. Or at least that's the impression he wanted to leave when he cracked a little smile and said: "It was all right."
4. Western Conference

Some numbers of note in the West this week:
112: The Lakers' Kobe Bryant has scored at least 40 points in 112 regular-season games in his 16 seasons, leaving him 61 behind No. 2 Michael Jordan (173) in that category. Wilt Chamberlain is the NBA's all-time leader with 271 40-point games.
77.2: When our man Michael Redd hoisted 17 shots in 21:53 of playing time Wednesday night in the Suns' win over Utah, Redd's rate of one shot every 77.2 seconds was the highest for any player this season who came off the bench to play 20 or more minutes in a game.
11: Dirk Nowitzki's game-winning jumper last Friday in Orlando marked the 11th time in Dirk's career that he produced the W-clinching bucket in the final 10 seconds of a game. Seven of the 11 and each of the last three came on the road.
149: Chris Paul had assisted on 149 of Blake Griffin's baskets this season entering the Clippers' visit Thursday night to Sacramento. The only player with more assists to any single teammate is Steve Nash, who has made the pass on 183 of Marcin Gortat's buckets for the Suns this season. The Thunder's Russell Westbrook has assisted on 141 of Kevin Durant's baskets.
120: Entering Thursday's play, Oklahoma City's James Harden had attempted 120 free throws in the fourth quarter this season, second in the league behind only Dwight Howard's 144 such attempts for Orlando. Minnesota's Kevin Love is third with 117.

The focus in Central Florida is understandably on Stan Van Gundy, who has somehow retained his post as Magic coach even after Thursday's surreal scenes, which saw Van Gundy reveal to a gaggle of reporters that he knows center Dwight Howard indeed wants him ousted because his bosses have told him so.
Firing Van Gundy immediately, with his relationship with Howard presumably beyond repair at this point and after he made the organization's private business so public, would figure to be Orlando's only hope of regaining the trust of its franchise player and saving its relationship with Howard.
Yet it shouldn't come as a surprise if the Magic elect to let Van Gundy finish the season, uncomfortable as it surely is for everyone in the locker room and front office now, bearing in mind how they dealt with Howard's trade demand all season. Surely you haven't forgotten that they delayed a decision until deadline day and ultimately convinced a worn-down Howard to waive his right to become a free agent for one more year at the 11th hour in the face of a rising public backlash against him.
Sources briefed on the Magic's thinking say team officials, improbable as it might seem to outsiders, believe that the team can continue to play amid this tension, since it has coped with it (albeit with varying degrees of success) all season.
The only apparent certainty, at this point, is that Van Gundy will
not
be back in Orlando next season. No one can envision a scenario where Van Gundy returns for 2012-13 ... or a scenario where Stan even wants to.
Something else to track here, though, is the future of general manager Otis Smith. Sources close to the situation tell ESPN.com that Howard's recently retired backup, Adonal Foyle, is held in the highest regard by Magic officials and is being groomed for a future role of front-office prominence.
But it's not immediately clear, like a lot of things happening in the Magic Kingdom these days, whether that would come at Smith's expense.
---
Some numbers of note in the East this week:
64.8: Dwight Howard's Magic entered Thursday's home date with New York having made only 64.8 percent of their free throw attempts this season, with Dwight at a lowly 48.8 percent. Over the last 50 years, only three teams sank less than 65 percent of their free throw attempts over the course of a season … and all of them employed Wilt Chamberlain. Wilt's San Francisco Warriors shot 63.8 percent from the line as a team in 1963-64 and 64.0 percent in 1964-65. His Philadelphia Warriors shot 63.5 percent from the line in 1967-68.
59.2: When LeBron James totaled 34 points and 10 assists in Wednesday's showdown victory over visiting Oklahoma City, it meant he had a hand in 58 of Miami's 98 points, good for 59.2 percent of the Heat's offense and his highest single-game reading in that category this season. LeBron's previous high was scoring or setting up 56 percent of Miami's 84 points in a March 16 win over Philly.
219: Rajon Rondo registered 219 assists in March, breaking Boston's 56-year-old record for the most assists by one player in a calendar month. Bob Cousy held the record for all those years after racking up 210 assists for the Celtics in January 1956.
9.6 Rondo, though, averaged only 9.6 points per game last month, making March the fourth successive month in which his scoring averaged decreased. He averaged 18.8 points per game in December, 13.3 ppg in January and 13.2 ppg in February. The only other players leaguewide to average at least 15 points per game in December and drop in each successive month this season are D.J. Augustin, MarShon Brooks and Luol Deng.
22: Derrick Rose has missed 22 games this season, which is tied for the second-highest total in league history for a reigning MVP. The Elias Sports Bureau reports that only Bill Walton (shelved for the entire 1978-79 season thanks to his chronic foot woes) missed more; Allen Iverson also lost 22 games to injury as the reigning MVP in 2001-02. (Michael Jordan technically missed all 50 games as the reigning MVP in the lockout-shortened 1999 season … but that's because he had just begun his second of three NBA retirements.) The Sixers went 7-15 without Iverson in 2001-02 and the Lakers went 8-12 without reigning MVP Kareem Abdul-Jabbar in 1977-78. Chicago is 15-7 without Rose this season.
---
The Bobcats will obviously have the best lottery odds to land the No. 1 pick in this June's NBA draft, but history is assured no matter who winds up with the top overall selection.
Kentucky's Anthony Davis is poised to become just the second collegian ever to be named AP Player of the Year, lead his team to the national title and be drafted No. 1 overall.
The only player to hold those three distinctions: Abdul-Jabbar, then known as Lew Alcindor, after winning the national title at UCLA and being drafted No. 1 by the Milwaukee Bucks.
6.

Next For Dwight, Van Gundy?
Who should Orlando try to keep: D12, SVG, or both?

Stein:
The Magic can no longer keep Stan. It's not just an untenable coach/star relationship anymore. It's an untenable coach/management relationship, too. The Magic had better hope Dwight decides staying in Orlando for the long term is his only PR salvation out of this mess, or else they'll end up losing both. But it's "Dwight or bust!" now.
To read the entire 5-on-5 debate, click here.
7.

Brave Heart, Ivy Résumé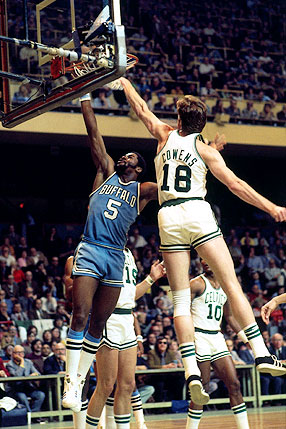 Dick Raphael/NBAE via Getty Image
If we're going to run a picture of All-Ivy League selection Jim McMillian in Marc Stein's Weekend Dime, you had to know it would be in a Buffalo Braves uniform. (See Box 2.)
Marc Stein joins host Mike Trudell on "The Popcorn Machine" podcast at Lakers.com to take an extended look at the Western Conference playoff race and assess where L.A. slots in after acquiring Ramon Sessions before the trade deadline.
Listen

Prominent ads on uniforms: Good idea or bad idea?
Marc Stein: The word I'd use is inevitable. I'm generally a purist who responds angrily to most big change in sports, but I love international soccer too much to sit here and preach about what an injustice this is, since it's been commonplace for decades in that world. It's a revenue stream that North American sports teams will inevitably find impossible to resist. Shirt sponsors will come to the NBA and all the other sports eventually, people will rail about how the sanctity of the uniform has been defiled forever … and then eventually we'll all get past it and rail about other things.
To read the entire 5-on-5 debate, click here.