1. Scouts' Takes: Lakers, Knicks and More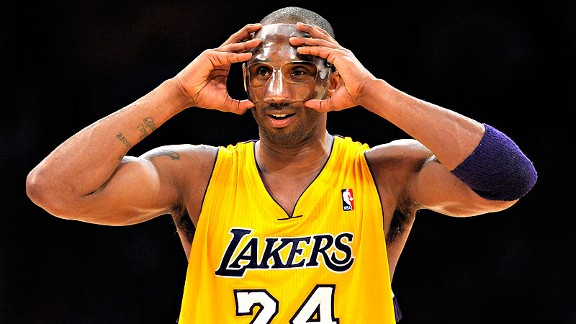 Kirby Lee/US PresswireKobe is smiling a lot since ditching that mask and welcoming Ramon Sessions to L.A.'s backcourt.
The San Antonio Spurs and Charlotte Bobcats entered the weekend with exactly 22 games to go on their lockout-compacted schedules.
Every other team in the NBA has even less of its regular season remaining.
The final third of the 2011-12 campaign is thus fully under way. The 66-game finish line, with the playoffs on the other side, is in sight.
So let's proceed to the stretch run by consulting a panel of trusted advance scouts, who have again consented to provide some press-row insights into some of the league's most relevant topics from their prime vantage point, taking in three to four games weekly to chart every play their rivals run.
The following observations come from five scouts, all of whom were granted anonymity so they could speak as candidly as possible:

Western Conference scout on Ramon Sessions and the new-look Lakers
"Everyone's asking how long it'll take before Sessions becomes the starter. He should play the whole game for them. That's how much of a difference he makes.
"I'm exaggerating, obviously, but for them to get him for free, basically ... wow. He's so fast and just changes the pace so much when he comes in. He's good in the pick-and-roll and getting the ball up the court. They've really moved the ball better in the last week than they have all season.
"No disrespect to Derek Fisher and all he's done [in L.A.], but the Lakers are way better with Sessions. Fisher is a spot-up shooter and doesn't create much. [Sessions] will hit the occasional 3 and throw it to the big guys, too. The Spurs getting Stephen Jackson was a monster get, because he already knows their system and because he's so competitive. The Spurs got better, but I think Sessions helps the Lakers more.
"He's going to allow Kobe [Bryant] to really play the 2 [guard]. And because of the way Mike Brown runs sets to get Kobe catches, this is going to be huge for [Bryant]. It's not a read-and-react offense anymore. They run several things directly to set up Kobe for a catch in certain spots. There's no question that Sessions will do that for them and do it well. I think they can absolutely play together."


---
Eastern Conference scout on Orlando's post-trade-deadline outlook
"I knew that the Dwight Howard story was a big deal, but I guess I didn't realize how important it was to the local community until I went there right at deadline time. Newspapers, TV, everywhere you go. He means everything to that community.
"The problem is that I don't think anything's really been solved. [Howard committing to stay in Orlando through the 2012-13 season] is just a temporary Band-Aid. If they have any kind of cushion, it's right now for the rest of this season. But from afar you wonder if you could ever make the guy happy. It just seems like it's always going to be something.
"But I still like their team. And it's because I like their coach. You [media] guys focus on all the wrong things with Stan [Van Gundy]. He's a damn good basketball coach. His offensive schemes, putting people in the right places to be really sound and effective ... I think he's totally underestimated. It's the classic case where, if he's not there two years from now, people are going to say: 'You know what? He was really good.'
"The other thing I'd say about Orlando is that they do have balance. That's something that I've always been impressed with because a lot of teams don't. They're kind of like that mid-major school that can beat anybody in a one-shot deal -- anybody -- but they probably don't have enough to get all the way through the tournament."


---

Eastern Conference scout on Oklahoma City's title credentials
"There's nobody super scary in the West, so they're solid enough to get to the Finals. And they picked up just the right guy [in Derek Fisher].
"No. 1: Fisher's been through the wars and he might have a calming influence on [Russell] Westbrook. No. 2: He's been a big shot-maker for a long time and someone you have to respect at the end of the game. You're not just going to leave him.
"He's got the rings, baby. The ring's the thing. All the stuff [OKC's young stars are] trying to get, Fisher's already got. So I think they'll listen to what he has to say. And from a competitive standpoint, Fisher going there kind of gets back at the Lakers.
"I don't know if the Lakers can stand in [OKC's] way. [James] Harden's playing at a high level, Durant is Durant and Westbrook is Westbrook. Their front line looks pretty small sometimes when they're playing against the Lakers, but when Durant goes to the 4 and Fisher is spreading the floor, it's going to be pretty hard to guard them if they can figure it out."


---

Western Conference scout on the pressure mounting on Vinny Del Negro
"If you want to put him up against the San Antonios and Phillys and teams that are super well-coached, then he suffers in comparison. But to me, when you hear talk about how predictable the Clippers' offense is or how the coach is losing the team, it's so predictable that the Clippers are in this situation when you let a coach go into the last year of his contract.
(Editor's note: The Clippers hold a team option on Del Negro for next season but have not exercised it.)
"People aren't looking at the larger problems here. The Clippers need to find a coach they really believe in and not let him get into a lame-duck situation, which puts a cloud over the entire organization. Everyone will deny it and say, 'Just win games and everything will be OK.' But it's so predictable how it's going to turn out when the coach is in his last year and everyone [knows it]. How many times have we seen this movie?
"All I'm saying is that piling on the guy is convenient when it's [Clippers owner] Donald Sterling who let things get to this point. Their offense is predictable and they don't have some of those secondary actions and little tricks that the Spurs have. But is Vinny doing things dramatically different from the vast majority of NBA coaches? I don't think so.
"Compare the Clippers' big three to Kobe, Bynum and Gasol or Durant, Westbrook and Harden. They wanted Caron Butler to be that third guy, but what they probably need more than anything is a reliable third scorer."
---
Eastern Conference scout on what makes Kyrie Irving special
"He's got really good speed. He's big. He's strong. He's in the same mold to me as the powerhouse point guards like Derrick Rose and Russell Westbrook. For a rookie, he's just got a lot of juice.
"He seems like a great teammate, too. My impression [from courtside] is that the guys really like him and that guys are going to want to come there to play with him. They've got another All-Star on their hands in Cleveland.
"I know all you media types are on Ricky Rubio's bandwagon, but [Irving is] only going to get better and better as they get better players around him. [Free agents] came to play with LeBron and they'll come [to Cleveland] to play with him.
"The only thing he needs to do is shoot the ball with more consistency, but he's already had lots of nights where he's shot the ball well. Once he starts doing that all the time, he's going to be very difficult to guard. He's got more tools than the other [young point guards].
"[Cavs coach Byron Scott] had Jason Kidd, Chris Paul and now Irving. He's been very fortunate, but I also think he's a got a very good feel for this kid and what to do with a young star point guard."


---

Western Conference scout on whether Dallas is still a title contender
"I see them as the Orlando of the West right now. Could they knock the Thunder off in Round 2? Sure. They could pull that off. But to battle through three rounds to get back to the Finals? I have my doubts.
"They're dangerous, don't get me wrong. They did win the championship last year. But I just haven't seen the support for Dirk [Nowitzki] and [Jason] Terry. There's a lot of pressure on those guys to perform. If they're a little bit off, Dallas starts to look ordinary.
"Rick [Carlisle] has them very, very well prepared defensively. They haven't missed a beat without Tyson Chandler and that's a real credit to the players and the coaching staff. I [also] really like the way Rick puts his players in position to make plays. He's an outstanding half-court coach. But I haven't seen the same hunger [as last season]. I don't think there's enough gas left in the tank. Dirk and Terry need some help.
"I thought [Lamar] Odom would be helping more by now. I like to give people the benefit of the doubt, but he just doesn't look interested. Early on you could understand that there was some adjustment involved. And he seems like a pretty sensitive guy. But he just hasn't turned the corner. Whether it's because he's got other priorities in his life or the transition [from the Lakers to Dallas] has been too much, he doesn't look fully invested in the program."
---

Eastern Conference scout on the Knicks' revival under Mike Woodson
"It's kind of the perfect storm right now. It's the honeymoon stage, which always helps. The schedule has also helped; Indiana is not what they were at the beginning of the season and the Knicks just played them twice. But most of all [New York's] defense has picked up. Big-time.
"Carmelo [Anthony] is engaged. Amare [Stoudemire] is engaged. Tyson Chandler is engaged. The Knicks are a front-running team, so when they're all happy and chest-bumping and getting up into people, they look like they can go pretty far in the playoffs. Talent-wide they have the pieces. But it'll be interesting to see what happens when they hit their first lull [under Woodson]. What will that do to their mindset?
"If the Knicks start the game off well enough and get up the floor and get up into the other team, it doesn't matter who the coach is. But [Woodson] is playing more guys than D'Antoni did and that keeps players feeling good about themselves.
"As for [Jeremy] Lin, I don't want to say too much because he keeps proving me wrong. He's not playing at the level that he was, but he's still very solid. When Linsanity started, Amare wasn't playing and Carmelo wasn't playing and he had much more freedom to just go do his thing. He's not going to look as good when he's not running pick-and-roll like he was [under Mike D'Antoni], but he has a good feel for the game. My question is what happens in the playoffs, because he still turns the ball over too much."
---
Western Conference scout on choosing between Blake Griffin and Kevin Love
"You have to take Love at this stage of their [respective] development. He's a shooting 4-man you have to stay with wherever he goes. Blake is still learning how to play. [Love] can pass now. He can shoot the 3. He already rebounds. You've got to guard him if he's in the paint or four feet behind the 3-point line. You can't not guard Kevin Love anywhere on the floor."
Dimes past: March 6 | 7 | 8 | 9-10 | 11 | 12 | 13 | 14 | 15 | 18 | 19 | 20 | 21 | 22


ESPN.com senior writer Marc Stein
• On Twitter @ESPNSteinLine | On TrueHoop | On ESPN.com | On email
• Follow ESPN's NBA coverage on Twitter | On Facebook | On Google+
2. Western Conference

The player most widely mentioned as a buyout candidate this season didn't even try to secure one during Buyout Week.
Sources close to the situation told ESPN.com that Chris Kaman's camp didn't approach the league-owned Hornets about trying to reach a settlement on what's left on this season's $14 million expiring deal after the trade deadline came and went without Kaman being traded.
For two reasons.
1. The injury-ravaged Hornets apparently convinced Kaman -- as well as teams such as Miami, Boston and Dallas hoping that New Orleans would relent if it couldn't plug him into a deal before last Thursday's trade buzzer -- that they were committed to keeping him for the rest of the regular season if no trade could be struck. Especially after Emeka Okafor joined Eric Gordon and Carl Landry on the Hornets' list of key contributors shelved with knee trouble.
2. Kaman has likewise apparently concluded that no contender he could join would give him the shots and minutes he'll get in New Orleans for the rest of the season, which is something he has to factor in with free agency looming in July.
The 29-year-old, selected as an All-Star as recently as 2010, is averaging 13.3 points and 8.1 rebounds for the Hornets after they initially (and briefly) excused him from the team in January while pursuing potential trades.
Sources said that the Hornets did engage in discussions last week with Washington on a deal that would have featured Kaman, Landry and Trevor Ariza going to the Wizards for center JaVale McGee, veteran forward Rashard Lewis and a future second-round pick. But Washington opted to deal with Denver instead, sending McGee to the Nuggets as part of a three-team swap with the Los Angeles Clippers that routed Nene to the Wizards.
Players had to be waived by Friday night at 11:59 p.m. ET to be playoff-eligible with another team this season. Word is that Kaman, for what it's worth, had Miami at the top of his list of potential destinations if the Hornets had relented as so many teams do when they vow not to give buyouts to antsy veterans.
---
Some numbers of note in the West this week:
744: San Antonio's Tim Duncan and Tony Parker have played in 744 regular-season games together, giving them the highest total for any pair of current NBA teammates. That distinction was previously held by Derek Fisher and Kobe Bryant, who had appeared in 847 regular-season games together before Fisher was dealt last Thursday to Houston.
527: When Utah's Al Jefferson recently drained a late 3-pointer in a home win over Detroit, it marked his first career triple in 24 tries spread across 527 regular-season games to that point. The last NBA player to start his career with 23 consecutive missed 3s was Michael Cage ... who wound up shooting 0-for-25 from deep in 1,140 regular-season games.
5: Portland's Kaleb Canales is just the fifth coach in NBA history to be handed a team before turning 34 years old. The others: George Karl (Cleveland in 1984-85), Stu Jackson (New York in 1989-90), Sidney Lowe (Minnesota in 1992-93) and Lawrence Frank (New Jersey in 2003-04).
38: At 33 years and 260 days old, Canales is younger than 38 of the 425-plus players currently on NBA rosters. Indiana's Frank Vogel (38 years and 276 days) is the only other active coach under 40, with New Orleans' Monty Williams (40-167), Miami's Erik Spoelstra (41-143) and Detroit's Lawrence Frank (41-205) not far off.
179: Oklahoma City's Russell Westbrook is third in the NBA in turnovers with 179, just three behind leader John Wall's 182 for Washington. According to the Elias Sports Bureau, Westbrook is at risk to become the first player in NBA history to lead the league in TOs three separate times after doing so in 2008-09 and 2010-11.
---
One of the factors that appears to have saved Clippers coach Vinny Del Negro to date from joining Portland's Nate McMillan and New York's Mike D'Antoni on an unusually long list of March firings is the fact that the Clips have no assistant who slides easily into an interim role.
Veteran dismay with the Xs and Os , according to one source close to the situation, is not restricted to Del Negro, suggesting that promoting Marc Iavaroni to interim coach would not be received well by the Clips' vets. (Dean Demopolous and Robert Pack after Del Negro's other assistants, with Pack said to be the most likely interim coach in the group.)
Sources say that once Chauncey Billups was lost with a season-ending Achilles' injury, Del Negro lost the vital locker-room presence most capable of keeping the group together. It's been bumpy, to put it mildly, ever since.
3. Eastern Conference

Chicago's talks with the Los Angeles Lakers regarding Pau Gasol before the trade deadline never got as far as the Bulls had hoped, largely because the Lakers had no interest in taking back Carlos Boozer ... and because the Bulls weren't about to find a third team willing to join the talks to absorb the three years and $47 million remaining on Boozer's deal to help Chicago get the Spaniard.
File this away, though.
Sources with knowledge of Chicago's thinking told ESPN.com that Bulls chairman Jerry Reinsdorf was prepared last week to go into the luxury tax if necessary if a legit trade scenario involving Gasol had materialized. Which is not the sort of spending Reinsdorf is known for sanctioning.
Which suggests that the Bulls, if they're that high on Pau, are bound to try to trade for him again after the season.
Nor have they abandoned hope of courting Dwight Howard via trade, sources said, despite Howard's longstanding coolness toward the idea of relocating to Chicago and the extra season he just committed to Orlando by opting in for the 2012-13 season.
---
Some numbers of note in the East this week:
4: Only four centers in NBA history have made four consecutive All-NBA first teams ... and Orlando's Dwight Howard is one of them. Bill Russell, Wilt Chamberlain and Hakeem Olajuwon amazingly aren't in this exclusive club thanks to the depth at the position throughout the '60s, '70s, '80s and '90s, but Howard -- capitalizing on the dearth of dominant big men in the modern game -- has been a first-teamer in All-NBA voting for the past four seasons. That puts him on the list alongside Shaquille O'Neal (seven straight selections from 1999 to 2006), George Mikan (six in a row from 1948 to '54) and Kareem Abdul-Jabbar (four from 1970 to '74).
2: Only two players have made more All-NBA first teams since Howard's rookie season in 2004-05 than Dwight himself. That would be the Lakers' Kobe Bryant (six) and Miami's LeBron James (five). Dallas' Dirk Nowitzki is tied with Howard at four first-team selections since 2004-05, meaning that Howard is the only member of the foursome not to win MVP honors at least once in the regular season.
6.0 Carmelo Anthony is averaging 6.0 fewer points per game than he did last season and shooting a career-worst .399 from the field. The Knicks are 36-38 in the regular season since acquiring Anthony; Denver is 44-28 since trading him.
1,000: The Celtics are the only franchise in NBA history to have three players appear in 1,000 regular-season games after Paul Pierce reached that stratosphere this month to join Celts legends John Havlicek and Robert Parish. Pierce is one of only four active players to play in 1,000 games for the same franchise, along with Bryant, Nowitzki and San Antonio's Tim Duncan.
19.6: Monta Ellis' career scoring average of 19.6 points per game when he was dealt to Milwaukee last week is the NBA's second-highest ever for a player without a single All-Star selection. John Williamson was never named an All-Star despite a career scoring average of 20.1 points per game; ditto for Clark Kellogg at 18.9 ppg.
4. More To Jason Smith's Story
Smith
Rightfully enraged as the Clippers were by a hit that got Smith suspended Friday for two games -- especially since he had the gall to wave his arms and milk the crowd's applause after getting ejected for a 0 percent play on the ball -- perhaps they'll be a touch less furious when they hear this.
How Smith, in his own small way, unwittingly tried to help the Clippers land Chris Paul in December.
It's certainly conceivable that NBA commissioner David Stern, essentially acting as the lead decision-maker for the league-owned Hornets, would have decided to veto the original three-team CP3 trade sending Paul to the Lakers instead of the Clippers under any circumstances.
Yet one source close to the talks insists that the Hornets, Lakers and Rockets were still searching for a consensus on the last piece of the trade framework needed to satisfy league salary-cap regulations when news of the trade began to spread
And sources say that's partly because Smith didn't accept the sign-and-trade terms that were presented when he was asked to be part of the swap.
The principal pieces of the original three-team deal were indeed all agreed to: Paul would be going to the Lakers; Pau Gasol was bound for Houston; and New Orleans would be receiving Lamar Odom, Luis Scola, Kevin Martin and Goran Dragic, along with a 2012 first-round draft pick from the Rockets that had been previously acquired from the New York Knicks. But based on that trade construction, sources say the Lakers would have been forced to absorb another $3 million more in salary to make the cap math work.
The teams involved concluded that the best way to solve that issue would be for the Hornets to sign and trade Smith to the Lakers as part of the exchange. The Lakers, however, were prepared to guarantee only the first year of the three-year deal required in all sign-and-trades. Sources say Smith promptly rejected that offer, believing he should hold out for a longer-team deal, then had his decision vindicated when the Hornets later offered him a three-year deal worth $7.5 million with the first two years fully guaranteed.
To read the entire TrueHoop entry, click here
5.

One-On-One ... To Five
Jackson
Five questions with Spurs guard/forward Stephen Jackson:
Q:
This [return to the Spurs] is something you've wanted for a long time, isn't it?
A:I never should have left. I used to hit Tim [Duncan] every summer and tell him, "Man, get me back there, get me back there." I'm just glad it happened at this point. To be back with the team that really opened up my career for me, it feels good. It feels great. In any job you have, it always feels good to feel wanted.
Q: So what really happened in Milwaukee?
A: I just think it was a tough situation. I was used to winning and I kind of felt like I was in a situation where losing was accepted. And that's not me. It's something I could never do, so I think that's why me and coach [Scott Skiles] clashed ... we're losing and I feel like I should be playing more and I'm not playing. I didn't go to college, but it felt like a college atmosphere and that wasn't me. There was a lot of negative stuff going on there and I didn't want to feed into it. And that's why I felt I needed to leave.
Q: Did you have any idea that your dream trade was in the works?
A: The best part about being in Milwaukee was [Bucks general manager] John Hammond. Great guy, stand-up guy. He told me all the situations, all the teams that were calling, so nothing was blind. He told me that San Antonio had called, but the situation wasn't good for [the Bucks] because they didn't want to bring Richard Jefferson back. But then he told me when he traded me to Golden State [in the Andrew Bogut deal] that there was a good chance I'm going to get where I wanted to go.
He didn't say San Antonio specifically, but that's what happened. I made my connection flight from Milwaukee to Minnesota and I was sitting in the airport waiting to connect to go to San Francisco and I got a call from Pop [Spurs coach Gregg Popovich].
I was almost in tears.
Q: So why did you leave San Antonio after the championship in 2003?
A: I felt that I deserved more for the way I played in the Finals, money-wise, but I knew it was a situation where Tony and Manu were going to be here. So I knew there was a possibility that we'd have to part ways. I was just looking for the best move for my career at the time.
I wish I would have stayed because I would have more championships, but who knows how that would have turned out? I had to find myself as a player and make a name for myself and I think that was the best move at the time.
I think I've grown [since 2003]. I've grown as a player. I've learned how to deal with a lot and I've been through a lot. What they were trying to teach me when I was young, I think I learned on my own. And it's good to come back here knowing I've grown.
Q: Nine years later ... is Pop mellower? As intense as ever? How would you describe him?
A: He's the same to me. He's the same. He loves his guys, he supports his guys, but at the same time he wants you to do your job, which is give 110 percent.
I think everybody's the same. Tim's the same, Manu's the same, Tony's the same. Everybody's the same. The organization is still one of the best in the league. Family-oriented organization. The only thing that's changed is time.
Bonus sixth question ...
Q: You know people are going to wonder how much you have left. And you know I'm going to ask: Can you still make love to pressure?
A: Make love to pressure! I'm waitin' on the pressure. You know I'm waitin' on it. You already know.
Bryant
"Because everything feels great."
Lakers star Kobe Bryant, bristling when asked this week why the minutes load he's shouldering this season doesn't concern him heading into the playoffs.
In his 16th season, Kobe is the league leader in total minutes played: 1,816. No other player in league history has ever led the league in that category later than his 12th NBA season, when Allen Iverson did so with the Denver Nuggets in 2007-08.
Don't forget, furthermore, that the London Olympics loom for the 33-year-old this summer. But Bryant scoffs at the notion that he's grinding himself down toward inevitable doom, insisting that the Orthokine therapy he received last summer in Germany has made a huge, lasting difference in his longstanding knee and ankle woes.
Bryant averaged just 33.9 minutes per game last season, which accounted for the lowest figure of his career outside of his first two seasons in the NBA as a teenager. He's averaging 38.6 minutes per game this season, second only to Minnesota's Kevin Love (39.5).
The Lakers, though, weren't exactly known for playing at a breakneck pace before last week's arrival of Ramon Sessions, which lessened the punishment Bryant's body endures. And Kobe is convinced that the game will get even less taxing when he plays next to Sessions now.
Caution is always advised when drawing conclusions from just a handful of regular-season games. That's especially true amid the 66-game chaos of this lockout-compacted schedule.
This, though, is Kobe.
He's bidding to become just the fifth player in history (see chart below) to average at least 28 points per game at 33 or older.
And he's obviously going to say what he thinks. Always.
"I've been extremely impressed," Bryant said of Sessions so far. "He takes a lot of pressure off of me. I can be a legitimate 2-guard now. Know what I mean? He can play-make for others. Before, I had to score and play-make for others as well. I don't have to do that. I can be on the receiving end of those plays.
"We just let him handle the ball. You saw me off the ball a lot, more than probably you've ever seen me. And, as a result, my night [Wednesday in Dallas] was a lot easier. I really didn't have to work."
As for the relationship with his last point guard, Bryant says one thing won't change even though fellow 1996 draftee Derek Fisher has signed with West-leading Oklahoma City: "We continue to talk on pretty much a daily basis."
28.0 PPG AVERAGE, AGE 33 OR OLDER
Season
Player
PPG
AGE
1992-93
Dominique Wilkins (Hawks)
29.9
33
1996-97
Michael Jordan (Bulls)
29.6
34
1997-98
Michael Jordan (Bulls)
28.7
35
1986-87
Alex English (Nuggets)
28.6
33
1990-91
Bernard King (Bullets)
28.4
34
>>Kobe Bryant, at 33, is currently averaging 28.7 ppg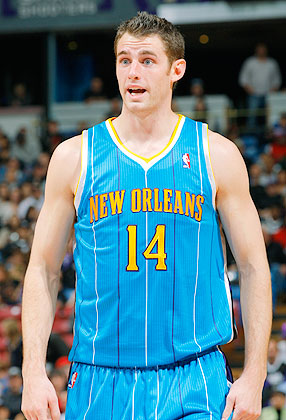 Rocky Widner/NBAE via Getty Images
Hornets big man Jason Smith was having a good game for New Orleans before he steamrolled Blake Griffin. Will Clips fans ever bring themselves to forgive him? (See Box 4.)
8.

Trade Deadline Summary
After all the doom and gloom out there, all those theories laid out at the top of the most recent Weekend Dime that none of us wanted to believe, our skepticism was rewarded.
After Dwight Howard committed to one more season in Orlando and the league's trade bottleneck finally cleared up ... whoosh.
Nine deals on deadline day. Nine trades last Thursday involving 23 different players.
It's a flurry that really started with the stunning Andrew Bogut-for-Monta Ellis swap on deadline eve and stretched the league's streak to 10 successive seasons with at least three deals on deadline day.
Two handy breakdowns of all the action follow:
Deals consummated March 15
Before 3 p.m. ET deadline
WASHINGTON acquires Nene from DENVER as well as Brian Cook and a 2015 second-round draft pick (via NEW ORLEANS) from L.A. CLIPPERS, sends Nick Young to L.A. CLIPPERS while DENVER receives JaVale McGee and Ronny Turiaf.
SAN ANTONIO acquires Stephen Jackson from GOLDEN STATE for Richard Jefferson, T.J. Ford's contract and a future first-round draft pick (top-14 protected in 2012-14; fully unprotected in 2015).
L.A. LAKERS acquire Jordan Hill from HOUSTON for Derek Fisher and a 2012 first round-draft pick (top-20 protected from 2012 to '17; fully unprotected in 2018 via DALLAS).
HOUSTON acquires Marcus Camby from PORTLAND for Jonny Flynn, Hasheem Thabeet and a 2012 conditional second-round draft pick.
CLEVELAND acquires Luke Walton, Jason Kapono and a 2012 first-round draft pick (top-14 protected) from LAKERS for Ramon Sessions and Christian Eyenga.
TORONTO acquires a 2012 second-round draft pick and cash considerations from INDIANA for Leandro Barbosa.
PHILADELPHIA acquires Sam Young from MEMPHIS for the draft rights to Ricky Sanchez.
PORTLAND acquires Mehmet Okur, Shawne Williams and a 2012 first-round draft pick (top-three protected in 2012, top-two protected in 2013, top-one protected in 2014 and fully unprotected in 2015) from NEW JERSEY for Gerald Wallace.
GOLDEN STATE acquires a 2012 conditional second-round draft pick from ATLANTA for $1 million.
Deadline Day Activity, By Season
Date
Trades
Players
Mar. 15, 2012*
9
23
Feb. 24, 2011
8
23
Feb. 18, 2010
8
27
Feb. 19, 2009
6
18
Feb. 21, 2008
5
24
Feb. 22, 2007
3
4
Feb. 23, 2006
5
17
Feb. 24, 2005
10
29
Feb. 19, 2004
4
14
Feb. 20, 2003
3
10
Feb. 21, 2002
2
9
Feb. 22, 2001
4
22
Feb. 24, 2000
1
1
Mar. 11, 1999*
5
18
Feb. 19, 1998
4
13
Feb. 20, 1997
6
15
Feb. 22, 1996
6
19
Feb. 23, 1995
1
2
Feb. 24, 1994
4
8
Feb. 25, 1993
2
3
Feb. 20, 1992
1
2
Feb. 20, 1991
1
2
Feb. 22, 1990
5
7
Feb. 23, 1989
2
5
Feb. 25, 1988
3
9
Feb. 15, 1987
1
1
*Denotes lockout-shortened season
10.

Worthy Gamble For Nuggets

I get the vibe that I'm in the minority here, but I really like the Nuggets' gamble.
JaVale McGee is too young, long and athletic to be written off as widely as he's been dissed ... and moving Nene created long-term flexibility that gives the Nuggets so many more options when it comes to building their post-Melo squad. (Such as packaging several of the solid players they've stockpiled in a future trade for a star who's willing to marry himself to Denver more than Carmelo Anthony was.)
In the present, though, Denver simply didn't like the way the nearly $70 millionNene expenditure was working out and moved decisively to change course and try something different. That'll almost always get you a hat-tip from me.
To read the entire 5-on-5 piece, click here.