1. Reliance On Hero Ball Hurts Lakers Late
By Rahat Huq
TrueHoop Network
HOUSTON -- On four straight possessions, Ramon Sessions showed why the Los Angeles Lakers brought the point guard in at the trade deadline to essentially replace former captain Derek Fisher.
A driving bank-shot, a pass that put Pau Gasol on the free throw line, a made jumper and, finally, a spoon-fed layup for Gasol. In a flash, Sessions had helped put the Lakers up by 12 with 6:41 remaining in the fourth quarter against the Houston Rockets. The newest member of the purple and gold was doing whatever he wanted via the high screen-and-roll and was about to lead his team to a runaway victory.
But from that point on, the ball would rarely be in Sessions' hands.
With the Rockets trailing by just four, Kobe Bryant checked in at the 4:23 mark and proceeded to miss a 3-pointer, a jumper and a fadeaway, and had the ball stolen away from him over the course of the next two minutes, during which Houston took the lead for good. While Kobe did recover to hit three awe-inspiring jumpers to close the game, the damage had already been done. Houston sealed a 107-104 victory at the Toyota Center. The decision to abandon Sessions, who finished with 14 points on 6-for-9 shooting, was baffling.
Bryant dazzled the locals with an assortment of moves early on, going behind his back on one occasion to set up a left-handed jump hook. When he spun baseline to split two Rockets, the crowd got a taste of the greatness they so desperately craved. It was a reminder of why people come to watch.
His play at the end of the game, however, showed why allowing Kobe to be Kobe might not always be the best game plan.
Rookie Chandler Parsons, who stopped Kevin Durant earlier this season, played great defense on Bryant to fuel the win. Even Bryant, who finished with 29 points on 10-for-27 shooting, took notice. Begrudgingly.
"Oh, come on," Bryant said when asked about Parsons' defense.
"I love him though, I do. I think he's a terrific young player," Bryant continued. "I think he has a really bright future and I don't say that a lot about a lot of people."
Parsons was the hero, but had the Lakers just stayed with what had been working, that probably wouldn't have been the case.
Rahat Huq covers the Rockets for Red94, part of the TrueHoop Network. Follow him on Twitter, @RedNinetyFour
Dimes past: March 1 | 2-3 | 4 | 5 | 6 | 7 | 8 | 9-10 | 11 | 12 | 13 | 14 | 15 | 18 | 19
2. Around The Association
3. Monday's Best
Thornton
Marcus Thornton, Kings: Well, this is a new one. While DeMarcus Cousins did the dirty work down low (until he fouled out, that is), Thornton lit up the scoreboard, dropping in 31 points to go along with seven rebounds and six assists in a 119-110 win over the Grizzlies.
4. Monday's Worst

Portland Trail Blazers: The Blazers' bench recorded its first field goal at the six-minute mark … of the fourth quarter. That's not going to get it done ever, but especially not against a Milwaukee team that shot 57.8 percent from the field.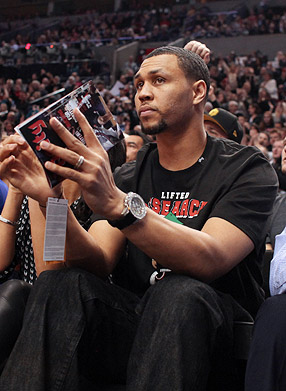 Craig Mitchelldyer/US Presswire
Brandon Roy made his first visit to the Rose Garden since being forced to retire due to injuries and received a standing ovation.
More »
7. Tweet Of The Night
Kobe retired the mask after 11 games: "I might donate it and see if anybody is dumb enough to buy that sweaty mask." Will use $ for homeless

— Dave McMenamin (@mcten) March 21, 2012
8. Quote Of The Night
It's the same elbow I hurt in Cleveland so I was a little off, I would say, for the rest of the game. We'll see the next couple days. I'll come and get some treatment on it. Hopefully doesn't cause any problems.
-- LeBron James, on a stinger in his right arm suffered during the Heat's 99-95 win over the Suns.
By Elias Sports Bureau

The New York Knicks defeated the Toronto Raptors to post their fourth win in as many games since Mike Woodson replaced Mike D'Antoni as the team's head coach. New York has outscored its opponents by 90 points under Woodson. It's the largest positive point differential for any team in NBA history over its first four games following a coaching change. The Knicks' four-game winning streak is the second-longest in franchise history to immediately follow a coaching change. They won five games in a row to begin Red Holzman's second stint as head coach after he replaced Willis Reed behind the bench in November 1978.