1. Down To Their Last Second, Spurs Survive
SAN ANTONIO -- It's a touch too soon to put Wednesday night's season-saving heaves from Manu Ginobili and Gary Neal up there in the same stratosphere of hero shots, as the kids are calling them these days, alongside Sean Elliott's Memorial Day Miracle. Or Robert Horry's tide-turner in the 2005 NBA Finals. Or the Tim Duncan triple that begat the total unraveling of the Seven Seconds Or Less Phoenix Suns.
The San Antonio Spurs still have to win twice more against the West's No. 8 seed before we can dare to go that far.
However ...
Unlike the Suns -- who never recovered from the shock of Duncan's unforgettable 3 from the right wing in the 2008 playoffs and were never quite the same again -- these Spurs have answered the score-evening karma bomb that Zach Randolph hit Duncan's Spurs with just last week.
With two epic flings.
With what we saw in the frantic final 2.2 seconds of regulation, first from Ginobili while he was falling out of bounds and then the undrafted Neal at the buzzer from the middle of the floor, San Antonio has managed to hit back at Randolph's Memphis Grizzlies as hard as Z-Bo hit them with his 3 from the right wing that helped stake the Griz to a 3-1 series lead.
Ginobili's near-trey and Neal's 3 at the regulation buzzer set up an OT in Game 5 that the Spurs dominated, resulting in a 110-103 triumph that not only forced NBA obituary writers everywhere to place all those odes to San Antonio's Duncan-era dynasty on hold but also made it a 3-2 series.
A 3-2 series that suddenly has a very different feel for the Grizzlies, who will have to try again Friday night to close out the stubborn Spurs back home after it appeared to the world that they had this thing -- maybe the biggest first-round upset of all time -- closed out already.
"They are like vampires," Memphis' Shane Battier said on his way out of the AT&T Center, wishing so badly that all his warnings to anyone who'd listen about how hard it would be to finish off the thrice-crowned championship core of Tim Duncan, Tony Parker and Ginobili hadn't make him look like such a prophet.
"You gotta drive the stake through their heart. And we missed."
The Grizzlies indeed somehow jammed multiple missteps into those final, fateful seconds. In two possessions, they lost their grip on a storybook comeback from 16 points down fueled by Mike Conley (20 points) and Sam Young (with an unexpected 18) and a brilliant fourth quarter by the best player in this series so far. Randolph.
Grizzlies coach Lionel Hollins said he bungled the defensive setup in the timeout before Neal's game-tying shot. Battier, Memphis' wisest vet, should have left Duncan to run out to Neal, but didn't. And let's be honest: Did any of Hollins' players really have to be told, after Randolph's clutch 18-footer and four icy free throws made it 97-94 with 1.7 seconds to go, that the goal that late was giving up anything to the Spurs aside from a clean look from deep?
Apparently so.
The Grizzlies are thus headed for a Game 6 that will be played out in the glare of a first-time spotlight unlike any of the other firsts they've had to hurdle since showing up here for Game 1 and stealing the franchise's maiden playoff win. Everyone wants to know now: Will this young team be rattled after blowing a historic chance to humble the mighty Spurs in five? Or are they still too young and oblivious, as Battier has also been saying since that Game 1 win, to let even a collapse of this magnitude deter them from an upset to rival Golden State's 2007 dismissal of 67-win Dallas?
Chances are Memphis will hear nothing but the doubts from the outside for the next 24 hours after Hollins himself -- having scoffed all series at pretty much every question about Memphis' collective lack of experience -- admitted that the Grizzlies surrendered so meekly in OT because they were still hung up about the Spurs' great escape.
"We had too many guys that were hurt and not mature enough at this stage [to] just let [the regulation ending] go," Hollins said.
It'll only add to their pain when the Grizzlies hear that Ginobili admitted the Spurs aren't as impressed by their grit as those who watched it, no matter how flowery we try to write up this resurrection.
"I don't really think that we showed the heart of a champion," Ginobili said.
Referring specifically to the long fadeaway 2-pointer he desperately drained right in front of the Spurs' bench on a busted play, Ginobili was even more blunt, saying: "I just got lucky. That's the truth."
Duncan, meanwhile, scored an aggressive 11 points in the opening quarter ... but only two more for the rest of the evening in a series that finds San Antonio's living legend averaging a very mortal 12.8 points per game. Ginobili (33) and Parker (24) combined for 57 points, with Parker becoming effective in the extra period after another mixed night in his series-long struggle to keep up with Conley, BUT the Spurs couldn't even get the gimme game in this series right. They that 16-point lead slip far too easily when it looked for a half like the jumper-happy visitors were content to wait for that Game 6 at home.
Which is why Manu didn't hesitate to concede that "overall [Memphis] played the better game" and that the Spurs are well aware that they were "very close to being on vacation right now."
The main solace for Memphis, if we're going to keep comparing them to the '07 Warriors, is that Golden State blew a late nine-point lead in Game 5 of its series with Dallas when the Dubs also had the chance to close the Mavs out. Golden State then bounced back from that giveaway to blow out Dallas at home in Game 6 and complete the league's first No. 8-over-No. 1 upset in a seven-game series.
The fact that the Grizzlies will be widely seen as ending an era if they can topple the Spurs one more time -- after the playoffs began with even Parker saying this is San Antonio's "last chance to really do something" championship-wise -- is why I'd label this a more significant upset than Golden State's. Especially since Memphis has done all this with a borderline All-Star, Rudy Gay, watching every game in a suit on the bench with his left arm immobilized after shoulder surgery.
The Griz, though, aren't there yet. They should be getting ready for a second-round showdown with the Oklahoma City Thunder, but tripped when they got to the tape.
Randolph certainly thought he had landed another haymaker with that looping J over Antonio McDyess with 13.8 seconds left. Unreservedly deadly in the fourth with 14 of his 26 points, Randolph drew a finger to his lips and pirouetted at midcourt to shush the crowd after the Spurs had clawed from 91-86 down to within 91-90.
Yet in the overtime, Randolph (who also rung up 11 boards and six assists) could muster only a solemn nod at a fan behind the scorer's table who caught his attention with a yell and taunted him back with the same finger-to-lips gesture.
"You just have to let it go," Hollins said. "We've had tough losses before."
We'll soon see if the upstarts buy into that message, like they usually do when Hollins tells them something, or if Elliott, Horry and Duncan better start making some room in the Spurs' shot-making pantheon for Neal and Ginobili.
"He'll do things out there," Spurs coach Gregg Popovich said, not even trying to put Ginobili's miracle into any sort of context. "If I don't think it's quite the most fundamentally sound thing that I've ever seen ... I've learned to shut up. He wins games a whole lot more often than I do."


ESPN.com senior writer Marc Stein
• On Twitter @ESPNSteinLine | On TrueHoop | On ESPN.com | On email
• Follow ESPN's NBA coverage on Twitter | On Facebook | On Google+
Dimes past: April 12 | 13 | 14 | 17 | 18 | 19 | 20 | 21 | 22 | 23 | 24 | 25 | 26 | 27
2. Durant Saves Thunder, Finishes Nuggets
By John Hollinger
ESPN.com

Durant
OKLAHOMA CITY -- The Thunder can thank Kevin Durant for their franchise's first series win since moving to Oklahoma. And Durant can thank Randy Moss.
All the stories Thursday will talk about the amazing shots by Kevin Durant in the last four minutes, and all of them will be absolutely true. His 41-point, zero-turnover performance included 13 points in the final 3:23, as the Oklahoma City Thunder stormed back from a nine-point deficit to beat the Denver Nuggets 100-97 and clinch the franchise's first series win since moving from Seattle.
But the story within the story is that Durant was able to catch the ball in the first place. At several different times this season, opponents have taken advantage of Durant's lack of strength to muscle him off the ball -- either preventing his catches entirely or forcing him so far out on the floor that he can't get a good look.
Wednesday night, on the game's most crucial possession, he turned the tables. After the officials overturned a backcourt violation call on Durant, the Thunder inbounded from midcourt with 14.8 seconds left and only five on the shot clock. Denver's Wilson Chandler was denying Durant on the far jump-ball circle.
• To read the rest of the story, click here »
3. Daily Dime Live
Zach Harper, TrueHoop Network bloggers and fans gave their in-game opinions on all topics throughout Wednesday's slate of NBA playoff talk in Daily Dime Live.
WEDNESDAY'S BEST

Durant
Kevin Durant, Thunder:
Unleashed a spate of clutchness to help the Thunder finish the Nuggets in five. Durant went for 41 points and even swatted a J.R. Smith tying 3-point attempt in the final seconds.
---
WEDNESDAY'S WORST

Grizzlies party planning: Beating the Spurs on the road in Game 5 would have been worthy of handing out courtside "We Beat The Spurs" hats. Instead, the impressive Griz now look to Friday night's Game 6 in Memphis for their biggest win in franchise history. They've already experienced their most painful loss.
---
QUOTE OF THE NIGHT
"You really don't think about the magnitude of making or missing it; you just think about trying to get the best shot that you can get."
-- Spurs guard Gary Neal on his season-saving 3-pointer
---
• See Wednesday's NBA leaders
By Chris Forsberg
ESPN Boston

O'Neal
WALTHAM, Mass. -- Can too much rest be a bad thing? Allow Jermaine O'Neal to provide the cautionary tale (while drudging up a few bad memories for Boston Celtics fans).
It was April 2004 and the Indiana Pacers, fresh off compiling an NBA-best 61-21 record, had earned the top seed in the Eastern Conference and a first-round matchup with the eighth-seeded Celtics, who limped into the playoffs with a mere 36-46 record in coach Jim O'Brien's final season.
Indiana proceeded to obliterate Boston, sweeping the series in four games with an average margin of victory of 16.8 points, never winning by less than 13. The final of those victories, a 90-75 triumph on April 25 at the FleetCenter, pushed the Pacers through to the conference semifinals, but with the Miami Heat-New Orleans Hornets quarterfinal matchup pushed to seven games, Indiana wouldn't play again until May 6, a whopping 11-day break.
"We were off for almost two weeks, and they actually gave us too many days off," O'Neal said. "Some guys went on vacation, literally, in the playoffs."
O'Neal recalled Wednesday how some players trekked down to New Orleans to catch some of the action in person before the Heat finally emerged from the grueling series. If Indiana had been anywhere near as sharp as it should have been, he said, it would have dispatched Miami about as easily as it trounced Boston. Instead, that series went six games and took its toll on the Pacers, who fell to the eventual NBA champion Detroit Pistons in six games in the conference finals.
Jump back to the present, when the Celtics are in the midst of what will be at least a six-day break from game action while waiting for a second-round series to begin. Sure, that's roughly half the delay Indiana faced back in 2004, but add in the fact that Boston's starters rested the final two games of the regular season and the Celtics' big four have played in a mere four games since an April 10 loss in Miami.
"We're an older team, so we accept the rest," O'Neal said. "But we gotta do our job."
• To read the rest of the story, click here »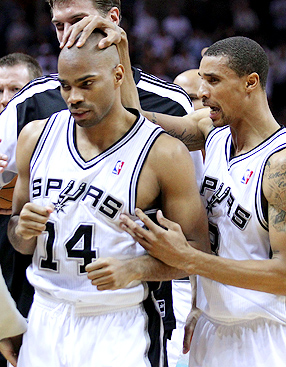 Photo by Jed Jacobsohn/Getty Images
Spurs guard Gary Neal celebrates with George Hill after hitting a 3-pointer at the end of regulation to tie the game against the Grizzlies.

Gary Neal's buzzer-beating 3-pointer forced overtime, and the Spurs stayed alive in the playoffs with a 110-103 victory over the Grizzlies. Prior to Neal, the last NBA player to make a game-tying 3-point field goal with less than 1 second remaining in the fourth quarter of a playoff game was the Pistons' Chauncey Billups in 2004 against the Nets. New Jersey won that game in triple overtime. This was the first time in Spurs history that they avoided elimination from an NBA playoff series with an overtime win.
• More from Elias