Leave it to Sabres goalie Ryan Miller to sum up Sunday's brawl against the Maple Leafs -- in which he squared off with Toronto goalie Jonathan Bernier -- by working in references to "Slap Shot" and "Anchorman" in the same tweet:
Well... that escalated quickly. #oldtimehockey #eddieshore

— Ryan Miller (@RyanMiller3039) September 23, 2013
Miller didn't exactly look like Floyd Mayweather Jr. in his bout with Bernier. But that's a side issue to the shenanigans that resulted in 239 penalty minutes between the rivals from America's North Coast. Maple Leafs forward David Clarkson is likely facing a 10-game suspension for leaving the bench to join the mayhem. Buffalo enforcer John Scott earned a target on his back by challenging Toronto leading scorer Phil Kessel, a no-no in hockey's unwritten code. And Kessel might also be suspended for swinging his stick at Scott in retaliation. Who was more to blame? And is all this really necessary?
---
Them's fighting words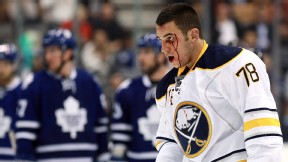 Corey Tropp's fight with Jamie Devane ended badly for Tropp -- and set the scene for Sunday's line brawl between the Sabres and Maple Leafs.
---
When goalies collide
Ryan Miller has previous concussions and hopes to earn a spot on the U.S. Olympic Team. But when Jonathan Bernier sought a fight, Miller obliged.
---
Bad behavior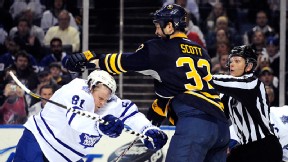 Hockey's unwritten code says enforcers shall not pick on skill players. Hockey's written code says swinging your stick at another player won't be tolerated. Whose bad manners were the worst?
---
Highly specialized skill set
John Scott's career totals: One goal, four assists, 306 penalty minutes. But the Sabres had a toughness problem in 2011-12, largely with the Bruins, and hired Scott to help fix that.
---
We Can Work It Out
Some hockey fans love fights; some tolerate them; others would prefer they go away. Where do you stand?